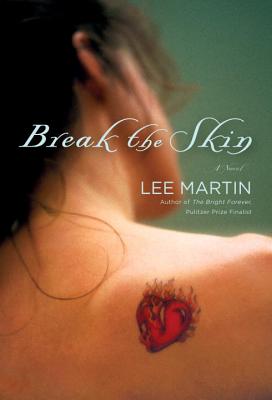 Break the Skin
Hardcover

* Individual store prices may vary.
Other Editions of This Title:
Paperback (11/13/2012)
Description
Laney—a skinny, awkward teenager alone in the world—thinks she's found a kindred spirit in thirty-five-year-old Delilah. Then the police come to ask Laney questions and she finds herself reconstructing a story of suspense, deceit, and revenge; a story that will haunt her forever.

Seven hundred miles away, in Texas, Miss Baby has the hardened heart of a woman who has been used by men in every possible way, yet she is desperate for true love. When she meets a stranger, a man who claims he can't remember his real name or his past but who seems gentle and trusting, Miss Baby thinks she may have finally found someone to love, someone who will protect her from the abusive men who fill her past.

But Miss Baby and Laney are connected by a terrible crime, and, bit by bit, the complex web of deceptions and seemingly small misjudgments they've each helped to create start to unravel. Action, speculation, and contradiction play off one another as the story is told through their first-person voices, which keep you nervously guessing all the way to the shocking, tragic climax. Break the Skin is expert storyteller Lee Martin at his very best.
Praise For Break the Skin…
"Young and lovesick, Lee Martin's low-rent heroines live the stuff of country music.  Earnest and innocent, they get caught up in trailer park romances and what Alice Hoffman called practical magic. Break the Skin is a gossipy, rollicking Witches of Wal-Mart."--Stewart O'Nan, author of The Speed Queen 

"I was worried for these characters as I'd worry for my own friends. The women want normal things--connection, stability--but get in their own way of finding peaceful lives. This is a suspenseful, engaging book."--Alice Elliott Dark

"Mr. Martin is a top-notch craftsman…what is most remarkable about BREAK THE SKIN is its restrained tone and the author's generosity toward his very needy characters. His sympathies for them rarely seem to wane, even when they are harboring criminals, conjuring hexes or plotting murder."- The New York Times

"South of Scandinavia, there are fewer icicles and serial killers, but no lack of sinister intrigue. Pulitzer Prize finalist Lee Martin's latest, Break the Skin, is a Lucinda Williams ballad of a small-town love affair—a teenage dropout, a nameless stranger—gone horribly wrong." – Vogue.com

"Martin…gets the claustrophobia of small town life just right. With their oh-what-might-have-been voices, these women win our hearts."- The Plain Dealer

"Martin, whose kidnap novel The Bright Forever (2005) was a finalist for the 2006 Pulitzer Prize in fiction, expertly applies shades of James Cain–like noir to
modern story that might have been inspired by one of the Lucinda Williams songs on this book's soundtrack. Black magic, daughters cursed by the loss or absence of their fathers, post traumatic stress syndrome, small-town secrecy and lies, pre-teen voyeurism: Welcome to life 'on the other side of right thinking.'  An intoxicating small-town thriller that quickly gets under your skin."--Kirkus Reviews

"What we really want from our summer reading is a chance to escape ourselves, to disappear for a while into the lives of other people. Break the Skin allows us to do that, while delivering a fast, suspenseful read." – Blogcritics.com

"Disaffected teenager Laney has no one in the world but the older Delilah, whom she clings to like a raft. Then the police start asking Laney questions that link her to the sadder-but-wiser Miss Baby, who thinks she's finally found true love with a gentle man who can't remember his own name, and the story of a wrenching crime emerges."--Library Journal


"Provocative… Crackling with dark deeds and bad intentions, Martin snakes through the lives of the desperate without casting pity."--Publishers Weekly

"Carrying an almost archetypal resonance, this well-crafted tale of romantic desperation feels as sad and inevitable as an old murder ballad and should have an appeal beyond readers of serious fiction." – Library Journal
Crown, 9780307716750, 288pp.
Publication Date: June 14, 2011
About the Author
LEE MARTIN is the author of the Pulitzer Prize finalist "The Bright Forever;" novels "River of Heaven" and "Quakertown;" a story collection, "The Least You Need to Know;" and two memoirs, "From Our House" and "Turning Bones." He has won a fellowship from the National Endowment for the Arts, the Mary McCarthy Prize in Short Fiction, a Lawrence Foundation Award, and the Glenna Luschei Award. He lives in Columbus, Ohio, where he teaches in the MFA in Creative Writing Program at The Ohio State University.

Visit him at www.leemartinauthor.com.
or
Not Currently Available for Direct Purchase