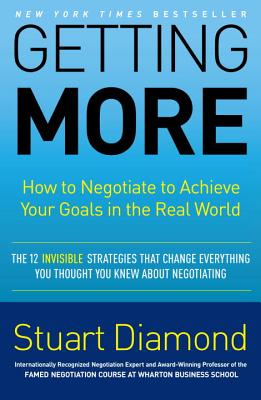 Getting More (Hardcover)
How to Negotiate to Achieve Your Goals in the Real World
Crown Business, 9780307716897, 400pp.
Publication Date: December 28, 2010
* Individual store prices may vary.
or
Not Currently Available for Direct Purchase
Description
This new model of human interaction has been chosen by Google to train the entire company worldwide (30,000 employees), is the #1 book for your career chosen by The Wall Street Journal's website, and is labeled phenomenal by Lawyers Weekly and brilliant by Liza Oz of the Oprah network.
Based on more than 20 years of research and practice among 30,000 people in 45 countries, Getting More concludes that finding and valuing the other party's emotions and perceptions creates far more value than the conventional wisdom of power and logic. It is intended to provide better agreements for everyone no matter what they negotiate from jobs to kids to billion dollar deals to shopping.
The book, a "New York Times "bestseller and #1 "Wall Street Journal "business best seller, is based on Professor Stuart Diamond's award-winning course at the Wharton Business School, where the course has been the most popular over 13 years. It challenges the conventional wisdom on every page, from win-win to BATNA to rationality to the use of power. Companies have made billions of dollars so far using his new model and parents have gotten their 4-year-olds to willingly brush their teeth and go to bed.
Prof. Diamond draws from his experience as a Pulitzer Prize winning journalist at The New York Times, Harvard-trained attorney, Wharton MBA, U.N. Consultant in many countries and manager and executive in many sectors, including technology, agriculture, medical services, finance, energy and aviation. The ROI from reading "Getting "More will make it the best investment you make this year, says Rhys Dekle, the business development head of the Microsoft Games division, which produces X-Box. He added that the book was his team's best investment of the year too. The model was also used to quickly solve the 2008 Hollywood Writer's Strike.
The advice is addressed through the insightful stories of more than 400 people who have used Prof. Diamond's tools with great success: A 20% savings on an item already on sale. An extra $300 million profit in a business. A woman from India getting out of her own arranged marriage. Better relationships with the family, including teenagers. Raises at work. Better jobs. Dealing with emotional situations. Meeting one's goals. Finding better things to trade. Solving cultural and political problems, sports conflicts, and ordinary arguments.
The book is intended to be used in any situation. The most common response is life changing, beginning on page one. The most inspirational book I have read this year said David Simon, an attorney in San Francisco, CA. This book can change the world, says Craig Silverman, Investment Advisor, Long Island, NY.
About the Author
STUART DIAMOND is one of the world s leading experts on negotiation. He has advised executives and managers from more than 200 of the Fortune 500 companies, and taught 30,000 people in 45 countries, from country leaders and professionals to homemakers and school children. A professor from practice at The Wharton School of business, where his course has been the most popular over 13 years, he has also taught at Harvard, Columbia, NYU, USC, Oxford and Berkeley, and advised the U.N. and the World Bank. A former associate director of the Harvard Negotiation Project at Harvard Law School, he has managed a variety of business ventures, including technology, medical services, energy, agriculture, finance and aviation.

He holds a J.D. from Harvard Law School and an MBA from Wharton. Previously, Diamond was a Pulitzer Prize winning reporter for the "New York Times." His negotiation process solved the 2008 Hollywood Writers Strike, and has been selected by Google to train its 30,000 employees worldwide. Other clients include JP Morgan, Morgan Stanley, Microsoft and multiple companies in the healthcare field. He advised the top government leaders in Latvia in organizing their government after the fall of the Soviet Union, assisted Kuwait in rebuilding its government after the first Gulf War and advised the President and Foreign Minister of Nicaragua on more effective media and political strategies.

He also helps parents to get their young children to willingly brush their teeth and go to bed and shows employees and executives how to get better jobs and raises.

For more information, visit www.gettingmore.com"
Praise For Getting More: How to Negotiate to Achieve Your Goals in the Real World…
Acclaim For The New York Times Best-Seller, Getting More, And Author
Stuart Diamond
 
"#1 Business Book to read for your career in 2011."  Wall Street Journal FINS blog
 
"Phenomenal." Lawyers Weekly
 
"Brilliant." Lisa Oz, Oprah Network
 
"This book will give the reader a massive advantage in any negotiation."  Stephanie Camp, Senior Digital Strategist, Microsoft.
 
"Superb…counterintuitive…immensely useful." Kirkus starred review (new books)

"The Getting More Model is the negotiation model of choice for our CEO clients & staff of Financial Advisors."
–Morgan Stanley Smith Barney
 
"The book is amazing . . . extremely powerful in the real world. A must read!" Adam Guren, Chief Investment Officer, First New York Securities
 
"I am living proof that this course does pay! I saved $245 million for my company." Richard T.   Morena, CFO, Asbury Park Press, NJ
 
 "The most valuable tools in my 15 years in sales, marketing, and business development." Sandeep Sawhney, Director of Business Development, The Weather Channel

"The best training we have ever received on this or any subject. The benefits are immediate and tangible."  John Sobel, Senior Vice President/General Counsel, Yahoo

"I am one of Stuart Diamond's biggest fans; he taught me more than anyone I can recall." Rob McIntosh, Procurement Director, Dell
 
"The crown jewel; it fundamentally changed my way of thinking." Ravi Radhakrishnan, Senior Manager, Accenture
 
"The best book I've read after the Bible." Jeff Schultz, Health Benefits Advocate, MN
 
"This book can change the world." Craig Silverman, Investment Advisor, NY
 
"After just a few chapters, I became a better parent." Vivek Nadkarni, Technology Exec, CA
 
"Life changing." Kerri Kuhn, Morrison & Foester Law Firm, CA
 
"Wow, it really works! This stuff is truly valuable." Matthew Doyle, Director, The Strauss Group HR & Executive Recruitment Co., Buffalo, NY.
 
"Cannot put it down!" Michael Magee, Director, Development Finance Bank, UK
 
"The first book I've bought that has actually made me money." Owen Devitt, Marketing Executive, Enterprise Ireland, Irish Government
 
"I am still amazed how much I learned." Sylvia Reul, Managing Partner, Reul Law Firm, Germany
 
"Definitely, this book is a MUST for everybody." Katrina Agustin, Network Marketing Firm, Philippines
 
"Stuart Diamond is the master of negotiation." Robin Khuda, Executive Director, NEXTDC (data centers) Ltd., Australia & New Zealand.
 
"I rely on Stuart Diamond's negotiation tools every day."  Christian Hernandez, Head of International Business Development, Facebook.
 
"Practical, immediately applicable and highly effective." Evan Wittenberg, Chief Talent Officer, Hewlett-Packard
 
"A flexible toolkit for getting your way, whether…a million-dollar deal, a botched restaurant dish, or a petulant 4-year-old."  Psychology Today
 
"Stuart Diamond equipped me with the tools to be more effective in all of life's pursuits." Larry B. Loftus, Head of Procter & Gamble Far East
 
"For women, empowering and enabling."  Umber Ahmad, Exec Director, Platinum Gate Capital Management; former vice president, Goldman Sachs
 
"Invaluable in helping me achieve my goals, whether on the field, in the office, or at home with my five children." Anthony Noto, CFO, National Football League
 
"There isn't an hour that goes by in my personal and professional lives when I don't use what I learned from you…"  Bill Ruhl, Director, National Customer Service Operations, Verizon

"Wonderful!" Laura Chavez, Host, ABC's "Let's Talk Live."
Advertisement