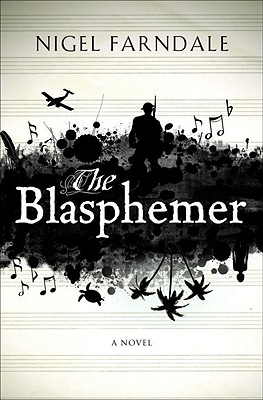 The Blasphemer
Hardcover

* Individual store prices may vary.
Other Editions of This Title:
Audio Cassette (8/1/2010)
Paperback (8/23/2011)
Description
On its way to the Galápagos Islands, a light aircraft ditches into the sea. As water floods the cabin, zoologist Daniel Kennedy faces an im­possible choice—should he save himself, or Nancy, the woman he loves and the mother of his child?

Back in London, Daniel can't stop thinking about the man he saw while swimming fourteen miles—on the verge of exhaustion and hypothermia—to reach the islands: a smiling figure treading water, urging him to swim just a few strokes farther until his foot touched sand. An adamant atheist, Daniel is certain it was merely a hallucination brought on by his physical state. Or was it?
 
Meanwhile, in a parallel narrative, Daniel's great-grandfather, Andrew Kennedy, faces mortal danger during the horrific battle of Passchendaele. But what does the unraveling truth about the life and death of Andrew have to do with Daniel? As secrets are disclosed—from the diary of a military chaplain who knew Andrew and from the enigmatic scribbles on a musical score signed by Gustav Mahler—Daniel must confront the miraculous, despite his atheism. In doing so, he is given another fateful chance to prove his unconditional love to his family.

A literary thriller of rare depth that sweeps from the morbid trenches of World War I to the terrorist-besieged streets of present-day London, The Blasphemer is about one man coming to grips with his darkest instincts, his moments of betrayal, his shocking family legacy, and ultimately his desperate hope for redemption and faith.
Praise For The Blasphemer…
"Epic….a truly transcendental reading experience."
—BookPage.com

"[An] elegant meditation on morality (among many other topics)....Farndale...knows how to tell a terrific story."
—Publishers Weekly, starred review

International praise for Nigel Farndale's THE BLASPHEMER

"This is a fine novel; strange and unforgettable."
—Kate Saunders, The Times [London]

"A great achievement…To take on the First World War as so very many have done and make it fresh is remarkable."
—Melvyn Bragg
 
"Does suspense exceptionally well, and is a book that won't leave your fingernails intact...a terrifically exciting and thought-provoking must-read."
—John Harding, Daily Mail
 
"Beautiful...Farndale's elegant prose, his storytelling ability and the wise tolerance with which he views...his characters lend his exhilarating novel a tenderly redemptive afterimage."
—Jane Shilling, Sunday Telegraph
 
"This perfectly constructed drama explores the moralities around unconditional love and self-preservation. And it also weaves an intricate story of redemption starting in the trenches at Passchendaele and continuing till Britain's current terror threat....storytelling at its best."
—News of the World
 
"Ignites with an energy that should ensure short-listing in the next Man Booker Prize....Farndale's evocation of trench warfare surpasses Sebastian Faulks's Birdsong...Of the book's many accomplishments perhaps the strongest is the writing itself. Exquisite and luminous...Farndale gives a master class in the power of literature to illuminate the physical world and the human soul."
—The Australian
 
"Love, cowardice and redemption are the themes that stalk Farndale's beautifully intelligent tale."
—Daily Mirror
 
"A beguiling and resonant novel of ideas. The action is vivid and absorbing...although this intergenerational family drama is plotted like a thriller, it's also a novel of ideas, throwing light on the strange dance between religion and science."
—Cameron Woodhead, Melbourne Age
 
"Profound, moving and compelling. A beautifully composed novel."
—Emily Maitlis
Crown, 9780307717030, 384pp.
Publication Date: August 17, 2010
About the Author
NIGEL FARNDALE is the author of Haw-Haw: The Tragedy of William and Margaret Joyce, which was shortlisted for the 2005 Whitbread Prize and the James Tait Black Memorial Prize. "From the Trade Paperback edition."
or
Not Currently Available for Direct Purchase