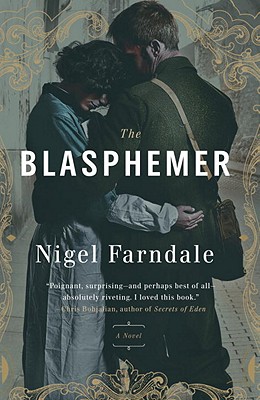 The Blasphemer (Paperback)
Broadway Books, 9780307717047, 371pp.
Publication Date: August 23, 2011
* Individual store prices may vary.
or
Not Currently Available for Direct Purchase
Description
An astonishing, ambitious and masterful new novel, with echoes of Birdsong, that reads at the pace of a thriller.
On its way to the Galapagos Islands, a light aircraft crashes into the sea. Zoologist Daniel Kennedy is confronted with a stark Darwinian choice. Should he save himself, or Nancy, the woman he loves? But how can one moment of betrayal ever be forgiven? And after he escapes the plane and swims for help, who is the elusive figure who guides him away from certain death?
Back in London, Daniel thinks he finds the answer; it is connected with his great grandfather and the first horrific day of Passchendaele. But as the past collapses into the present, the fissures in his relationship with Nancy show through. Until he is given a second chance to prove his courage and earn her forgiveness. The Blasphemer is a novel that speaks to the head as well as the heart of the reader.
About the Author
NIGEL FARNDALE is the author of Haw-Haw: The Tragedy of William and Margaret Joyce, which was shortlisted for the 2005 Whitbread Prize and the James Tait Black Memorial Prize.
Praise For The Blasphemer…
"Epic….a truly transcendental reading experience."
—BookPage.com

"[An] elegant meditation on morality (among many other topics)....Farndale...knows how to tell a terrific story."
—Publishers Weekly, starred review

International praise for Nigel Farndale's THE BLASPHEMER

"This is a fine novel; strange and unforgettable."
—Kate Saunders, The Times [London]

"A great achievement…To take on the First World War as so very many have done and make it fresh is remarkable."
—Melvyn Bragg
 
"Does suspense exceptionally well, and is a book that won't leave your fingernails intact...a terrifically exciting and thought-provoking must-read."
—John Harding, Daily Mail
 
"Beautiful...Farndale's elegant prose, his storytelling ability and the wise tolerance with which he views...his characters lend his exhilarating novel a tenderly redemptive afterimage."
—Jane Shilling, Sunday Telegraph
 
"This perfectly constructed drama explores the moralities around unconditional love and self-preservation. And it also weaves an intricate story of redemption starting in the trenches at Passchendaele and continuing till Britain's current terror threat....storytelling at its best."
—News of the World
 
"Ignites with an energy that should ensure short-listing in the next Man Booker Prize....Farndale's evocation of trench warfare surpasses Sebastian Faulks's Birdsong...Of the book's many accomplishments perhaps the strongest is the writing itself. Exquisite and luminous...Farndale gives a master class in the power of literature to illuminate the physical world and the human soul."
—The Australian
 
"Love, cowardice and redemption are the themes that stalk Farndale's beautifully intelligent tale."
—Daily Mirror
 
"A beguiling and resonant novel of ideas. The action is vivid and absorbing...although this intergenerational family drama is plotted like a thriller, it's also a novel of ideas, throwing light on the strange dance between religion and science."
—Cameron Woodhead, Melbourne Age
 
"Profound, moving and compelling. A beautifully composed novel."
—Emily Maitlis
Advertisement