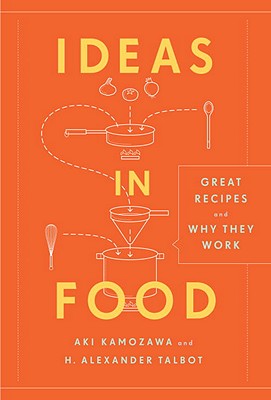 Ideas in Food
Great Recipes and Why They Work: A Cookbook
Hardcover

* Individual store prices may vary.
Description
Alex Talbot and Aki Kamozawa, husband-and-wife chefs and the forces behind the popular blog Ideas in Food, have made a living out of being inquisitive in the kitchen. Their book shares the knowledge they have gleaned from numerous cooking adventures, from why tapioca flour makes a silkier chocolate pudding than the traditional cornstarch or flour to how to cold smoke just about any ingredient you can think of to impart a new savory dimension to everyday dishes. Perfect for anyone who loves food, Ideas in Food is the ideal handbook for unleashing creativity, intensifying flavors, and pushing one's cooking to new heights.
 
This guide, which includes 100 recipes, explores questions both simple and complex to find the best way to make food as delicious as possible. For home cooks, Aki and Alex look at everyday ingredients and techniques in new ways—from toasting dried pasta to lend a deeper, richer taste to a simple weeknight dinner to making quick "micro stocks" or even using water to intensify the flavor of soups instead of turning to long-simmered stocks. In the book's second part, Aki and Alex explore topics, such as working with liquid nitrogen and carbon dioxide—techniques that are geared towards professional cooks but interesting and instructive for passionate foodies as well. With primers and detailed usage guides for the pantry staples of molecular gastronomy, such as transglutaminase and hydrocolloids (from xanthan gum to gellan), Ideas in Food informs readers how these ingredients can transform food in miraculous ways when used properly.
 
Throughout, Aki and Alex show how to apply their findings in unique and appealing recipes such as Potato Chip Pasta, Root Beer-Braised Short Ribs, and Gingerbread Soufflé. With Ideas in Food, anyone curious about food will find revelatory information, surprising techniques, and helpful tools for cooking more cleverly and creatively at home. 
Praise For Ideas in Food: Great Recipes and Why They Work: A Cookbook…
"Alex and Aki have done the hard work—this book will enlighten any cook with its insightful recipes and new perspectives on food. I will make sure to have a copy on hand at all of our restaurants."
--David Chang, chef-owner of Momofuku

"Ideas in Food is filled not only with intriguing recipes but also enormous intelligence and thoughtfulness about the way food works and why, everything from the simple stuff, such as fruits and vegetables, to the bizarre, including 'meat glue.' Alex and Aki are serious players with food, and here they tell you all the cool stuff they've figured out. I love this book."
--Michael Ruhlman, author of Ratio

"Alex and Aki have produced an essential reference book that belongs on the shelf of every fan of contemporary cooking.  By exploring the building blocks of flavor from the garden to the test kitchen, it opens a fascinating window on the past, present, and future of American cuisine."
--Michael Anthony, executive chef of Gramercy Tavern

"I am so excited about Aki and Alex's book. I have been a fan for many years and am constantly inspired and educated by their work! I can't wait to cook my way though these pages and add these new techniques to my repertoire."
--Johnny Iuzzini, head judge of Top Chef Just Desserts and author of Dessert FourPlay

"Alex and Aki's excitement and enthusiasm is contagious and it gives both professional and home cooks alike a kick start of creativity with the turn of every page."    
--Chris Cosentino, chef-owner of Incanto

"Finally! A cookbook that puts it all into perspective. Aki and Alex blaze the culinary trail, looking under every rock they come across and sharing their insightful discoveries along the way. This is a book that will open the eyes of professional chefs and home cooks alike."
--Sean Brock, executive chef of McCrady's

"Alex and Aki have done a remarkable job of explaining many techniques and ingredients in the modern kitchen. I'm excited to see a book that makes this approach accessible to more people and that also includes delicious recipes."
--Wylie Dufresne, chef-owner of wd~50

"Aki and Alex share a mission—to change the way we think about both what we cook and how we cook. Delicious ideas leap from every page, easily put to immediate use in the kitchen. Painstakingly researched yet highly readable, Ideas in Food lays out the science behind cooking in a precise and personal way that we can all grasp!"
--Michael Laiskonis, executive pastry chef of Le Bernardin

"I have been a fan of Alex and Aki's website Ideas in Food for years and have always found it an incredible inspiration. It is fantastic that they have crafted an easy-to-read and informative book for everyone to enjoy."
--Grant Achatz, chef-owner of Alinea

"A fantastic glimpse into the minds of two of the most creative cooks in the country, Ideas in Food brings modern restaurant techniques and sensibilities into the home kitchen. A must for anyone interested in new ways of looking at food."
--Daniel Patterson, chef-owner of Coi

"...an everyday reference tool and a source of go-to recipes for anyone who spends a lot of time in the kitchen."
-- Publisher's Weekly

"The amazingly prolific hosts of one of the most fascinating food Web sites have finally gathered many of their most useful and ingenious ideas and recipes—ranging from brining a chicken and baking no-knead brioche bread to hypermodern creations such as yuzu meringue and encapsulated celery root—and put them between hard covers for our pleasure and edification." -- Vogue.com

"Illuminating...this book is bound to get many readers thinking of new possibilities in their kitchens."
-- Library Journal

"The brains and talent behind one of the very best food websites also are behind one of the very best new food books....Ideas in Food is an entertaining, inspiring and enlightening book that will broaden your understanding about cooking and eating."  
-- The Sacramento Bee
Clarkson Potter, 9780307717405, 320pp.
Publication Date: December 28, 2010
About the Author
AKI KAMOZAWA and H. ALEXANDER TALBOT met in the kitchen at Clio in Boston in 1997 and have been cooking together ever since. They own Ideas in Food, a consulting business based in Levittown, Pennsylvania, and have worked with individual chefs as well as with companies such as No. 9 Group in Boston, Fourth Wall Restaurants in New York City, Frito Lay, and Unilever. Their company grew out of their Ideas in Food blog, which they started in 2004. Together they wrote an online column called "Kitchen Alchemy" for Popular Science. Visit them at www.ideasinfood.com