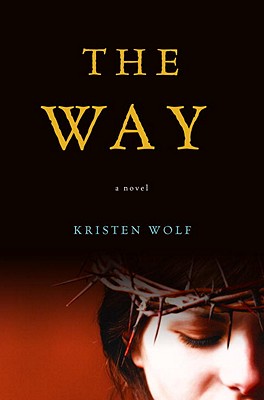 The Way (Hardcover)
A Novel
Crown, 9780307717696, 368pp.
Publication Date: July 12, 2011
* Individual store prices may vary.
Description
Anna is a fiery tomboy living in ancient Palestine whose androgynous appearance provokes ridicule from the people around her and doubt within her own heart. When tragedy strikes her family, and Anna's father—disguising her as a boy—sells her to a band of shepherds, she is captured by a mystical and secret society of women hiding in the desert. At first Anna is tempted to escape, but she soon finds that the sisterhood's teachings and healing abilities, wrapped in an ancient philosophy they call "The Way," have unleashed an unexpected power within her.

When danger befalls the caves in which the sisters have made their home, Anna embarks on a hazardous mission to preserve the wisdom of her mentors by proclaiming it among ordinary people. Her daring quest and newfound destiny reveal, at last, the full truth of her identity—a shocking revelation that will spark as much controversy as it does celebration.

Anna's story is one of transformation, betrayal, love, loss, deception, and above all, redemption. Readers will cheer for this unforgettable protagonist—and for debut novelist Kristen Wolf, whose beautifully written book both provokes and inspires. A compelling mix of history, myth, and fantasy, The Way is a fascinating exploration of the foundations and possibilities of human spirituality.
About the Author
Kristen Wolf is a mother, writer, and filmmaker living in the Rocky Mountains. She is a Phi Beta Kappa graduate of Georgetown University and holds an M.A. in creative writing from Hollins University. This is her first novel.
Praise For The Way: A Novel…
"This imaginative novel may make you a believer." —O, the Oprah Magazine

"Wolf takes the prevailing Jesus mythology, twists it around, and stands it on its head by reimagining the Messiah as a female…. this controversial biblical revision is sure to be a book-club darling."—Booklist
 
"A young girl in ancient Palestine struggles with her calling as a spiritual leader in Wolf's audacious, deftly woven debut."—Publishers Weekly

"This book took me on a journey back to the days of Jesus. I was surprised in more ways than I ever could have imagined. The Way is one of those rare novels that makes you think."—Javier Sierra, New York Times bestselling author of The Secret Supper
 
"The Way is a unique and ambitious debut novel, certain to provoke passionate discussions."—John Shors, bestselling author of Beneath a Marble Sky
 
"Wolf's voice, vision, and verve combine to make The Way an emotional and action-packed debut."—Alice Peck, author of Bread, Body, Spirit: Finding the Sacred in Food and Next to Godliness
 
"The Way is a magical, evocative first novel that I plan to buy a carton of to give to my family and friends. Kristen Wolf's rich imagery transports the reader into ancient Palestine where harmony and balance—the feminine Way—have been lost in the worship of a vengeful male deity. The tension between how the world is and how it might be if people followed The Way is as vital a question today as it was in ancient times. This message of compas­sion, healing, and respect for women could indeed transform our world."—Joan Borysenko, Ph.D., author of A Woman's Journey to God
 
"The point [Wolf] makes in this book is one I deeply believe in: we begin with the mother and then we lose our way—all of us."—Kavita N. Ramdas, the Global Fund for Women

"..this spiritually provocative novel will enthrall people of all faiths."—Bookloons
 
5-Stars "Fascinating, fans will enjoy the "truth" of Anna's journey." —Harriet Klausner, Amazon's #1 Reviewer
 
"THE WAY will invoke some deep thinking and soul searching...pick it up." —Rhodes Review
 
"The Way is a daring and passionate debut from an author to watch in the future." —Historical Novel Society
 
"...page turning and utterly creative." —Maria's Space 
 
"Remarkable story, beautifully told." —Mary Johnson, Author of "An Unquenchable Thirst

Following Mother Teresa in search of love, service, and an authentic life"   "Wow, is all I can say. This novel blew me away!"—Book Pleasures

"Respelendent writing" —Minding Spot
 
"THE WAY challenges you to think beyond what you have learned... to expand your vision..." —Library Girl Reads 
 
"A bold and powerful story... needs to make its way to the reading lists of women...everywhere." —Rainbow Reader 
 
"Highly descriptive settings, imaginative plot, and flowing script abound..." —Literary R & R
 
"This imaginative novel may make you a believer." —OPRAH Magazine "A Title to Pick Up Now!"
 
"...[an] audacious, deftly woven debut."  —Publisher's Weekly
 
"[a} fascinating idea." —Kirkus Reviews
or
Not Currently Available for Direct Purchase