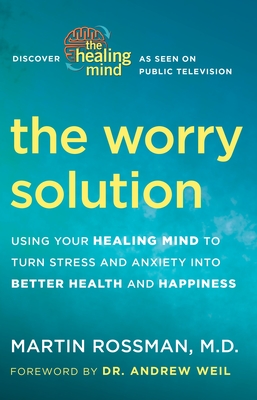 The Worry Solution (Paperback)
Using Your Healing Mind to Turn Stress and Anxiety into Better Health and Happiness
Harmony, 9780307718242, 256pp.
Publication Date: December 28, 2010
* Individual store prices may vary.
Description
As seen on Public Television!

Our brains are hardwired for worry. At its best, worry helps us reflect on and solve a problem. But for many, worry creates a negative cycle of unnecessary suffering. Now, based on cutting-edge research and proven clinical techniques, Dr. Martin Rossman has developed a program to help you harness the healing power of the mind to invigorate the emotional and intuitive parts of your brain and enhance your problem-solving abilities. You'll learn to:
 
·         Identify worries you can – and can't – control.
·         Cultivate the part of your brain that helps you solve problems more creatively.
·         "Hardwire" yourself for calmness and clarity with guided imagery.

Grounded in breakthrough research and wonderfully accessible, The Worry Solution is a powerful and practical guide to living your best life – healthier, happier, and free from unnecessary stress.
About the Author
MARTIN ROSSMAN, M.D., is a clinical instructor  at the University of California, San Francisco, Medical School, the founder of www.thehealingmind.org, and the author of Fighting Cancer from Within and Guided Imagery for Self-Healing. He was most recently seen on the Public Television program The Healing Mind, which is based on his book, The Worry Solution.  
Praise For The Worry Solution: Using Your Healing Mind to Turn Stress and Anxiety into Better Health and Happiness…
"The Worry Solution is a wonderful contribution to the age old question of what to do about worry or anxiety.  Marty Rossman is a pioneering contributor to integrative medicine.  He knows the science and, as a practicing physician, he knows what actually works for real people.  If worry is a problem in your life, I recommend The Worry Solution highly."
--Michael Lerner, President, Commonweal
 
"Profound lessons in a straightforward, pleasure-to-read format. No preaching, just the kind, considerate guidance of a very experienced physician teaching you how to let go of stress and enjoy life more."
--Kenneth R. Pelletier, PhD, MD
Clinical Professor of Medicine & Professor of Public Health, U of Arizona and UCSF Schools of Medicine
Author of Best Alternative Medicine and New Medicine
 
"A unique marriage of timeless wisdom, cutting edge brain science, and practical techniques that stop runaway worry and stress.  The Worry Solution is first-rate medicine for your heart, your health, and your daily life."
--Dean Ornish, Founder and President, Preventive Medicine Research Institute
Clinical Professor of Medicine, University of California, San Francisco
author, The Spectrum

"From one of America's leading experts in mind-body medicine comes one of the best books on worry and stress to appear in years.  Dr. Marty Rossman turns worry upside down and shows how it can actually be beneficial if handled wisely.  The Worry Solution may be the last book on stress management you'll ever need to buy."
-- Larry Dossey, MD
Author of The Power of Premonitions