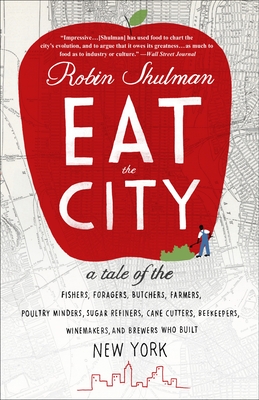 Eat the City (Paperback)
A Tale of the Fishers, Foragers, Butchers, Farmers, Poultry Minders, Sugar Refiners, Cane Cutters, Beekeepers, Winemakers, and Brewers Who Built New York
Broadway Books, 9780307719065, 352pp.
Publication Date: May 21, 2013
Other Editions of This Title:
Hardcover (7/10/2012)
* Individual store prices may vary.
Description
New York, the city of money, glass, and concrete, seems like no kind of place to produce food. Yet in this smart, funny, and beautifully written book, Robin Shulman places today's urban food production in the context of hundreds of years of history, tracing the changing ways we live and eat. As Shulman tells the story of New York's ability to feed people, she also shows the things we've always longed for in the cities that we build: closer human connections and a sense of something pure. 
     Food, of course, is about hunger—but it's also about community. With humor and insight, Eat the City shows how, in places like New York, people have always found ways to use their collective hunger to build their own kind of city.
About the Author
ROBIN SHULMAN is a writer and reporter whose work has appeared in the New York Times, the Washington Post, the Los Angeles Times, Slate, the Guardian, and many other publications.  She lives in New York City.
Praise For Eat the City: A Tale of the Fishers, Foragers, Butchers, Farmers, Poultry Minders, Sugar Refiners, Cane Cutters, Beekeepers, Winemakers, and Brewers Who Built New York…
"Chapters on honey, vegetables, meat, sugar and so forth follow present-day artisans and gardeners while exploring the past....[Shulman] found that even in the city, food producers are essential, connected parts of their communities."
—New York Times 

"A buzzing, savory, lively world comes to life in Robin Shulman's extensively researched 'Eat the City'...The book provides what's missing from much of the breathless media coverage of New York's modern food artisans: culinary context. Europeans who landed in what became New York Harbor found hillsides red with strawberries and 12-inch oysters in the waters? That's history made delicious."
—Washington Post

"The author has employed her skills as a writer and journalist to pull off a rather impressive feat: She has used food to chart the city's evolution, and to argue that it owes its greatness as an international crossroads, particularly in its early years, as much to food as to industry or culture...These days New York marks its greatness not so much by its industry or by the sweat of its brow, but as a center for finance and culture, and how much its penthouses fetch. However, amid its 90-story condos and three-star restaurants, we run the risk of forgetting on whose broad shoulders, and often punishing effort, we stand. That is, unless we read Ms. Shulman's book."
—The Wall Street Journal

"Straightforward, but not overly earnest, and smartly layered, this well-researched social history is organized in seven chapters ordered like the courses of a meal… [Shulman] is particularly good at illustrating how big a part food played in the city's social history. From the sugar trade's role in making Manhattan the largest slave port in the nation to the role of refrigeration in building distance between food sources and consumers, Shulman is adept at shifting our perspective on the foods we eat."
—Boston Globe

"Robin Shulman's must-read new book Eat the City features insight about how food and beverage production moved from the urban landscape of New York City to the farms and beyond, only to come back to places like Brooklyn and Manhattan in the past few years. She tells fascinating stories, and hones in on some of the current scene's livelier personalities, like Brooklyn artist-butcher Tom Mylan." 
—Food Republic

"The author masterfully traces the wonderful spectrum of the city's culinary geniuses going back a hundred years and moving into the present day to portray the men and women who bring select food to our tables."
—New York Daily News

"In telling the stories of New Yorkers and our food through the centuries and looking to the future -- stories by people from all over the world who now call this city home -- Shulman serves her readers the nourishment of connection."
—Nicole Reed, Food Systems Network NYC

"Robin Shulman immerses herself in the heart of New York, finding hidden gardens, wineries, abattoirs, and apiaries in the most unexpected places. Through her personal stories, she convinces us that in order to live and eat in a city, we must understand where our food comes from and how it is made."
—Alice Waters
 
"Eat the City is about the men and women who came to New York City--now and in the past--and planted gardens, harvested honey, made cheese, and brewed beer and made New York what it is today.  Robin Shulman uses their stories to bring this rich history to life and to reflect on the forces that brought immigrants and their food traditions to this city.   Not all of these stories have happy endings, but they inform, move, and inspire."
—Marion Nestle, professor of nutrition, food studies, and public health at New York University and author of What to Eat

"Robin Shulman introduces us to today's trendy fooderati, and then reveals--through careful historical research--that growing food in the city isn't so new after all."
—Novella Carpenter, author of Farm City

"Robin Shulman's Eat the City locates a new point on the urban grid: the intersection of the man-made city and the abundance of the natural world.  This overlooked New York is home to rows of corn, collards and okra in formerly burnt-out lots, shady rooftop vineyards, and Brooklyn honeybees fed on industrial nectar, courtesy of the local Maraschino cherry plant.  Laced with surprises, Eat the City describes the human impulse to harness nature and turn it into food, even in the most unlikely surroundings."
—Jane Ziegelman, author of 97 Orchard

With beautiful detail, Shulman tells the tale of a city, however rich or poor, that has always wanted to eat well. From a Harlem numbers house that lured gamblers with city-grown produce to a hipster butcher transforming a corner of Williamsburg, Eat the City reminds us that New York's true foodies live in every corner, in every class, of every borough.
—Tracie McMillan, author of The American Way of Eating

"Shulman's brilliant, transformative book weaves history, journalism, and storytelling into a secret atlas of New York… A profound, surprising, and exquisitely written exploration of how food and its makers, even in the unlikeliest places, keep all of us human."
—Annia Ciezadlo, author of Day of Honey

"Robin Shulman shows the farms beneath the feet of New Yorkers.  Hers is an industrial, social, political, and of course culinary geography of the city, with finely observed portraits of the people, young and old, who are intent on following the footsteps of forebears they might not know they had--not just in farming, fishing, butchering, and brewing but in calling for social justice for everyone who produces food."
—Corby Kummer, author of The Joy of Coffee and The Pleasures of Slow Food

"A lovely, well written and fascinating account of people who built and continue to build New York through its food production, cultivation and creation…Shulman moves seemingly effortlessly between past and present in order to set the amazing stories of the people she writes about within an historical context. That is an amazingly difficult thing to do well."
—Suzanne Wasserman, Ph.D., Director, the Gotham Center for NYC History/CUNY

"[A] Deliciously engaging account of a journalist's odyssey through New York City's thriving organic farm culture...What makes Shulman's narrative so captivating is the way she emphasizes the relationship human beings have with an urban environment that at first glance is anything but farm-friendly. A feast for foodies of all persuasions." —Kirkus

"Fondly nostalgic, immensely useful…Shulman's playful mélange of history and journalism celebrates the city's return as a neighborhood food festival."
—Publisher's Weekly
or
Not Currently Available for Direct Purchase