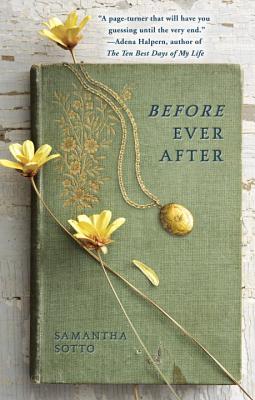 Before Ever After (Hardcover)
Crown Publishing Group (NY), 9780307719874, 296pp.
Publication Date: August 2, 2011
Other Editions of This Title:
Paperback (5/29/2012)
* Individual store prices may vary.
Description
"A smartly written romance, mystery and historical adventure all wrapped up in a page-turner that will have you guessing until the very end." Adena Halpern, author of "The Ten Best Days of My Life"
Three years after her husband Max's death, Shelley feels no more adjusted to being a widow than she did that first terrible day. That is, until the doorbell rings. Standing on her front step is a young man who looks so much like Max same smile, same eyes, same age, same adorable bump in his nose he could be Max's long-lost relation. He introduces himself as Paolo, an Italian editor of American coffee table books, and shows Shelley some childhood photos. Paolo tells her that the man in the photos, the bearded man who Paolo says is his grandfather though he never seems to age, is Max. "Her" Max. And he is alive and well.
As outrageous as Paolo's claims seem how could her husband be alive? And if he is, why hasn't he looked her up? Shelley desperately wants to know the truth. She and Paolo jet across the globe to track Max down if it is "really" Max and along the way, Shelley recounts the European package tour where they had met. As she relives Max's stories of bloody Parisian barricades, medieval Austrian kitchens, and buried Roman boathouses, Shelley begins to piece together the story of who her husband was and what these new revelations mean for her "happily ever after." And as she and Paolo get closer to the truth, Shelley discovers that not all stories end where they are supposed to.
About the Author
SAMANTHA SOTTO fell in love with Europe s cobbled streets and damp castles when she moved to the Netherlands as a teenager. Since then, she has spent nights huddled next to her backpack on a Greek beach, honeymooned in Paris, and attended business meetings in Dusseldorf in the pleasant company of a corporate credit card. "Before Ever After" was inspired by her experiences living, studying, and traveling through Europe. This is her first novel."
Praise For Before Ever After…
 "I was floored by the gutsy scope of this highly unusual love story. Before Ever After is one of those books that challenges the natural laws of fiction writing, and Samantha Sotto pulls it off in a frisky and highly entertaining way." – Anne Fortier, New York Times bestselling author of Juliet

"I was absolutely enchanted by Before Ever After. It's a highly original and engaging mix of romance, mystery and magic that will challenge everything you think you know about happily ever after." – Jill Smolinski, author of The Next Thing on My List
 
"A smartly written romance, mystery and historical adventure all wrapped up in a page-turner that will have you guessing until the very end." – Adena Halpern, author of The Ten Best Days of My Life
 
"Exquisitely written and inventively told, Before Ever After is a beautiful, moving—and quite fun—exploration of what you think you know about your own life." –Melissa Senate, author of The Love Goddess' Cooking School
 
"In Samantha Sotto's high spirited debut, a young widow travels to a remote and distant island to answer the question, what price do we pay for eternal love. It is a mesmerizing journey transcending time and continents, all to remind that there are many ways to live on forever and to immortalize a marriage. Note to readers: Curl up with jasmine tea and savor the warm, rich writing, as delectable as the recipes for love found within every enchanting page."  -Saralee Rosenberg, author of Claire Voyant

or
Not Currently Available for Direct Purchase