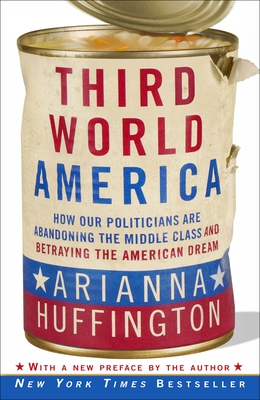 Third World America
How Our Politicians Are Abandoning the Middle Class and Betraying the American Dream
Paperback

* Individual store prices may vary.
Other Editions of This Title:
Digital Audiobook (9/6/2010)
MP3 CD (9/7/2010)
Hardcover (9/7/2010)
Compact Disc (9/7/2010)
Paperback (3/1/2011)
Compact Disc (9/7/2010)
Compact Disc (9/7/2010)
MP3 CD (9/7/2010)
Description
It's not an exaggeration to say that middle-class Americans are an endangered species and that the American Dream of a secure, comfortable standard of living has become as outdated as an Edsel with an eight-track player.  That the United States of America is in danger of becoming a third world nation.
 
The evidence is all around us:
 
Our industrial base is vanishing, taking with it the kind of jobs that have formed the backbone of our economy for more than a century; our education system is in shambles, making it harder for tomorrow's workforce to acquire the information and training it needs to land good twenty-first century jobs; our infrastructure—our roads, our bridges, our sewage and water, our transportation and electrical systems—is crumbling; our economic system has been reduced to recurring episodes of Corporations Gone Wild; our political system is broken, in thrall to a small financial elite using the power of the checkbook to control both parties.
 
And America's middle class, the driver of so much of our economic success and political stability, is rapidly disappearing, forcing us to confront the fear that we are slipping as a nation – that our children and grandchildren will enjoy fewer opportunities and face a lower standard of living than we did.
 
It's the dark flipside of the American Dream – an American Nightmare of our own making.
 
Arianna Huffington, who, with the must-read Huffington Post, has her finger on the pulse of America, unflinchingly tracks the gradual demise of America as an industrial, political, and economic leader.  In the vein of her fiery bestseller Pigs at the Trough, Third World America points fingers, names names, and details who's killing the American Dream.
 
Finally, calling on the can-do attitude that is part of America's DNA, Huffington shows precisely what we need to do to stop our freefall and keep America from turning into a third world nation.
 
Third World America is a must-read for anyone disturbed by our country's steady descent from 20th century superpower to backwater banana republic.
Praise For Third World America: How Our Politicians Are Abandoning the Middle Class and Betraying the American Dream…
"A voice of conscience in a time when we need conscience more than ever. . . Arianna Huffington is right: it's not too late for citizens to wake up politicians or to take matters into their own hands.  Time is short: read this book now."
--Elizabeth Warren -- Harvard Law School professor and author of The Two-Income Trap
 
"Luckily for Congress, the White House, and Corporate America, no one reads anymore, because if people discover this book, America will become a very different place."
--Bill Maher
 
"Restoring the values that have made America strong – a thriving middle class and a sense of basic fair play – are of crucial importance to all Americans, left and right.   Third World America is a powerful plea for our country to wake up so that we can change course -- before it's too late."
 --Joe Scarborough
 
"Politicians talk endlessly about "protecting the middle class," yet, over the last 30 years, the middle class has taken a relentless pounding. In precise, graphic, and shocking terms that will bring the crisis home to everyone, Arianna Huffington explains why: special interests have become too powerful, money dominates our politics, and there is no sense of empathy or even shame amongst our elite.  The national spirit that built America. . . lies in tatters. Turning this situation around will require strong new leadership.  How long will that take?  That depends on you - read this book and push hard for change"
--Simon Johnson –  professor of economics at MIT Sloan School of Business and co-author of 13 Bankers
 
"Arianna Huffington is one of the very few people in America committed to say things the way they are and to expose the monstrous elephants in the room ignored by the dominant discourse. Even rarer, she does so in a lively,  engaging, and, mostly, charming way." 
--Nassim Nicholas Taleb, author The Black Swan
 
"Third World America is simultaneously hard-hitting and empathetic.  It makes the case that, as the world's largest economy fights to define its future, a viable middle-class is essential to our country's well-being and something we should all fight to ensure."
--Rob Johnson -- Senior Fellow and Director of the Project on Global Finance at the Roosevelt Institute
 
"The quick wit and sharp critique of Arianna Huffington will now be heard where they are needed most -- in defense of our quickly disappearing middle class. Taking direct aim at the misguided policies that have protected the plutocracy at the expense of the middle class, Arianna explains in stark language where we will end up if we don't change course. A must-read for all concerned citizens and thinkers. "
 --Eliot Spitzer, former Attorney General and governor of New York.
 
 
"With great passion and insight, Arianna tells it like it is. Blending outrage and optimism – indignation at how America's crony capitalists have wrecked the nation's great middle class, and unremitting hope that our people will rise and put things right – she explains what's happened and what must be done. Here, clearly, is a book for our times."
 --Robert B. Reich, Professor of Public Policy, University of California, Berkeley, and former U.S. Secretary of Labor
 
 
 "An alarming account of the plight of the American middle class."
--Joseph Stiglitz, professor of economics at Columbia University and Nobel Laureater
Crown, 9780307719966, 304pp.
Publication Date: August 30, 2011
About the Author
ARIANNA HUFFINGTON, a member of Oprah's SuperSoul 100, is the cofounder and editor in chief of the Huffington Post, a nationally syndicated columnist, and the author of thirteen books. She is also the cohost of Left, Right & Center, public radio's popular political roundtable program. She was named to the Time 100, Time magazine's list of the world's one hundred most influential people, and to the Financial Times's list of fifty people who shaped the decade. Originally from Greece, she moved to England when she was sixteen and graduated from Cambridge University with an MA in economics.
or
Not Currently Available for Direct Purchase