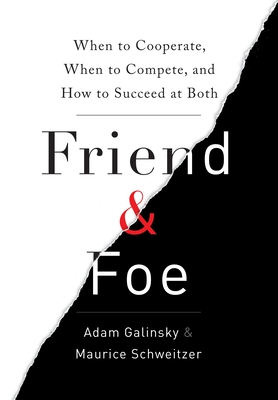 Friend & Foe
When to Cooperate, When to Compete, and How to Succeed at Both
Hardcover

* Individual store prices may vary.
Description
What does it take to succeed? This question has fueled a long-running debate. Some have argued that humans are fundamentally competitive, and that pursuing self-interest is the best way to get ahead. Others claim that humans are born to cooperate and that we are most successful when we collaborate with others.

In FRIEND AND FOE, researchers Galinsky and Schweitzer explain why this debate misses the mark. Rather than being hardwired to compete or cooperate, we have evolved to do both. In every relationship, from co-workers to friends to spouses to siblings we are both friends and foes. It is only by learning how to strike the right balance between these two forces that we can improve our long-term relationships and get more of what we want.

Here, Galinsky and Schweitzer draw on original, cutting edge research from their own labs and from across the social sciences as well as vivid real-world examples to show how to maximize success in work and in life by deftly navigating the tension between cooperation and competition. They offer insights and advice ranging from: how to gain power and keep it, how to build trust and repair trust once it's broken, how to diffuse workplace conflict and bias, how to find the right comparisons to motivate us and make us happier, and how to succeed in negotiations – ensuring that we achieve our own goals and satisfy those of our counterparts.

Along the way, they pose and offer surprising answers to a number of perplexing puzzles: when does too much talent undermine success; why can acting less competently gain you status and authority, where do many gender differences in the workplace really come from, how can you use deception to build trust, and why do you want to go last on American Idol and in many interview situations, but make the first offer when negotiating the sale of a new car.

We perform at our very best when we hold cooperation and competition in the right balance. This book is a guide for navigating our social and professional worlds by learning when to cooperate as a friend and when to compete as a foe—and how to be better at both.
Praise For Friend & Foe: When to Cooperate, When to Compete, and How to Succeed at Both…
"The fresh practical insights of 'Friend & Foe' underscore the potential benefits of disseminating research results beyond the ivory tower… the authors perform a significant public service by pulling back the self-imposed veil that academics drape over their most socially relevant research." New York Times
 
"Their approach yields fascinating and often counter-intuitive examples…The book aims high and largely fulfils its promise of handing the reader tools to be a better friend and a more formidable foe.…if you cannot shift between competition and co-operation according to the situation, you are doomed to lose out." Financial Times
 
"But is there a little bit of Mr Trump in all powerful people? This question kept occurring to your columnist while reading a new book, 'Friend and Foe', by Adam Galinsky and Maurice Schweitzer. The two academics are among the pioneers of a technique called 'power priming', that helps people feel more masterful. They find that, once primed for power, even the most reticent people experience significant changes in their behaviour." The Economist
 
"[One of the new] Books That—Really!—Help"- Oprah.Com
 
"Friend & Foe shows how leaders can build high-trust environments without relinquishing the power vested in them…Galinsky and Schweitzer share several applicable examples of how leaders can do this in small, useful ways." INC
 
"Combining their original research with existing social and psychological studies, the authors cover a broad spectrum of situations, including how to earn trust, how to recognize deception (and why cuckoo birds are masters of the art), how to get your way by seeing it "their" way, and more. By incorporating colorful anecdotes to illustrate their points, the authors of Friend and Foe make the science easier to follow. And the occasional bullet points and short chapter summaries help clarify the advice". Success Magazine
 
"Full of tips and useful advice, this title will appeal to a broad audience as well as to avid readers of business how-to." Library Journal Review
 
"The book will make all CEOs and employees rethink their relationships." Biz Ed Magazine

"Friend and Foe is one of the best works of popular social science I've read in a long time. This book is packed with so many deep insights and shrewd takeaways, I grew exhausted from taking notes!" - Daniel Pink, bestselling author of Drive and To Sell Is Human
 
"If I weren't already a social scientist, reading this book would make me want to become one. Friend & Foe is an engrossing page-turner on how our thoughts and behaviors are driven by the tension between cooperation and competition." - Amy Cuddy, author of Presence
 
"Friend and Foe is a fascinating voyage through the science of cooperation and competition. Discover why we compare ourselves to our Facebook friends, many gender differences are really due to power differences, and it's usually best to make the first offer in a negotiation."
- Adam Grant, New York Times bestselling author of Give and Take
 
"A treasure trove of golden nuggets of information and gem-like insights into the processes that govern social exchange.  We all have to cooperate and compete to succeed.  Friend and Foe provides the best roadmap I've ever seen for doing so—by a mile." - Robert B. Cialdini, bestselling Author of INFLUENCE
 
"Galinsky and Schweitzer are star researchers and teachers.  Here they use their talents to bring order to the often contradictory research on when to cooperate and compete, and they distill their insights into practical tips that anybody can use."
-Chip Heath, co-author of Made to Stick and Switch.  

"Two of the most respected scholars on success explain how you can get along and get ahead. Their guided tour of how to cooperate and how to compete is authoritative, entertaining, and eminently practical!" -Angela Duckworth, University of Pennsylvania 

"A fascinating read, and an eye-opening look at how we navigate an increasingly complex social world. Meticulously researched, filled with compelling real world anecdotes, Friend And Foe is a unique and vastly entertaining roadmap to improving relationships and resolving conflicts- at work, at home, and in life." -  Ben Mezrich, NY times bestselling author of The Accidental Billionaires and Once Upon A Time in Russia
 
"A terrific book—full of fascinating and gee-whizzy studies and insights, with genuinely useful lessons for readers. It combines the best elements of a Malcolm Gladwell or Freakonomics book with the usefulness of smarter/better business books." - Scott Stossel, Editor of the Atlantic Magazine and author of My Age of Anxiety 

"Whether it's a boardroom negotiation or a breakfast table squabble, should we fight fiercely to get our way or compromise to keep the peace? Filled with captivating stories and cutting-edge science, Friend & Foe delivers an entertaining and practical guide that details why this is a false dichotomy. Galinsky and Schweitzer offer innovative solutions for managing the myriad conflicts that populate our daily lives." - Linda Babcock, Author of Women Don't Ask

"Should you be cooperative or competitive?  Powerful or submissive? Hierarchical or flat? Honest or dishonest?  As Galinsky and Schweitzer show in this impressive book, the answer to each of these questions is yes!  They use a wide range of research studies coupled with dozens and dozens of colorful real-life examples to show us that simple answers to complicated questions are not to be trusted and that the secret to success is balance. This book will make you a better colleague, a better negotiator and a better person." - Barry Schwartz, author of The Paradox of Choice and Practical Wisdom
Currency, 9780307720214, 320pp.
Publication Date: September 29, 2015
About the Author
Adam Galinsky is the Vikram S. Pandit Professor of Business and Chair of the Management Division at the Columbia Business School at Columbia University. He received his Ph.D. from Princeton University. Maurice Schweitzer is the Cecilia Yen Koo Professor at the Wharton School at the University of Pennsylvania. He received his Ph.D. from the Wharton School.

Combined, Galinsky and Schweitzer have published over 250 scientific articles and chapters in the fields of management, psychology, and economics. Their work has been cited in The Economist, The New York Times, The Wall Street Journal, The Financial Times, The New Yorker, National Public Radio, and more.
or
Not Currently Available for Direct Purchase