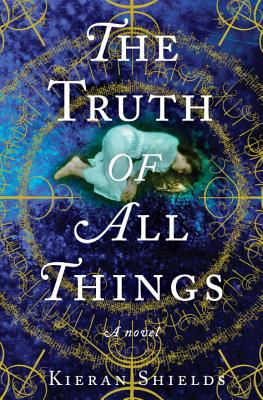 The Truth of All Things (Hardcover)
Crown, 9780307720276, 416pp.
Publication Date: March 27, 2012
Other Editions of This Title:
Paperback (2/5/2013)
* Individual store prices may vary.
Description
Two hundred years after the Salem witch trials, in the summer of 1892, a grisly new witch hunt is beginning....
When newly appointed Deputy Marshal Archie Lean is called in to investigate a prostitute's murder in Portland, Maine, he's surprised to find the body laid out like a pentagram and pinned to the earth with a pitchfork.  He's even more surprised to learn that this death by "sticking" is a traditional method of killing a witch.
     Baffled by the ritualized murder scene, Lean secretly enlists the help of historian Helen Prescott and brilliant criminalist Perceval Grey.  Distrusted by officials because of his mixed Abenaki Indian ancestry, Grey is even more notorious for combining modern investigative techniques with an almost eerie perceptiveness.  Although skeptical of each other's methods, together the detectives pursue the killer's trail through postmortems and opium dens, into the spiritualist societies and lunatic asylums of gothic New England.
     Before the killer closes in on his final victim, Lean and Grey must decipher the secret pattern to these murders--a pattern hidden within the dark history of the Salem witch trials.
About the Author
KIERAN SHIELDS grew up in Portland, Maine. He graduated from Dartmouth College and the University of Maine School of Law. He continues to reside along the coast of Maine with his wife and two children. This is his first novel.
Praise For The Truth of All Things…
"This is a book that will appeal to readers who relish the intricacies of a Sherlockian plot….Strong characters and convincing historical detail make the novel work." --Hallie Ephron, Boston Globe

"Maine has a fascinating new writer in Kieran Shields … whose dense and intriguing new novel … works its way into your bloodstream and takes you to dark places in New England history that will challenge your mind and shiver your skin." – Maine Sunday Telegram
 
"Shields creates a pitch perfect atmosphere … Fans of historical thrillers will love 'The Truth of All Things' … a winner." – The Associated Press
 
"A well paced and intriguingly contrived mystery … rollicking, entertaining, … The Truth of All Things has its own magic and once under its spell, it's impossible to put down." - Down East Magazine
 
"[An] outstanding debut … a gripping novel … Shields' characters are fascinating" – Milwaukee Journal Sentinel

"Shields's stellar first novel plays ingenious variations on both the Holmesian omnipotent sleuth and the serial killer theme....Strong characters and a nively convoluted, intelligent plot bode well for any sequel."--Publishers Weekly (starred)

"The detailed historical information and the intricate mystery hold your attention to the last page in Shields' startling debut."
—Kirkus Reviews (starred)
 
"Beautifully written and sprinkled with historical data….Shields, who is a native of Portland [Maine], offers meticulous research into the city's history in this heart-pounding suspense that should delight any lover of period mysteries."
—Mystery Scene

"Kieran Shields has written a knuckle biting gothic mystery of ritual murder, revenge, and the harrowing heritage of witchcraft in New England. Readers will love exploring Shields' world of the eerie faces of nineteenth century Maine, from temperance societies to historical societies to whorehouses and everything in between. This rollicking tale puts an entirely new spin on the legacy of the Salem witch trials, and will keep lovers of historical fiction turning pages until the final gripping conclusion."
-Katherine Howe, New York Times bestselling author of The Physick Book of Deliverance Dane

"This story brims with rich detail, the line between right and wrong smudged beyond recognition.  What a unique and claustrophobic world --- Maine at the turn of the 20th century --- but the ties to an unspeakable past are haunting and unmistakable.  It's a delight from start to finish.  A terrific story, told terrifically."--Steve Berry, New York Times bestselling author of The Jefferson Key

"It is hard to neatly categorize this novel, and I think to do so would be to miss out on the riches of Shields's storytelling. At once a literary novel and a work of historical fiction, this book is also equal parts great mystery and page-turning gothic-thriller." - - BookBrowse
or
Not Currently Available for Direct Purchase