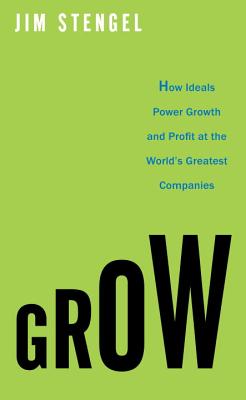 Grow
How Ideals Power Growth and Profit at the World's Greatest Companies
Hardcover

* Individual store prices may vary.
Other Editions of This Title:
Digital Audiobook (12/26/2011)
Paperback (1/1/2012)
Compact Disc (12/27/2011)
Description
Ten years of research uncover the secret source of growth and profit …

Those who center their business on improving people's lives have a growth rate triple that of competitors and outperform the market by a huge margin. They dominate their categories, create new categories and maximize profit in the long term.

Pulling from a unique ten year growth study involving 50,000 brands, Jim Stengel shows how the world's 50 best businesses—as diverse as Method, Red Bull, Lindt, Petrobras, Samsung, Discovery Communications, Visa, Zappos, and Innocent—have a cause and effect relationship between financial performance and their ability to connect with fundamental human emotions, hopes, values and greater purposes.   In fact, over the 2000s an investment in these companies—"The Stengel 50"—would have been 400 percent more profitable than an investment in the S&P 500.  

Grow is based on unprecedented empirical research, inspired (when Stengel was Global Marketing Officer of Procter & Gamble) by a study of companies growing faster than P&G.  After leaving P&G in 2008, Stengel designed a new study, in collaboration with global research firm Millward Brown Optimor.  This study tracked the connection over a ten year period between financial performance and customer engagement, loyalty and advocacy.

Then, in a further investigation of what goes on in the "black box" of the consumer's mind, Stengel and his team tapped into neuroscience research to look at customer engagement and measure subconscious attitudes to determine whether the top businesses in the Stengel Study were more associated with higher ideals than were others.
 
Grow thus deftly blends timeless truths about human behavior and values into an action framework – how you discover, build, communicate, deliver and evaluate your ideal. Through colorful stories drawn from his fascinating personal experiences and "deep dives" that bring out the true reasons for such successes as the Pampers, HP, Discovery Channel, Jack Daniels and Zappos,  Grow unlocks the code for twenty-first century business success.
Praise For Grow: How Ideals Power Growth and Profit at the World's Greatest Companies…
"By combining a scientist's rigor with a storyteller's gifts, Jim Stengel has produced a brilliant, must-read book supremely suited to our times." —Arianna Huffington
 
"When you start reading Grow, you may well feel a little skeptical about the ideal and its bottom-line value.  But you'll soon become intrigued – and then utterly convinced.  Jim Stengel shares his beliefs and his experience with a generosity bordering on the reckless; and has the hard, clean numbers to bear his teachings out." —Sir Martin Sorrell, CEO,  WPP   
 
"Grow is a tool kit for turning the power of ideals…into competitive advantage and sustainable growth." —Robert A. McDonald, chairman, president, and CEO, Procter & Gamble
 
"A landmark book tailor-made for the times!" —Tom Peters, coauthor of In Search of Excellence

" ... A new, powerful model for business. ... A must-read ... for all business leaders."  —Sheryl Sandberg, COO, Facebook
 
"This breakthrough book, filled with original ideas and engaging stories, will inspire you to rethink what truly matters to your company and career. " —William C. Taylor, founding editor, Fast Company, bestselling author of Practically Radical

"Jim Stengel shows quite conclusively the power of galvanizing your company around a noble cause. It's a great way to think about your business!" —David C. Novak, Chairman and CEO, Yum! Brands, Inc.
 
"In this fascinating book…I personally discovered ideas that are exactly what we need in today's business environment." —Maurice Lévy, chairman and CEO, Publicis Group
 
"Jim Stengel is a pioneer. Not only has he cracked the code on growth, unlocking the mysteries of what drives supercharged performance, he gives us something more profound. When you truly and measurably improve other people's lives, your life and the life of your business and brand improves exponentially. Mystery solved. Truth unleashed." —Roy Spence, chairman and cofounder, GSD&M; CEO and cofounder, The Purpose Institute; and author of It's Not What You Sell, It's What You Stand For
Crown Business, 9780307720351, 336pp.
Publication Date: December 27, 2011
About the Author
As Global Marketing Officer from 2001 to 2008, Jim Stengel led the effort to leverage higher ideals in brands throughout Procter & Gamble. Since 2008 he has been CEO of The Jim Stengel Company, a think tank and consultancy conducting proprietary research, generating thought leadership and applying his ideals-driven framework to drive business growth. He is also an adjunct professor at the UCLA Anderson School of Management, and serves on the boards of directors of Motorola Mobility and AOL  Jim has published in Harvard Business Review and was recently named to Fortune magazine's First Executive Dream Team. Jim and his wife Kathleen live in Cincinnati, Ohio and Coronado, California.