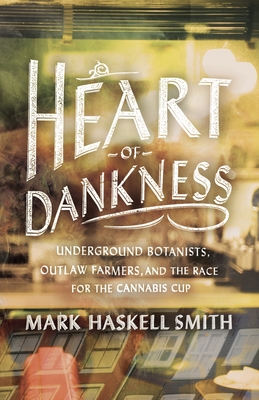 Heart of Dankness (Paperback)
Underground Botanists, Outlaw Farmers, and the Race for the Cannabis Cup
Broadway Books, 9780307720542, 256pp.
Publication Date: April 3, 2012
* Individual store prices may vary.
Description
Reporting for the Los Angeles Times on the international blind tasting competition held annually in Amsterdam known as the Cannabis Cup, novelist Mark Haskell Smith sampled a variety of marijuana that was unlike anything he'd experienced.  It wasn't anything like typical stoner weed, in fact it didn't get you stoned.  This cannabis possessed an ephemeral quality known to aficionados as "dankness."
 
Armed with a State of California Medical Marijuana recommendation, he begins a journey into the international underground where super-high-grade marijuana is developed and tracks down the rag-tag community of underground botanists, outlaw farmers, and renegade strain hunters who pursue excellence and diversity in marijuana, defying the law to find new flavors, tastes, and effects.  This unrelenting pursuit of dankness climaxes at the Cannabis Cup, which Haskell Smith vividly portrays as the Super Bowl/Mardi Gras of the world's largest cash crop.
About the Author
MARK HASKELL SMITH is the author of four novels, Moist, Delicious, Salty, and Baked, and has written for film and televsion.  A contributor to the Los Angeles Times and a contributing editor to the Los Angeles Review of Books, Smith is an assistant professor in the MFA program for Writing and Writing for the Performing Arts at the University of California, Riverside, Palm Desert Graduate Center.
Praise For Heart of Dankness: Underground Botanists, Outlaw Farmers, and the Race for the Cannabis Cup…
"I like my nonfiction to be both entertaining and edifying, and Dankness delivers both....If you want to know how the contemporary cannabis industry operates, Heart of Dankness is the book for you. But beyond that, Dankness is a great book for anyone with an inclination towards connoisseurship....the book holds great appeal beyond the world of marijuana aficionados. Take it from a guy who hates reggae: I highly recommend picking up Heart of Dankness, whether you have a doctor's recommendation or not." -- The Millions

"[A] globetrotting, journalistic trip through the nerdier echelons of marijuana development….an insightful and fascinating story" –Los Angeles Review of Books

"Smith's quest is to discover the essence of 'dankness'. . . .a stoner's dream job."
--Publishers Weekly

"Witty, civilized and intelligent narcotourism." –Kirkus Reviews

"Smith's colorful and informative report will appeal not only to pot connoisseurs but also to anyone curious to learn why marijuana currently outstrips corn as the United States' largest cash crop." —Booklist

"A must-read for those who want to know more about how the best strains in the world came to be the best."  - The 420 Times

"Wickedly entertaining.  Mark Haskell Smith goes on a quest for the world's finest cannabis, and uncovers an obsessive global subculture of artisanal growers, seed botanists and connoisseurs — all of them chronically stoned and fiercely competitive, striving like winemakers to express the terroir of their product and achieve the ne plus ultra of 'dankness.'  Warning: this book may produce an uncontrollable urge to get high." —Richard Grant, author of God's Middle Finger and Crazy River: Exploration and Folly in East Africa
 
"A genially gonzo ride to the top of the cannabis world.  Haskell Smith's prose crackles with unputdownable verve and his affection and enthusiasm for his subject are infectious.  This book will change the way you look at the Cannabusiness." --Heather Donahue, author of Growgirl

or
Not Currently Available for Direct Purchase