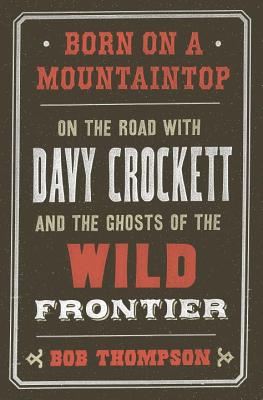 Born on a Mountaintop
On the Road with Davy Crockett and the Ghosts of the Wild Frontier
Hardcover

* Individual store prices may vary.
Description
Combining the stories of the real hero and his Disney-enhanced afterlife, Born on a Mountaintop delves deep into our love for an American icon.
 
Pioneer. Congressman. Martyr of the Alamo. King of the Wild Frontier. As with all great legends, Davy Crockett's has been retold many times.  Over the years, he has been repeatedly reinvented by historians and popular storytellers. In fact, one could argue that there are three distinct Crocketts: the real David as he was before he became famous; the celebrity politician whose backwoods image Crockett himself created, then lost control of; and the mythic Davy we know today.
     In the road-trip tradition of Sarah Vowell and Tony Horwitz, Bob Thompson follows Crockett's footsteps from the Tennessee river valley where he was born, to Washington, where he served three terms in Congress, and on to Texas and the gates of the Alamo, seeking out those who know, love and are still willing to fight over Davy's life and legacy.
     Born on a Mountaintop will be more than just a bold new biography of one of the great American heroes.  Thompson's rich mix of scholarship, reportage, humor, and exploration of modern Crockett landscapes will bring Davy Crockett's impact on the American imagination vividly to life.
Praise For Born on a Mountaintop: On the Road with Davy Crockett and the Ghosts of the Wild Frontier…
"Born on a Mountaintop is an enjoyable journey along the trail of Crockett's life and legend — part road trip and part history lesson....[Thompson's] storytelling displays considerable good humor and an admirable amount of research. You can almost see him smiling at some of the madcap stuff he is told along the way." --Washington Post

"Bob Thompson can flat-out write, and he paints a vivid picture here of David Crockett, who was a far more complex and interesting man—and myth—than his coonskinned, bear-hunting, Alamo-defending iconic image. He combines excellent research and a born storyteller's skill to create a lively and entertaining look at one of America's great characters. This is road-trip history at its best." – Jim Donovan, author of The Blood of Heroes 

"Born on a Mountaintop explores the blurry boundary between America's legends and histories, and how the relationship between the two often tells us much about the construction of belief in the absence of hard facts.  And, it is also a great road trip--one that leaves you wanting to have ridden shotgun along the way." – Charles Frazier, author of Nightwoods and Cold Mountain

"Bob Thompson's shrewd and heartfelt account of his year-long journey through the thickets of Davy Crockett lore is essential reading for anyone who's ever worn a coonskin cap, dreamt of the wild frontier, or remembered the Alamo.  A briskly entertaining book that nonetheless has serious things to say about how we memorialize--and inevitably mythologize--the iconic figures of our history." – Gary Krist, author of City of Scoundrels 

"I opened this book intending to skim a few pages but immediately became hooked. Thompson does a splendid job of evoking the life and legend of David Crockett--the immortal 'Davy' who captivated young Americans because of Fess Parker's portrayal in the 1950s, served as an icon for Anglo-Texans who venerated the memory of the Alamo, and served as a touchstone for anyone drawn to the image of backwoods characters who triumphed in America. By turns engrossing, hilarious, and moving, it undoubtedly will find a large and appreciative audience." - Gary W. Gallagher, author of Causes Won, Lost, and Forgotten: How Hollyood and Popular Art Shape What We Know about the Civil War
 
"Part travelogue, part biography, part history, Born on a Mountaintop is most of all a pure pleasure to read. The passion in Bob Thompson's search for the truth about Davy Crockett springs from every page, and by the end, his search has become our own." -David Finkel, author of The Good Soldiers
 
"If Confederates In The Attic shifted its focus to frontier legend David Crockett, the result would be Born on a Mountaintop.  Bob Thompson's highly personal and witty new book looks with perception at the real Crockett as opposed to the mythical "Davy," how Americans embraced the latter in his own time, and how popular culture has handled his multiple persona since his death.  Crockett is a virtually irresistible character in his own right, but Thomson somehow succeeds in making him even more appealing." - William C. Davis, author of Three Roads to the Alamo
 
"Bob Thompson blazes the dangerous trail between myth and history with the skill of a fine scholar and the wit of a born storyteller.  I never realized the search for Davy Crockett, real and imagined, could be so enlightening and so much fun."
- Michael Kazin, Professor of History, Georgetown University and author of American Dreamers: How the Left Changed a Nation
 
 
Crown Publishing Group (NY), 9780307720894, 375pp.
Publication Date: March 5, 2013
About the Author
BOB THOMPSON was a long-time feature writer for "The Washington Post" and the editor of its Sunday magazine. During his years at "Post," he was known for his pieces on the intersection of American history and myth.
Coverage from NPR
or
Not Currently Available for Direct Purchase