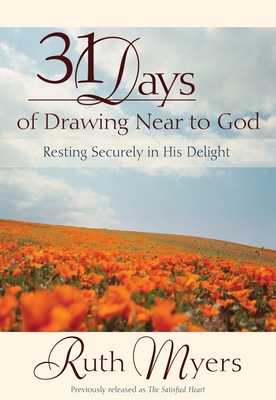 31 Days of Drawing Near to God: Resting Securely in His Delight (Paperback)
Resting Securely in His Delight
Multnomah Books, 9780307729446, 184pp.
Publication Date: January 18, 2011
Description
Draw near
He ll answer your deepest longings.
Do you enjoy the soul-satisfying intimacy with God you were created for? In this heartfelt devotional, beloved author Ruth Myers invites you to a personal, daily encounter with your first, last, and best love.
Each brief but deeply satisfying reading explores the riches of God's passion for you and your true identity as one in whom He delights. As you engage your heart with His, you ll discover anew the joy of hearing Him speak to you individually, tenderly, in life-changing ways that will root you firmly in relationship with Him.
Experience lavish love, astounding mercy and an intimacy more satisfying than you d ever imagined possible. Draw near to God, and He ll draw near to you.

About the Author
Ruth Myers served alongside herhusband, Warren, with The Navigators in Asia for nearly fiftyyears, teaching men and women how to experience God and His Word. Together they coauthored several books and devotionals, including thepopular "31 Days of Praise" and "31 Days of Prayer.""
Advertisement