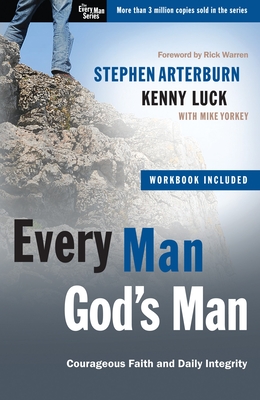 Every Man, God's Man: Every Man's Guide To...Courageous Faith and Daily Integrity (Paperback)
Every Man's Guide To...Courageous Faith and Daily Integrity
Waterbrook Press, 9780307729507, 320pp.
Publication Date: April 5, 2011
Description
Every Man, God's Man is not about the resolution of a man's problems; it's about a peresonal resurgence of purpose. That excites me.
-From the foreword by Rick Warren, author of The Purpose Driven Life
How to be a man after God's own heart relentlessly.
You are about to discover life-changing encouragement and practical, man-to-man guidance in your Christian walk.
Every Man, God's Man is tailor-made for any man who may feel incomplete in his commitment to God. It's for the man who wants to become even more authentic, more courageous, more intimate with God in every area of his life. It's for every man who desires to walk in true spiritual integrity every moment of every day.
Like other books in the best-selling Every Man series, Every Man, God's Man boldy gets into your head, gives you hope, and equips you to persevere in your individual pursuit of God.
Includes a comprehensive workbook for individual and group study.
About the Author
Stephen Arterburn is founder and chairman of new Life Clinics, host of the daily New Life Live! national radio program, creator of the Women of Faith Conferences, a nationally known speaker, and a best-selling author whose books have sold more than seven million copies. He lives in Laguna Beach, California.Kenny Luck is the founder of Every Man Ministries and the men s pastor at Saddleback Church, where more than seven thousand men are connected in small groups. He is an award-winning author and coauthor of more than fifteen books on men s issues, including Risk, Dream, Fight, and Soar. He and his wife, Chrissy, reside in Trabuco Canyon, California, with their children"
Praise For Every Man, God's Man: Every Man's Guide To...Courageous Faith and Daily Integrity…
Praise for Every Man, God's Man

"If you'll read with a humble and open heart, Every Man, God's Man will make you uncomfortable, inspire you to positive change, and get you pumped about taking new risks in your faith."
—RICK WARREN, author of The Purpose-Driven Life and senior pastor of Saddleback Church

"I have high regard for Stephen Arterburn and Kenny Luck and their positive message to men. Every man who wants to become all God created him to be will benefit from Steve and Kenny's counsel."
—JOSH MCDOWELL, best-selling author and speaker

"Stephen Arterburn and Kenny Luck have captured the bold message men want and need to hear today. Every Man, God's Man speaks the language of men, urging them toward a new dimension of authentic faith and revealing the key principles they need to be God's man in every area of their lives."
—FISHER DEBERRY, former head football coach, U.S. Air Force Academy

"Every Man, God's Man holds a life-changing message for men. I applaud Arterburn and Luck for their efforts to challenge men in their pursuit of God and living godly lives. Everyman needs to read and apply these truths."
—DAN QUAYLE, former vice president and author of Standing Firm

Advertisement