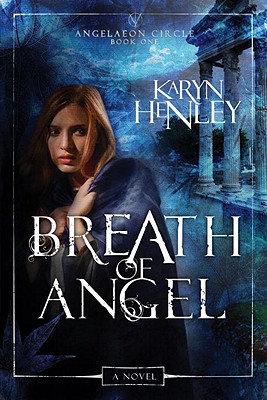 Breath of Angel (Paperback)
WaterBrook Press, 9780307730121, 272pp.
Publication Date: June 21, 2011
* Individual store prices may vary.
or
Not Currently Available for Direct Purchase
Description
The stranger's cloak had fallen back, and with it, a long, white, blood-stained wing.
 
When Melaia, a young priestess, witnesses the gruesome murder of a stranger in the temple courtyard, age-old legends recited in song suddenly come to life. She discovers wings on the stranger, and the murderer takes the shape of both a hawk and a man.
 
Angels. Shape-shifters. Myths and stories—until now.
 
Melaia finds herself in the middle of a blood feud between two immortal brothers who destroyed the stairway to heaven, stranding angels in the earthly realm. When Melaia becomes a target, she finds refuge with a band of angels attempting to restore the stairway. But the restoration is impossible without settling an ancient debt—the "breath of angel, blood of man," a payment that involves Melaia's heart, soul, and destiny.
About the Author
Award-winning author Karyn Henley has written over one hundred titles. An accomplished songwriter, Karyn has been a Dove Award nominee and received a regional Emmy Award as music composer for a television special. She lives in Nashville, Tennessee with her husband, a jazz drummer.
Praise For Breath of Angel…
Praise for Breath of Angel

"Karyn Henley spins a lyrical young-adult tale of mythical and legendary beings, of reimagined angels and terrifying malevolents, in a small kingdom where the world's fate rests on a young priestess's shoulders."
—Kathy Tyers, author of Shivering World and the Firebird series

"Karyn Henley's novel starts with a jolt, grabs the reader by the collar, and doesn't slow down one minute. This author infuses her text with imagery, suspense, and a cast that will appeal to all ages. In addition, it has a feeling that I can only describe as "folklorish," with all the best elements that come with that—music, magic, and mystery. I think it's destined to become a classic."
—Kathi Appelt, author of The Underneath, National Book Award finalist, Newbery Honor Book, PEN USA Award

"This lusciously written fantasy has it all: epic battles, earthbound angels, immortal humans, and a bright, engaging heroine. Henley's young priestessturned-warrior is forced to put her past together like a jigsaw puzzle with pieces so sharp they cut. Her story is nearly impossible to forget, so readers will be eager for more!"
—Louise Hawes, author of Black Pearls: a Faerie Strand, AAUW Juvenile Literature Award nominee; Gold Award, Hall of Fame, teensreadtoo.com
Advertisement