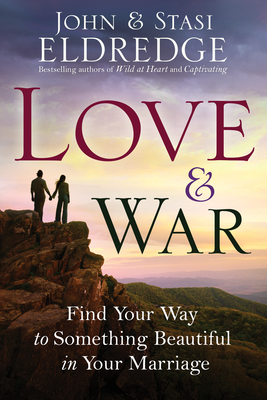 Love & War: Find Your Way to Something Beautiful in Your Marriage (Paperback)
Find Your Way to Something Beautiful in Your Marriage
Waterbrook Press, 9780307730213, 221pp.
Publication Date: May 17, 2011
* Individual store prices may vary.
or
Not Currently Available for Direct Purchase
Description
With astonishing vulnerability that engages readers from the first page, John and Stasi Eldredge openly discuss their own marriage and the breakthroughs they have won from the challenges they ve faced. Each talks to the reader about what he and she have learned, providing a balance between male and female perspectives that has been absent from previous books on this topic.
John and Stasi begin Love & War with an obvious confession: Marriage is fabulously hard. But beneath and behind the inevitable tensions a man and woman locked in the same submarine are going to have, the real battle is against the work of the Enemy, who plots and schemes to tear love apart. The Eldredges show how couples can win by fighting for each other, instead of against each other. As they say, We live in a great love story, set in the midst of war.
This is a book of wisdom and hope a beautiful labor that will move your marriage to far deeper joy. Dan. B. Allender, author of The Wounded Heart
About the Author
John Eldredge is the director of Ransomed Heart in Colorado Springs, Colorado, a fellowship devoted to helping people discover the heart of God. John is the author of numerous books, including Wild at Heart, Waking the Dead and Desire, and the coauthor of Captivating. Stasi Eldredge is the coauthor (with John) of Captivating; she leads the women's events of Ransomed Heart. John and Stasi have been married for twenty-seven years, and they have three fabulous sons.
Praise For Love & War: Find Your Way to Something Beautiful in Your Marriage…
Love & War: Finding the Marriage You've Dreamed Of

The Eldredges' newest book has bestseller written all over it. The pair addressed men and women separately in Wild at Heart (John) and Captivating (Stasi) and now put that knowledge together in a book on marriage. Christianity, they say, is a love story set amid war, with marriage "a living, breathing portrait laid out before the eyes of the world so that they might see the story of the ages."

For them, marriage is the perfect storm that brings together basic differences in men and women, individual styles of relating, sin, and brokenness. The Eldredges offer sound advice on topics such as the delights of companionship, understanding the enemy is Satan and not your spouse, finding your marriage's mission, taboo topics, and, yes, sex. They are honest and forthright, never skirting a difficult issue; instead, they offer hope, insight, and their own lives as examples of what God can accomplish. Their summation of marriage: "It can be done. And it is worth it." So is this book. 
--Publishers Weekly, Starred Review

"John and Stasi nailed it. This book opens to an untouched snapshot of a real, live redeemed marriage and closes with hope and hunger for our own. These two have proved again and again that they're willing to put themselves out there for somebody else's sake. Is it any wonder God uses them like He does? The moment we decide to throw more energy into fighting for our mate than with him, the crack of a fist on the enemy's jaw splits the ears of angels."
—Beth Moore
Author of Get Out of That Pit and Breaking Free


"John and Stasi Eldredge lead us into the heart of marriage...not as we always dreamed it would be, but as it really is... a relationship between two flawed individuals who are discovering together that marriage is difficult.  Their willingness to speak honestly about their relationship proves their point... that "loving costs everything but loving is always worth it."  If you are willing to fight for the love and happiness God intended your marriage to provide, every chapter of Love & War will cheer you on!"
—Dr. David Jeremiah
Senior Pastor, Shadow Mountain Community Church
Founder & CEO, Turning Point
 
"I need help to grow as a husband.  I have written a few books on marriage, but I am never done reading, reflecting or wrestling with the issues that keep my marriage from being sweeter and deeper.  John and Stasi offer a courageous, honest, and compelling picture of what is involved in growing beyond one's initial commitment and desire for intimacy.  This is a book of wisdom and hope for those who want more than mere complacency or convenience.  It is a beautiful labor that will move your marriage to far deeper joy." 
—Dan B. Allender
Professor of Counseling Psychology, Mars Hill Graduate School
Author, Intimate Allies and To Be Told
Advertisement