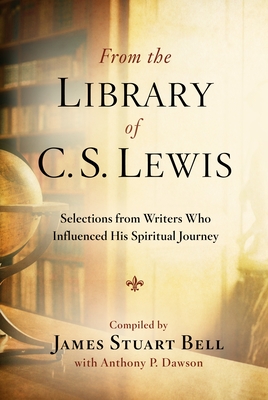 From the Library of C.S. Lewis: Selections from Writers Who Influenced His Spiritual Journey (Paperback)
Selections from Writers Who Influenced His Spiritual Journey
Waterbrook Press, 9780307730824, 402pp.
Publication Date: June 5, 2012
Description
"To truly know Lewis, one must become familiar with the body of literature that marked his life. Jim Bell and Tony Dawson give curious students of Lewis a glimpse of the books and authors that informed his life's work and kindled his imagination."
--Jerry Root, coeditor of The Quotable C. S. Lewis and a C. S. Lewis scholar
C. S. Lewis was one of the most influential thinkers and writers of the twentieth century. But who influenced C. S. Lewis? What were the sources of his inspiration? Who were his spiritual mentors?
Drawn from Lewis's personal library, annotations, and references from his writings, this book includes more than 200 selections from literary giants such as Dante, Augustine, and Chaucer, as well as more contemporary writers such as G. K. Chesterton, Dorothy L. Sayers, George MacDonald, and J.R.R. Tolkien, providing a vast array of inspiration from those who have shone forth as messengers of light in Lewis's own thinking, writing, and spiritual growth.
In this treasury, you will...
- Glean wisdom on living a devout life from Andrew Murray and Brother Lawrence
- Tap into fantasy and imagination with William Wordsworth and Geoffrey Chaucer
- Ponder creation and poetry alongside Sir Walter Scott and Aristotle
- And much more
About the Author
James Stuart Bell wrote his master's thesis on C. S. Lewis, receiving his M. A. from University College Dublin, in Ireland. The owner of Whitestone Communications, the former executive editor of Moody Press, and director of religious publishing for Doubleday, Bell has authored several books, including The Complete Idiot's Guide to the Bible. He is married with four children and lives in West Chicago, Illinois. Anthony Palmer Dawson has served on the Marion E. Wade Center Steering Committee for nearly two decades and provides technical and editorial support for SEVEN: An Anglo-American Literary Review. Dawson is currently the associate director of computing services at Wheaton College. He is married with two children and lives in Oswego, Illinois.
Praise For From the Library of C.S. Lewis: Selections from Writers Who Influenced His Spiritual Journey…
"This is the perfect entrance to the world C. S. Lewis inhabited, and it arrives just when that world of books is under threat of extinction. Thanks to those who have given us such a gold mine."
–Walter Hooper, Literary Advisor to the C. S. Lewis Estate, one of the world's leading authorities on the life and works of C. S. Lewis, and the editor of dozens of Lewis's works

"This is a knowledgeable and inspired selection from what C. S. Lewis called the 'old books' that nurtured his mind, spirit, and imagination. All who love the writings of the master will enjoy these engaging passages from the vast range of Lewis's reading and relish the light that they cast upon his concerns."
–Colin Duriez, author of A Field Guide to Narnia, Tolkien and C. S. Lewis, and The C. S. Lewis Encyclopedia

"C. S. Lewis, one of the great men of letters of the twentieth century, loved books. To truly know Lewis, one must become familiar with the body of literature that marked his life. Jim Bell and Tony Dawson give curious students of Lewis a glimpse of the books and authors that informed his life's work and kindled his imagination."
–Jerry Root, assistant professor of Christian Formation and Ministry at Wheaton College, co-editor of The Quotable C. S. Lewis and C. S. Lewis scholar

"One of the great benefits of reading C. S. Lewis is his singular ability to introduce his own readers to the works of other authors. In this volume, Bell and Dawson have made it easier for us to uncover the literary influences and preferences that characterized Lewis's own reading. The editors have arranged these excerpts around a variety of appealing subjects such as fantasy and imagination, suffering, prayer and contemplation, and God's love. This arrangement invites the reader to enter into the selections devotionally–to enjoy and benefit from these literary treasures much as Lewis himself did. This book is an excellent resource for those interested in meeting new authors, as well as a wonderful way to remind ourselves of favorite texts too long neglected."
–Marjorie Lamp Mead, associate director of The Marion E. Wade Center, Wheaton College, co-editor of Brothers and Friends: The Diaries of Major Warren Hamilton Lewis and C. S. Lewis: Letters to Children
Advertisement