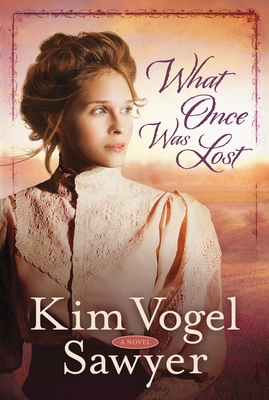 What Once Was Lost (Paperback)
Waterbrook Press, 9780307731258, 358pp.
Publication Date: September 17, 2013
Description
A woman meant to serve, a child in the dark, a man standing apart can these three souls embrace a God with new plans for them?
On a small Kansas farm, Christina Willems lovingly shepherds a group of poor and displaced individuals who count on her leadership and have come to see the Brambleville Asylum for the Poor as their home. But when a fire breaks out in the kitchen leaving the house uninhabitable, she must scramble to find shelter for all in her care, scattering her dear family.
With no other options, Christina is forced to approach Levi Jonnson, a reclusive mill owner, to take in a young blind boy named Tommy Kilgore. Levi agrees with reluctance but finds himself surprised by the bond that quickly grows between him and Tommy. As obstacles to repairing the farm pile up against Christina, she begins to question her leadership ability and wonders if she can fulfill the mission to which she's dedicated her life. And when an old adversary challenges Christina, will she find an unlikely ally or more in the aloof Levi? Can Levi reconcile with the rejection that led to his hermit-like existence and open his heart and life to something more, especially a relationship with a loving God?
About the Author
Kim Vogel Sawyer is a best-selling author highly acclaimed for her gentle stories of hope. More than one million copies of her books are currently in print with awards including the ACFW Carol Award, the Inspirational Readers Choice Award, and the Gayle Wilson Award of Excellence. Kim lives in central Kansas, where she and her retired military husband, Don, run a bed-and-breakfast inn with the help of their feline companions. She savors time with her daughters and grandchildren.
Praise For What Once Was Lost…
Praise for What Once Was Lost

"Kim Vogel Sawyer weaves love, coming of age, and prevailing against the odds into a heartwarming and gripping tale. What Once Was Lost will have you invested in the lives of each of these wonderful characters as they struggle to deal with the scars from their pasts."
—Cindy Woodsmall, New York Times best-selling author of The Winnowing Season

"Known for her gentle stories of hope, Kim Sawyer drew me in at once with her colorful cast of characters and authentic historical voice. Just as the fingers of the young blind boy, Tommy, deftly weave reeds into chair seats, so Kim Sawyer
weaves words into a story filled with compassion, intrigue, and romance. The twists will keep readers turning the pages, but the resolution of What Once Was Lost will leave them cheering. Heartfelt and satisfying to the very last page!"
—Carla Stewart, award-winning author of Chasing Lilacs and Stardust

Praise for Kim Vogel Sawyer

"Award-winning author Sawyer continues to craft engaging historical love
stories brimming with characters who are bold in their faith."
—Booklist

"Sawyer treats readers to love stories that speak to the heart."
—Romantic Times

"Winsome characters, an interesting premise, and a heavenly match made on
earth…fans of inspirational romance novels will not be disappointed."
—Historical Novel Review

"Yet another entertaining novel that compels one page to turn as quickly as the
one before."
—CBA Retailers + Resources

Advertisement