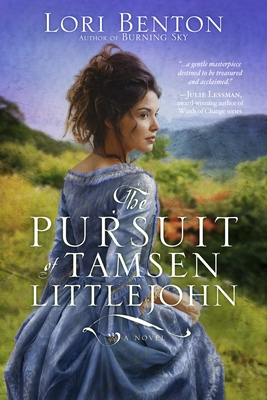 The Pursuit of Tamsen Littlejohn
A Novel
Paperback

* Individual store prices may vary.
Other Editions of This Title:
Hardcover, Large Print (6/10/2015)
Description
Frontier dangers cannot hold a candle to the risks one woman takes by falling in love
 
In an act of brave defiance, Tamsen Littlejohn escapes the life her harsh stepfather has forced upon her. Forsaking security and an arranged marriage, she enlists frontiersman Jesse Bird to guide her to the Watauga settlement in western North Carolina. But shedding her old life doesn't come without cost. As the two cross a vast mountain wilderness, Tamsen faces hardships that test the limits of her faith and endurance. 
 
Convinced that Tamsen has been kidnapped, wealthy suitor Ambrose Kincaid follows after her, in company with her equally determined stepfather. With trouble in pursuit, Tamsen and Jesse find themselves thrust into the conflict of a divided community of Overmountain settlers. The State of Franklin has been declared, but many remain loyal to North Carolina. With one life left behind and chaos on the horizon, Tamsen struggles to adapt to a life for which she was never prepared. But could this challenging frontier life be what her soul has longed for, what God has been leading her toward? As pursuit draws ever nearer, will her faith see her through the greatest danger of all—loving a man who has risked everything for her?
Praise For The Pursuit of Tamsen Littlejohn: A Novel…
Praise for The Pursuit of Tamsen Littlejohn

"Reminiscent of the The Last of the Mohicans and equally as stirring, The Pursuit of Tamsen Littlejohn is a rare book that kept me up late into the night. Ms. Benton is an exquisite storyteller whose majestic descriptions, suspenseful plot, and passionate romance are not soon to be forgotten."
—MaryLu Tyndall, author of the Escape to Paradise trilogy

"Founded on a fascinating little-known moment in early American history, The Pursuit of Tamsen Littlejohn is one of the most beautiful love stories I've ever read. In this tightly paced flight into fear, hope, and mystery, author Lori Benton emerges as the quintessential artist, able to pull her readers into the story through her well-drawn, multidimensional characters, their emotions, motivations, and dreams."
—Sue Harrison, international best-selling author of the Ivory Carver trilogy

"Benton has created another masterpiece. With rich historical detail, she brings to life the early frontier with all its beauty and danger. Her descriptions are unique and often breathtaking. She creates realistic dialogue, vibrant characters, and an intriguing plot. Benton has quickly become one of my favorite authors."
—Jody Hedlund, best-selling author of Rebellious Heart

"The Pursuit of Tamsen Littlejohn is a beautifully written novel, rich in historical details that will transport you back to the mountains of North Carolina in the late eighteenth century. The characters are so real and their circumstance so compelling, they jump off the page and into your heart. Readers of historical romance will be captivated, and those who read her debut novel, Burning Sky, will be thrilled with this new story."
—Carrie Turansky, author of The Governess of Highland Hall and The Daughter of Highland Hall

"Seldom has a tale swept me away so powerfully that I'm left both breathless and bereft at its end, reluctant to let go. The Pursuit of Tamsen Littlejohn is such a book, a gentle masterpiece destined to be treasured and acclaimed."
—Julie Lessman, award-winning author of the Daughters of Boston and Winds of Change series

"With gorgeous prose and characters that will steal your heart, Benton has breathed live and passion into history. The Pursuit of Tamsen Littlejohn is a captivating example of excellence. Flawless!"
—Roseanna M. White, author of the Culper Ring series

"A breathtaking novel from start to incandescent conclusion. Lori Benton portrays the rugged North Carolina terrain in such vivid detail, readers will feel they've followed Tamsen's journey every pulse-pounding step of the way. A must-read!"
—Ann Shorey, author of Love's Sweet Beginning

"In this sweeping colonial saga, author Lori Benton has crafted a powerful tale wherein every element of storytelling is vividly woven together. Poetic, emotional, and rich in historic detail, The Pursuit of Tamsen Littlejohn is a stirring page-turner."
—Joanne Bischof, award-winning author of Be Still My Soul and Though My Heart Is Torn

WaterBrook, 9780307731494, 400pp.
Publication Date: April 15, 2014
About the Author
LORI BENTON was raised east of the Appalachian Mountains, surrounded by early American history going back three hundred years. Her novels transport readers to the eighteenth century, where she brings to life the Colonial and early Federal periods of American history. When she isn't writing, reading, or researching, Lori enjoys exploring and photographing the Oregon wilderness with her husband. She is the author of Burning Sky, recipient of three Christy Awards, The Pursuit of Tamsen Littlejohn, Christy-nominee The Wood's Edge, and A Flight of Arrows.


or
Not Currently Available for Direct Purchase