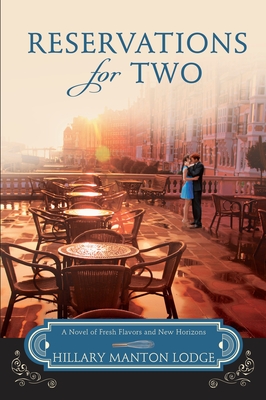 Reservations for Two
A Novel of Fresh Flavors and New Horizons (Two Blue Doors #2)
Paperback

* Individual store prices may vary.
Description
A culinary concoction of taking chances and finding love in the most delectable places
 
Food writer-turned-restaurateur Juliette D'Alisa has more than enough on her plate. While her trip to Provence might have unlocked new answers to her grandmother's past, it's also provided new complications in the form of Neil McLaren, the man she can't give up.
 
Juliette and Neil find romance simple as they travel through Provence and Tuscany together, but life back home presents a different set of challenges. Juliette has a restaurant to open, a mother combating serious illness, and a family legacy of secrets to untangle – how does Neil, living so far away in Memphis, fit into to her life?
 
As she confronts an uncertain future, Juliette can't help but wish that life could be as straightforward as her chocolate chip cookie recipe. Can her French grandmother's letters from the 1940's provide wisdom to guide her present? Or will every new insight create a fresh batch of mysteries?
Praise For Reservations for Two: A Novel of Fresh Flavors and New Horizons (Two Blue Doors #2)…
Praise for Reservations for Two:

"Lodge has created yet another sumptuous story—full of intrigue, humanity, tantalizing tastes, and true love, in its myriad forms. She gracefully leads us into kitchens, restaurants, and hearts, not to mention sensorial visits to France, Italy, and the tensions of WWII Paris. Poised on a knife's edge, Lodge left me yearning for her next story and for time in the kitchen to test some of her tempting recipes."
—Katherine Reay, author of the critically acclaimed Dear Mr. Knightley and Lizzy & Jane

"Reservations for Two is a foodie's delight, peppered with great dishes and references to European culinary landmarks. Lodge's sparkling dialogue adds levity to the book's more serious moments and kept me flipping pages well into the night. But fair warning…readers will be hard pressed to choose between turning to the next chapter and running to the kitchen to try one of the many delectable recipes."
—Carla Laureano, RITA Award–winning author of Five Days in Skye and London Tides

"Endearing, witty, delectable. Hillary Manton Lodge's second installment in the Two Blue Doors series is as delicious as her first, even for a non-foodie like me! I especially appreciated the seamless transition from Juliette's current life and travels to her grand-mère's WWII past, a captivating angle that added the perfect hint of mystery."
—Melissa Tagg, author of From the Start

"Through a clutch of discovered letters, which I read as compulsively as did our heroine, Juliette D'Alisa, and her large Franco-Italian family, we discover that circumstances can be as bitter as baking powder or as delightful as powdered sugar. Both, however, are required to produce the very best madeleines, as well as a deeply satisfying life. Reservations for Two is a touching, page-turning novel, which brings home that each day, no matter its troubles, can be filled with good things, especially chocolat et bisous, chocolate and kisses, if we freely offer them to those we love. I read, wanting happiness, ultimately, for the delightful Juliette, as much as she wanted it for everyone else. "
—Sandra Byrd, author of Let Them Eat Cake

"Hillary Manton Lodge has done it again! From the exquisite prose to the twists and turns of a delicious—pun intended—plot, Reservations for Two is a complete delight. Though this story picks up where Lodge's freshman novel A Table by the Window left off, this book easily stands alone as a do-not-miss treat! From the lavender fields of Provence to Paris, Memphis, and the Pacific Northwest; from recipes for Rosemary Fig Focaccia to Nasturtium and Spring Greens Salad; from the 1930s to the present…this novel is a delight for the senses, a trip through time and kitchens, far and near. Kudos to Lodge."
—Kathleen Y'Barbo, best-selling author of The Secret Lives of Will Tucker series and Firefly Summer

"With a palate of rich characters, vibrant flavors, and vintage-inspired romance, Hillary Manton Lodge's Reservations for Two is a feast for the senses. From the fragrant lavender fields of Provence to Tuscany's golden hills, Lodge takes the reader on a journey that is about both discovery and coming home. It's très chic and enchanting—a recipe of amour for the reader's heart!"
—Kristy Cambron, author of The Butterfly and the Violin and A Sparrow in Terezin

"Hillary Lodge has done it again! Picking up where A Table by the Window left off, Reservations for Two is another delectable story filled with romance, intrigue, witty dialogue, exquisite prose, and delicious recipes. This one is sure to charm readers every bit as much as the first!"
—Katie Ganshert, award-winning author of A Broken Kind of Beautiful
WaterBrook, 9780307731777, 320pp.
Publication Date: April 21, 2015
About the Author
Hillary Manton Lodge is the author of A Table by the Window, Plain Jayne, a Carol Award Finalist, and Simply Sara, an ECPA Bestselling book. A graduate of the University of Oregon's School of Journalism, Hillary discovered the world of cuisine during an internship at Northwest Palate Magazine. A storyteller at heart, in her free time she enjoys experimenting in the kitchen, watching foreign films, and exploring her most recent hometown of Portland, Oregon. She shares her home with her husband, Danny, and their Cavalier King Charles Spaniel, Shiloh.
or
Not Currently Available for Direct Purchase