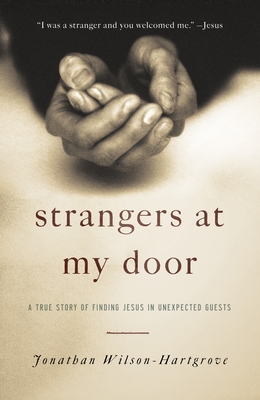 Strangers at My Door
A True Story of Finding Jesus in Unexpected Guests
Paperback

* Individual store prices may vary.
Description
Jesus Told Us Where to Find Him. Just Look for an Outcast.
 
His first followers knew that Jesus could be found with the fatherless, the widows, and the hungry and homeless. He said that he himself was a stranger, and commended those who welcomed him. If he really meant these things, what would happen if you opened your door to every person who came with a need?
 
Jonathan and Leah Wilson-Hartgrove decided to find out. The author and his wife moved to the Walltown neighborhood in Durham, North Carolina, where they have been answering the door to anyone who knocks. When they began,  they had little idea what might happen, but they counted on God to show up.
 
In Strangers at My Door, Wilson-Hartgrove tells of risks and occasional disappointments. But far more often there is joy, surprise, and excitement as strangers become friends, mentors, and helpers. Immerse yourself in these inspiring, eye-opening accounts of people who arrive with real needs, but ask only for an invitation to come in.

You will never view Jesus and the people he cares about the same way again.
Praise For Strangers at My Door: A True Story of Finding Jesus in Unexpected Guests…
Praise for Strangers at My Door

"Strangers at My Door is not only an invitation into the life of a hospitality house; it's an invitation into real Christianity. By that I mean the radical inclusivity of Jesus that embraces and fights for the ones mainstream society shuns and abhors and terminates without batting an eye. It is, in short, an invitation for each of us to open our lives to the stranger and become more fully human."
—Sister Helen Prejan, author of Dead Man Walking

"We Franciscans are always happy and impressed when other folks discover what we were supposed to be known for! The Franciscan 'charism' never dies and always re-emerges in fresh form—because it is the very 'marrow of the Gospel'. Jonathan Wilson-Hartgrove is teaching you how to live that Gospel in our time, and in such fresh and alive ways."
—Fr. Richard Rohr, O.F.M., academic dean of the Living School for Action and Contemplation, Center for Action and Contemplation

"Fifty years ago, when the Civil Rights movement came to Mississippi, I saw the wisdom of the approach that says, 'Go to the people. Live with them. Learn from them.' Those young people did what Jesus had done, and black folks from the South were able to change America and say, 'We've done it ourselves.' Jonathan and his friends at Rutba House have joined that same quiet revolution, and they are not alone. They give me hope that America may yet be born again."
—John M. Perkins, founder of the Christian Community Development Association

"With elegant prose honed by brutal honesty, Jonathan Wilson-Hartgrove provides a theological account of what it means to welcome the stranger—strangers who often turn out to lack any gratitude. Wilson-Hartgrove's narrative gives one hope as he refuses to be defeated by ungratefulness."
—Stanley Hauerwas, Gilbert T. Rowe Professor of Theological Ethics at Duke University

Convergent Books, 9780307731951, 224pp.
Publication Date: November 5, 2013
About the Author
Jonathan Wilson-Hartgrove is a popular speaker and well-known peace and social-justice activist. With Shane Claiborne he founded the New Monastic movement, which emphasizes an intentional life of prayer, seeking consensus, and engagement in the world. Jonathan and his wife, Leah, founded Rutba House, a Christian community that welcomes visitors, guests, neighbors, and strangers. In addition, he serves as an associate pastor at St. John's Missionary Baptist Church in Durham, North Carolina. The author of more than a dozen books, his writings include The Awakening of Hope and The New Monasticism.
or
Not Currently Available for Direct Purchase