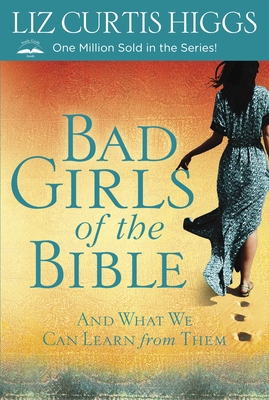 Bad Girls of the Bible: And What We Can Learn from Them (Paperback)
And What We Can Learn from Them
Waterbrook Press, 9780307731975, 270pp.
Publication Date: July 16, 2013
Description
Ten of the Bible's best-known femmes fatales parade across the pages of Bad Girls of the Bible with situations that sound oh-so-familiar.
Eve
had food issues.
Potiphar's Wife
and
Delilah
had man trouble.
Lot's Wife
and
Michal
couldn't let go of the past,
Sapphira
couldn't let go of money, and
Jezebel
couldn't let go of anything. Yet the
Woman at the Well
had her thirst quenched at last, while
Rahab
and the
Sinful Woman
left their sordid histories behind. Let these Bad Girls show you why studying the Bible has never been more fun
Includes Discussion Questions and Study Guide
"When she was perfect, beautiful, and innocent, I found no toehold where I could connect with Eve. When she was tempted by her flesh, humbled by her sin, and redeemed by her God, I could sing out, 'Oh, sister Eve Can we talk?'"
--from
Bad Girls of the Bible
About the Author
Liz Curtis Higgs is the author of more than thirty books, with 4.5 million copies in print. Also an award-winning speaker, Liz has addressed 1,700 audiences around the globe. Liz and her husband, Bill, live in Kentucky.
Praise For Bad Girls of the Bible: And What We Can Learn from Them…
Praise for Bad Girls of the Bible

"Liz takes—with humility and humor—the evangelical message and puts it in a lens that anybody can look through. A truly remarkable accomplishment."
—Religion & Ethics NewsWeekly

"The entertainment value of the book is obvious, but the take-home extra is the Bible study. Who but Liz Curtis Higgs could so creatively reveal God's compassion, unconditional love, and mercy through such 'Bad Girls' in scripture?"
—Carol Kent, speaker and author of Becoming aWoman of Excellence

"A fresh concept—looking at what women have done wrong to figure out how we can live right. The conversational style and friendly, relational, upbeat tone (so true to Liz) are wonderful—sassy and yet challenging and inspirational. And the questions are top-notch!"
—Ramona Cramer Tucker, former editor, Today's ChristianWoman

"Liz has brought a blended format of fiction, biblical commentary, and thought-provoking questions to each of these characters. I love the way she slips modern-day flesh on biblical truth."
—Darlene Hepler, former director of women's ministries, Church of the Open Door, Elyria, Ohio

"Bad Girls of the Bible is not only a hoot to read, it is full of serious warnings about shaky choices and serious encouragement to take God's way for our own good."
—Gloria Gaither, author, speaker, and lyricist

"I love Liz's work! She entertains while teaching and leaves me with points to ponder long after. Her insights are fresh and exciting and will draw readers back into the Word."
—Francine Rivers, best-selling author of Redeeming Love

"I loved the down-to-earth realism. Instead of an airbrushed, plastic feel, Bad Girls of the Bible jumps off the pages with fresh, relevant, and engaging applications."
—BeckyMoltumyr, Brookside Church, Omaha, Nebraska

"In her creative, fun-loving way, Liz retells the stories of the Bible. She delivers a knockout punch of conviction as she clearly illustrates the lessons of Scripture."
—Lorna Dueck, former co-host of 100 Huntley Street

Advertisement