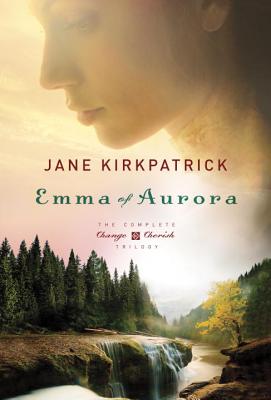 Emma of Aurora (Paperback)
The Complete Change and Cherish Trilogy
Waterbrook Press, 9780307732156, 1153pp.
Publication Date: November 5, 2013
* Individual store prices may vary.
Description
The Change and Cherish trilogy, based on the true story of Emma Wagner Giesy, now available in one volume:
"A Clearing in the Wild"
When Emma's outspoken ways and growing skepticism lead to a clash with the 1850s Bethel, Missouri colony's beloved leader, she finds new opportunities to pursue her dreams of independence. But as she clears a pathway West to her truest and deepest self, she discovers something she never expected: a yearning for the warm embrace of community.
"A Tendering in the Storm"
Determined to raise her children on her own terms, Emma suddenly finds herself alone and pregnant with her third child, struggling to keep her family secure in the remote coastal forest of the Washington Territory. As clouds of despair close in, she must decide whether to continue in her own waning strength or to humble herself and accept help from the very people she once so eagerly left behind.
"A Mending at the Edge"
As a mother, daughter, sister, and estranged wife, Emma struggles to find her place inside and outside the confines of her religious community. Emma reaches out to others on the fringe, searching for healing and purpose. By blending her unique talents with service to others, she creates renewed hope as she weaves together the threads of family, friends, and faith.
About the Author
Jane Kirkpatrick has authored more than twenty books, including "The Daughter s Walk" and "Where Lilacs Still Bloom." A lively speaker, Kirkpatrick is a frequent keynote presenter for conferences, women's retreats, fund-raisers, and workshops. Jane believes that our lives are the stories that others read first and she encourages groups to discover the power of their own stories to divinely heal and transform. She lives with her husband, Jerry, in Central Oregon."
Praise For Emma of Aurora: The Complete Change and Cherish Trilogy…
Praise for A Clearing in theWild

"A Clearing in theWild is Jane Kirkpatrick at her finest.The story is quickly paced and engaging from the first to the last. One of the most difficult tasks for a writer—and Kirkpatrick's specialty—is to contemplate the lives of real people and to re-create a believable episode in those lives that is accurate yet interesting, to both inform and entertain. The dialog sings masterfully with perfect tone, building characters and pushing the story line in succinct phrasing that never overstates. Emma Wagner Giesy's story feels as genuine as if she herself were telling it."
—NANCY E. TURNER, author of Sarah's Quilt and TheWater and the Blood

"Jane Kirkpatrick has done it again! A Clearing in the Wild introduces us to a feisty young heroine who, by her determination, ingenuity, and faith, helps to create a home and a life in the wilderness. Readers are sure to fall in love with Emma as she weaves the story of her life, creating a pioneer tapestry and leaving us anticipating the next layer of her inspirational story."
—RANDALL PLATT, author of Honor Bright and The Likes of Me

"Through her careful research, Jane Kirkpatrick has captured the trials of those who are determined to settle a land that does not easily yield to civilization. She has brought to life another woman in our history whose faith, strength, and commitment is a testament to not only the pioneer spirit but the human spirit as well. Thank you, Ms. Kirkpatrick, for not allowing Emma Wagner Giesy to languish in obscurity."
—KARLA K. NELSON, owner of Time Enough Books in Ilwaco, Washington

"Emma Wagner Giesy is brave, willful, and beautiful, and A Clearing in the Wild brings her to life without for a moment sacrificing her complexity. Kirkpatrick compels us to think again, and deeply, about the needs of the body, soul, and mind; and in these pages she proves once again that she is a gifted chronicler of the lives of women in theWest."
—MOLLY GLOSS, author of The Jump-Off Creek and Wild Life

Praise for A Tendering in the Storm

"Jane Kirkpatrick again proves herself to be one of the finest writers working in historical fiction today. With A Tendering in the Storm, Kirkpatrick applies her usual meticulous research and rich period detail to give readers a wonderful story with strong, unforgettable characters. Beautifully and thoughtfully written as always, this novel will capture your attention, your imagination, and your heart."
—B. J. HOFF, author of the Mountain Song Legacy and An Emerald Ballad

"Once again Jane Kirkpatrick's attention to historic detail brings the hardscrabble existence of theWillapa Bay pioneers to life. In A Tendering in the Storm, Emma Wagner Giesy struggles with choices she makes in response to great tragedy. With rigid honesty, Kirkpatrick shows the consequences of these choices and how Emma regains her strength through love, trust, and sacrifice."
—KARLA K. NELSON, owner of Time Enough Books in Ilwaco, Washington

"The title A Tendering in the Storm keenly expresses the continuing story of the intrepid Emma Wagner Giesy as she struggles between the comfort and security of her religious community and self-reliance in the midst of tumult. Jane Kirkpatrick's impressive research on this true character reveals many realities of one woman's efforts to carve out a life for herself and her children on the burgeoning frontier of Washington Territory. In her engaging style rich with metaphor and imagery, the author explores issues still relevant in today's world: women's rights, child custody, property rights, domestic violence, and religious freedom. Bravo!"
—SUSAN G. BUTRUILLE, author of Women's Voices from the Oregon Trail and Women's Voices from theWestern Frontier

Praise for A Mending at the Edge

"I love when a book illuminates a small slice of history that has relevance to our lives today—even better when it does so with interesting characters and a compelling story. Emma Giesy is a woman with flaws and attributes we all can relate to and whose journey is one that easily could have taken place today."
—JUDITH PELLA, best-selling author of the Daughters of Fortune series

"Jane has a gift for breathing simple beauty into the lives of remarkable historical women characters. In A Mending at the Edge, Emma comes off the page and shows readers an unforgettable picture of a very unique Oregon community."
—ROBIN JONES GUNN, author of the best-selling Glenbrooke series and the Christy Award–winning Sisterchicks novels

"Jane Kirkpatrick's knack for stitching history and fiction together is as skillful as the quilts she writes about in the Change and Cherish Historical Series. A Mending at the Edge is a satisfying ending to an absorbing series that manages to stay true to the past while relating remarkably well to today's modern women."
—TINA ANN FORKNER, author of Ruby Among Us

"In A Mending at the Edge, Jane Kirkpatrick completes the literary quilt of the Emma Wagner Giesy trilogy, piecing together the historical fabric of Emma's personal story with that of the Aurora Colony. Emma's efforts to find a house—and a home—in this communal society in Oregon once again reflect the conflict of individual and community needs represented in Kirkpatrick's earlier two works in the Change and Cherish Historical Series. Based on a solid historical framework of the Aurora Colony and the broader social, political, and cultural landscape of the 1860s, Kirkpatrick offers a story of hope and achievement that captures the spirit of giving, sharing, and receiving central to 'mending' within a communal settlement."
—JAMES J. KOPP, communal historian and board member of the Aurora Colony Historical Society

"Jane Kirkpatrick artfully weaves this story for us, rather like Emma and the women of Oregon's Aurora Colony weave together their quilted existence as well as their personal quilting projects. Her masterful placement of the fresh-turned phrase and the graceful metaphor enriches this captivating and yet disquieting story of mid-nineteenth-century pioneer women whose lives are so very different from ours—or are they?"
—SARAH BYRN RICKMAN, author of Nancy Love and theWASP Ferry Pilots of WorldWar II, The Originals, and Flight from Fear
or
Not Currently Available for Direct Purchase