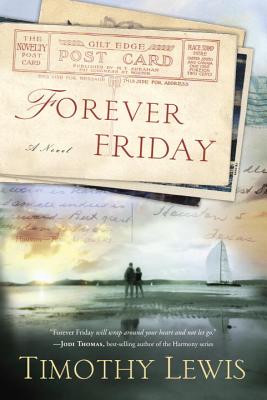 Forever Friday (Paperback)
A Novel
WaterBrook, 9780307732217, 288pp.
Publication Date: September 3, 2013
* Individual store prices may vary.
Description
Every Friday, a postcard.
Every Friday, a love poem.
Every Friday for sixty years.
 
Adam Colby is just doing his job, sorting through the unsold Alexander belongings after the estate sale. He is unprepared for what he finds in an old photo album, overlooked by the bargain hounds and treasure hunters—six decades of postcards and poems from Gabe Alexander to his wife, Pearl. The mystery of the Alexanders' love entices Adam, a man unhinged by divorce and puzzled by the depth of commitment that he finds in the unabashedly romantic cards.
 
Forever Friday invites you to travel back in time to the early twentieth century Texas Coastal Bend where a young couple—Gabe and Pearl Alexander—are swept up in a miraculous love. As the heartwarming, pulse-quickening story of their relationship develops through Gabe's poems, the Alexanders reveal a new way to consider what it means to be truly devoted to each other. Could the secrets of their love affair, laid to rest twenty years ago, hold the key to one man's future?
About the Author
TIMOTHY LEWIS is an author and playwright. He has authored more than twenty plays/musicals. In addition, he teaches a beginning novel writing class at West Texas A&M University and co-directs a summer writing academy. Timothy is also a professional speaker, cowboy poet, actor, and songwriter. He drew inspiration for Forever Friday from the postcards sent between his great-aunt and great-uncle over a period of sixty years. He lives with his wife near Amarillo, Texas.
Praise For Forever Friday: A Novel…
Praise for Forever Friday
 
"Forever Friday is a compelling, poignant story about soul mates.  Timothy Lewis writes with Southern charm, emotional intensity, and inspired insight about the passage of time that might cause a marriage to falter.  A must read for those who believe in the endearing and eternal power of hope."   
—DeWanna Pace, New York Times and USA Today best-selling author of A Texas Christmas

"In this day of disposable relationships, along comes a beautiful tale of lifelong love between two soulmates. Drawing from his own personal pain and disappointment, Timothy Lewis brings to life real characters in a page-turning romance that will keep you holding your breath in anticipation. Forever Friday makes you want to find (if you haven't already) your own lifelong soul mate to cherish forever. There is something to be said in defense of everlasting love, and Timothy Lewis says it stunningly."
—Martha Bolton, playwright and author of eighty-eight books, including the novel Josiah for President

"Tim has masterfully woven a simple love story, intertwining the joy of new love, the challenge of enduring love, the hope of renewed love, and the joy of lasing love into a beautiful and complex tapestry.  Not only does Tim tell a delightful story, he also inspires us all to renew our love and to deepen our relationships.  Forever Friday will make young lovers dance, old lovers smile, and anyone else who dreams of love, strive for better Fridays."   
—Dan Bolin, International Director of Christian Camping International, author, and speaker

"Forever Friday could be an excellent marriage manual or an important resource for those in the senior care industry, though it's not meant to be either. Timothy Lewis has penned a passionate love story that moves effortlessly back and forth through time and carries us all to the most hopeful of conclusions: Not only does enduring love exist, it thrives when purposed."   
—Shellie Rushing Tomlinson, national best-selling author of Sue Ellen's Girl Ain't Fat, She Just Weighs Heavy!

"Timothy Lewis's debut novel Forever Friday will wrap around your heart and not let go.  The beautifully haunting story lingers in your mind long after you've read it like a treasured memory."
—Jodi Thomas, New York Times best-selling author of 37 novels

"Timothy Lewis's novel, Forever Friday, transcends the reader to an era where love, honor, and cherish were not only marriage vows, but a Texas tradition. When two souls come together in perfect harmony, it strums the heart strings from the past to the present!"
—David and Roger Otwell, the Otwell Twins, Formerly of the Lawrence Welk Show

"In his debut novel, Forever Friday, Timothy Lewis delivers a timeless story for the romantic at heart. For anyone who believes in happy ever after, the possibility of meeting your soulmate, or the power of true love, this inspirational tale will not disappoint. Spanning generations and transporting readers across time, Tim's delightful characters highlight the importance of genuine relationships while reminding us all to appreciate the loved ones in our lives."
—Julie Cantrell, New York Times bestselling author of Into the Free