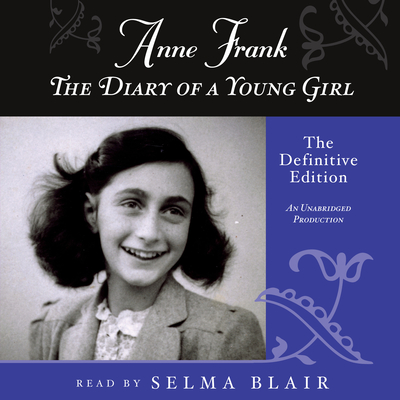 Anne Frank: The Diary of a Young Girl: The Definitive Edition (Compact Disc)
The Diary of a Young Girl: The Definitive Edition
Listening Library, 9780307737854, 8pp.
Publication Date: May 25, 2010
Description
Discovered in the attic in which she spent the last years of her life, Anne Frank's remarkable diary has since become a world classic--a powerful reminder of the horrors of war and an eloquent testament to the human spirit. In 1942, with Nazis occupying Holland, a thirteen-year-old Jewish girl and her family fled their home in Amsterdam and went into hiding. For the next two years, until their whereabouts were betrayed to the Gestapo, they and another family lived cloistered in the "Secret Annex" of an old office building. Cut off from the outside world, they faced hunger, boredom, the constant cruelties of living in confined quarters, and the ever-present threat of discovery and death. In her diary Anne Frank recorded vivid impressions of her experiences during this period. By turns thoughtful, moving, and amusing, her account offers a fascinating commentary on human courage and frailty and a compelling self-portrait of a sensitive and spirited young woman whose promise was tragically cut short. Praise for The Diary of a Young Girl "A truly remarkable book."--The New York Times "One of the most moving personal documents to come out of World War II."--The Philadelphia Inquirer "There may be no better way to commemorate the fiftieth anniversary of the end of World War II than to reread The Diary of a Young Girl, a testament to an indestructible nobility of spirit in the face of pure evil."--Chicago Tribune "The single most compelling personal account of the Holocaust . . . remains astonishing and excruciating."--The New York Times Book Review "How brilliantly Anne Frank captures the self-conscious alienation and naive self-absorption of adolescence."--Newsday
About the Author
Annelies Marie Frank was born on June 12, 1929, in Frankfurt am Main, Germany. Anne and her family were persecuted alongside millions of Jews prior to and during World War II for their faith. It was during this period on her 13th birthday that Anne recieved a diary in which she wrote her life story. Forced to flee their home and go into hiding, the Frank family was eventually seperated, with Anne and her sister Margot being placed in Bergen-Belsen. In 1945, years after their initial seperation, it was discovered that both Anne and her sister were killed, leaving only her beloved diary behind.
Advertisement