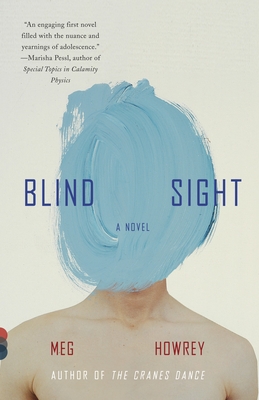 Blind Sight (Paperback)
Vintage Books, 9780307739292, 289pp.
Publication Date: September 4, 2012
Description
Seventeen-year-old Luke Prescott has been brought up in a bohemian matriarchy, surrounded by his divorced New Age mother, his religious grandmother, and two precocious half-sisters. He is writing his college applications when his father—a famous television star— invites him to Los Angeles for the summer. Luke accepts and is plunged into a world of location shooting, celebrity interviews, glamorous parties, and premieres. But as he begins to know the difference between his father's public persona and his private one, Luke finds himself questioning the new history he has created for himself.
About the Author
Meg Howrey was a professional dancer and actress. She lives in Los Angeles.
Praise For Blind Sight…
 
"An engaging first novel filled with the nuance and yearnings of adolescence." —Marisha Pessl, author of Special Topics in Calamity Physics
  
"[A] must-read novel. . . . Gently humorous, smoothly written." —Newsweek

"This warm and surprising debut follows father and son as they come to know each other and essentially fall in love." —The New York Times
 
"Luke is a charming character; old enough and smart enough to grab adult attention, but innocent and just unsure enough to have the charm of the child. . . . Will reward readers and keep them pleasurably engaged." —The Washington Times
 
"A poised debut novel. . . . Howrey's past as a ballet dancer shows in her graceful prose, which nimbly alternates between points of view" —Los Angeles magazine

"It can't be easy for anyone to conceive a new version of the novel of initiation, especially in America where the ghosts of Huckleberry Finn and Holden Caulfield hover over any such attempt. With Blind Sight being a first novel, it is therefore especially heartening to affirm that Luke Prescott, the book's 17-year-old voice, is as magnetic as his literary forbears. . . . [A] poignant account of a watershed summer for an engaging young man." —The Anniston Star
 
"Engagingly assured. . . . Luke's fresh gaze and untrammeled curiosity as he makes his way among conflicting loyalties, long-held secrets, and buried identities make him an appealing scientist of human behavior." —Vogue
 
"In Luke, Howrey has created a character that immediately draws you in and dares you not to care about him. His raw, straightforward voice and wry observations make this first novel a true gem." —Booklist
 
"Genuinely moving. . . . Intelligent, engaging and often funny." —Milwaukee Journal Sentinel  
 
"Blind Sight presents a refreshingly uncynical take on the messiness of family relationships." —Entertainment Weekly
 
"Smart, witty, and wise, Meg Howrey's impressive debut novel is a beautiful story that in its subtlety speaks to the fundamental questions of identity and love." —James Lapine, winner of the Pulitzer Prize for the libretto for Sunday in the Park with George
 
"Howrey makes an impressive debut with an intriguing novel that examines personal history." —Publisher's Weekly
 
"In Luke, Howrey has created a likable, engaging main character. . . . Howrey's prose is eminently readable; her storytelling style is free and easy. . . . Blind Sight is a wonderful story of the evolution of relationships and the malleable nature of truth."—The Maine Edge
 
"Resonates with authenticity, both with its description of the world of women from which Luke emerges and the world of easy celebrity in which h is tempted. . . . A wonderfully intriguing examination of what makes, and might break, a family." —Kirkus Reviews
 
"[Howrey] explores with commendable restraint a tricky family dynamic, creating a sharp study of the many ways children can have a hard time living in the shadow of their parents' needs, and vice versa." —The Onion's A.V. Club
 
"Smart and quick and will leave you reeling following the final revelation that could unhinge Luke's entire summer and recast his definition of a father. Blind Sight is a book that must be read. Period." —Fusion magazine


Advertisement