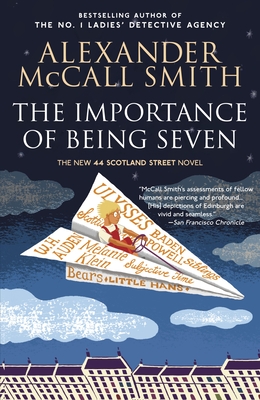 The Importance of Being Seven (44 Scotland Street Novels #6) (Paperback)
Anchor Books, 9780307739360, 336pp.
Publication Date: August 21, 2012
Description
44 SCOTLAND STREET - Book 6

The residents and neighbors of 44 Scotland Street and the city of Edinburgh come to vivid life in these gently satirical, wonderfully perceptive serial novels, featuring six-year-old Bertie, a remarkably precocious boy just ask his mother.
The great city of Edinburgh is renowned for its impeccable restraint, so how, then, did the extended family of 44 Scotland Street come to be trembling on the brink of reckless self-indulgence? After seven years and five books, Bertie is finally about to turn seven. But one afternoon he mislays his meddling mother Irene, and learns a valuable lesson: wish-fulfillment can be a dangerous business. Angus and Domenica contemplate whether to give in to romance on holiday in Italy, and even usually down-to-earth Big Lou is overheard discussing cosmetic surgery. Funny, warm, and heartfelt as ever, The Importance of Being Sevenoffers fresh and wise insights into philosophy and fraternity among Edinburgh's most lovable residents.
About the Author
Alexander McCall Smith is the author of the international phenomenon The No. 1 Ladies Detective Agency series, the Isabel Dalhousie series, the Portuguese Irregular Verbs series, the 44 Scotland Street series, and the Corduroy Mansions series. He is professor emeritus of medical law at the University of Edinburgh in Scotland and has served with many national and international organizations concerned with bioethics. www.alexandermccallsmith.com "
Praise For The Importance of Being Seven (44 Scotland Street Novels #6)…
 
"Fans of the series (which McCall Smith conducts in daily installments in The Scotsman before book publication) will rejoice at hearing again some of the familiar treads on the fashionable tenement's stairs. . . .  By following an assemblage of characters on and near 44 Scotland Street, McCall Smith manages sidesplitting send-ups of contemporary pretentiousness and wry and often poignant commentary on the roles of chance, cruelty, and fate in our lives. . . . Delightful."
     —Booklist (starred review)
 
"Life in Scotland Street is a more pleasant, leisurely business than it is for most of the rest of us. . . . There's plenty of time for idle thoughts, occasional shafts of wit and gentle dissections of absurdity—sometimes all at the same time." —The Scotsman
 
"It is that all-prevailing pleasantness, the unfaltering optimism and the gentle pace of life that holds the key to McCall Smith's success." —Independent Magazine

"Sweet. . . . Graceful. . . . Wonderful. . . . Gentle but powerfully addicting fiction."—Entertainment Weekly
 
"[McCall Smith] is a pro, and he delivers sharp observation, gentle satire . . . as well as the expected romantic complications. . . . [Readers will] relish McCall Smith's depiction of this place . . . and enjoy his tolerant, good-humored company." —The New York Times Book Review

"Alexander McCall Smith . . . proves himself a wry but gentle chronicler of humanity and its foibles." —The Miami Herald
 
"McCall Smith's plots offer wit, charm and intrigue in equal doses." —Richmond Times-Dispatch
 
"Just about perfect. . . . Contains a healthy helping of McCall Smith's patented charm." —St. Louis Post-Dispatch


"McCall Smith's assessments of fellow humans are piercing and profound. . . . [His] depictions of Edinburgh are vivid and seamless." —San Francisco Chronicle

"Entertaining and witty. . . . A sly send-up of society in Edinburgh." —Orlando Sentinel

"McCall Smith, a fine writer, paints his hometown of Edinburgh as indelibly as he captures the sunniness of Africa. We can almost feel the mists as we tread the cobblestones." —The Dallas Morning News

"Alexander McCall Smith is the most genial of writers and the most gentle of satirists. . . . [The] characters are great fun . . . [and] McCall Smith treats all of them with affection." —Rocky Mountain News
 
"Irresistible. . . . Smith has rendered another winner, packed with the charming characters, piercing perceptions and shrewd yet generous humor that have become his cachet."
—Chicago Sun-Times
Advertisement