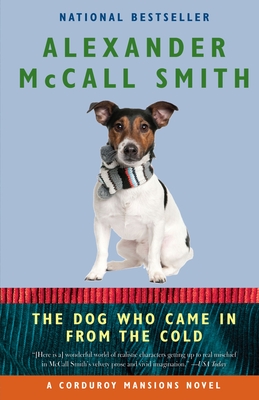 The Dog Who Came in from the Cold (Corduroy Mansions Series #2) (Paperback)
Anchor, 9780307739445, 304pp.
Publication Date: May 29, 2012
Other Editions of This Title:
Compact Disc (6/8/2011)
Hardcover (6/21/2011)
Hardcover, Large Print (8/1/2011)
Paperback (4/1/2011)
* Individual store prices may vary.
Description
CORDUROY MANSIONS - Book 2

In the Corduroy Mansions series of novels, set in London's hip Pimlico neighborhood, we meet a cast of charming eccentrics, including perhaps the world's most clever terrier, who make their home in a handsome, though slightly dilapidated, apartment block. 

The second installment in Alexander McCall Smith's newest beloved series follows the further adventures of Freddie de la Hay, Pimlico terrier, and the wonderfully motley crew of his fellow residents in the elegantly crumbling London mansion block, Corduroy Mansions.
 
A pair of New Age operators has determined that Terence Moongrove's estate is the ideal location for their Centre for Cosmological Studies. Literary agent Barbara Ragg has decided to represent a man who is writing a book about his time "hanging out" with the abominable snowman. And our small, furry, endlessly surprising canine hero, Freddie de la Hay, has been recruited by MI6 to infiltrate a Russian spy ring. Needless to say, the other denizens of Corduroy Mansions have issues of their own. But all of them will be addressed with the wit, charm, and insight into the foibles of the human condition that have become the hallmark of this truly peerless storyteller.
About the Author
Alexander McCall Smith is the author of the beloved bestseling No. 1 Ladies' Detective Agency series, the Isabel Dalhousie series, the Portuguese Irregular Verbs series, the 44 Scotland Street series, and the Corduroy Mansions series. He is also the author of numerous children's books. He is professor emeritus of medical law at the University of Edinburgh and has served on many national and international organizations concerned with bioethics. He was born in what is now known as Zimbabwe and taught law at the University of Botswana. He lives in Scotland. Visit his website at www.alexandermccallsmith.com.
Praise For The Dog Who Came in from the Cold (Corduroy Mansions Series #2)…
Praise for the Cordury Mansions series
 
"[Here is a] wonderful world of realistic characters getting up to real mischief in McCall Smith's velvety prose and vivid imagination."
    —USA Today

"McCall Smith is a writer of such fond, heartfelt geniality that . . . fans will be grateful that the series has just begun."
    —Entertainment Weekly
 
"[McCall Smith] cooks up a delicious story that seems part Restoration comedy and part Victorian novel, tossed with a dash of mystery and a dollop of satire. . . . Comfortable, easy, homey."
    —The Washington Post
 
"A nice little confectionery." —The Globe and Mail (Toronto)
"McCall Smith is the P.G. Wodehouse of our time, and we should be grateful for his prolificacy."
    —Richmond Times-Dispatch
 
"You cannot beat McCall Smith for subtle musings shot through with insight and wit. His deft characterization enlivens the inner workings of everyday characters. His work offers a heartening view of a world that often appears heartless."
    —The Daily Telegraph (London)

"Whimsical. . . . McCall Smith specializes in subplots that punctuate the book like polka dots, relying on his considerable literary skills to link them into a merry pattern of human events."
    —The Washington Times

"Quirky and original. . . . Told with warmth, wit and intelligence, and McCall Smith's cast of characters are beautifully observed."
    —Daily Express

"[Full] of warmth and wisdom and easy, accomplished writing that begs for a comfy chair."
    —The Times (London)

 "Very agreeable. . . . McCall Smith has . . . a rare and enviable gift."
    —The Scotsman