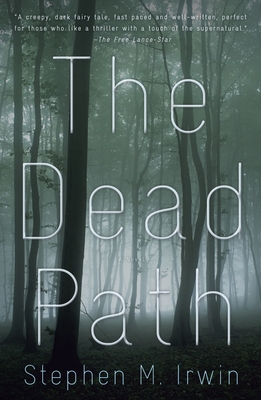 The Dead Path (Paperback)
Anchor Books, 9780307739568, 384pp.
Publication Date: March 6, 2012
Description
Nicholas Close has always had an uncanny intuition, but after the death of his wife he becomes haunted, literally, by ghosts doomed to repeat their final violent moments in a chilling and endless loop. Torn by guilt and fearing for his sanity, Nicholas returns to his childhood home seeking a fresh start. But he is soon entangled in a disturbing series of disappearances and murders. He finds himself a suspect, and as the evidence mounts against him and the ghost continue to haunt him, Nicholas will need to confront the woods that surround his hometown--the origin of his troubles and where a malignant evil may be lurking, waiting.

About the Author
STEPHEN M. IRWIN lives in Brisbane, Australia, with his wife and son. "The Dead Path "is his first novel.
Praise For The Dead Path…
"The Dead Path is creepy and crawly and spooky, and there are some genuinely distressing scenes…I won't reveal all the surprises in The Dead Path, and there are plenty. If you're a horror fan, or you love ghost stories, this is one wowser of a book for you."
  – Charlaine Harris, New York Times bestselling author of the Sookie Stackhouse novels.

"The Dead Path is a truly creepy thrill-ride. You may never want to go into the woods again."
   --Jeff Lindsay, New York Times bestselling author of Dexter Is Delicious

"A razor-sharp supernatural chiller from a master of suspense.  Stephen M. Irwin is a very talented writer and The Dead Path is a terrific debut."
   --Graham Joyce author of The Silent Land

"Australian author Irwin's impressive debut, a supernatural thriller, evokes a world full of death and spirits to which we are, mercifully, oblivious....Irwin writes in a lyrical style that expresses both the poignancy of [these] supernatural experiences and the mood of horror those experiences conjure."
  -- Publishers Weekly (starred review)

"Irwin employs many of the images familiar from dark fairy tales--skittering spiders, a haunted forest, an evi witch--and infuses them with fresh terror. One of the scariest novels of this or any other year, The Dead Path is sure to draw comparisons to the work of Stephen King.
  --Booklist (starred review)

"It's a creepy, dark fairy tale, fastpaced and well-written, perfect for those who like a thriller with a touch of the supernatural."
--The Free Lance-Star

"Comparisons with Stephen King are far too frequent in reviews of horror fiction, but in this case, such a reference is valid."
--The Guardian (London)
Advertisement