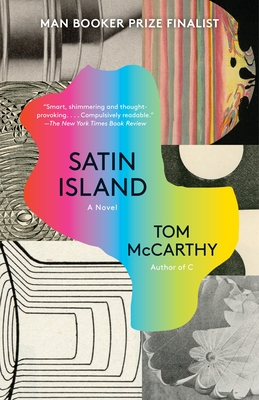 Satin Island
Paperback

* Individual store prices may vary.
Other Editions of This Title:
Digital Audiobook (2/16/2015)
Description
Short-listed for the Man Booker Prize
A New York Magazine Best Book of the Year

In Satin Island, Tom McCarthy—the acclaimed, Man Booker Prize-nominated author of Remainder and C—captures the way we experience our world and our efforts to find meaning in the narratives we think of as our lives. U., a "corporate anthropologist," is tasked with preparing the Great Report, an all-encompassing ethnographic document that sums up our era. Yet at every turn, he feels himself overwhelmed by the ubiquity of data. But just as U. begins to wonder if his project will ever take shape, his senses are startled awake by a dream of an apocalyptic cityscape. Unlike anything you've read before, Satin Island is a mind-bending adventure from one of the most original voices in literature today.
Praise For Satin Island…
"Smart, shimmering and thought-provoking. . . . Compulsively readable." —The New York Times Book Review

"Cerebral complexity with a sense of humor. . . . To read Satin Island is to feel as if you're observing its story through a pane of glass. . . . It's the same remove from which we experience so many things in our multiscreened lives, our senses averted from the messiness of human life." —The Boston Globe

"A magisterial ethnographic portrait of our overstimulated, interconnected, simulacra-addicted times." —The Atlantic

"An undeniably dazzling piece of writing, a perfect tight circle of interlocking motifs, mini-treatises and allusions." —The Sunday Times (London)

"Ingenious." —"All Things Considered," NPR

"Gives the trope of the reluctant detective a fresh turn. . . . McCarthy's style is at times reminiscent of David Foster Wallace's stories of characters caught in the gears of consumer capitalism coupled with the whimsy of Jean Philippe Toussaint's literary situational comedies in which every detail is microanalyzed." —Los Angeles Times

"A cool, bravura challenge to our conventional expectations of what a novel should offer." —Financial Times

"Fascinating." —San Francisco Chronicle

"McCarthy's crisp, clean prose is stimulating, his concepts original and his visual imagery powerful." —The Independent

"More entertaining than it has any right to be. . . . Only a writer of McCarthy's wit could erase the book you're holding in your hand without entirely alienating his readers." —"A.V, Club," The Onion

"The wit shimmers and snaps. The numbered sections, each a single paragraph, are polished little jewels. The humor tilts toward bathos, tumbling from the sublime to the demotic." —The Nation

"Very funny; intellectually, culturally, uncannily funny." —The Washington Times

"McCarthy is a terrific satirist, and he's wonderful at describing what not to do. . . . With Satin Island, [he] has cast a new light on the debate about avant-garde and realist novels." —Bookforum

"[Satin Island] provokes and beguiles. . . . On finishing it you will have the powerful urge to throw it across the room then the powerful urge to pick it up to read again. And that's what's so brilliant." —The Daily Telegraph

"Hugely impressive. . . . A book that is hugely playful, with great jokes, observations and some fantastically funny set pieces. It is a genuinely challenging book. McCarthy is experimenting, pushing the boundaries of what a novel can be. . . . He is an original." —Irish Times

"Hilarious in precisely the way that Kafka is hilarious. . . . Lucid, precise, and aesthetically rewarding." —Flavorwire

"This latest strange, smart narrative experiment showcases McCarthy's gift for wildly original fiction." —Booklist
Vintage, 9780307739629, 208pp.
Publication Date: January 26, 2016
About the Author
Tom McCarthy was born in 1969 and lives in London. He is known in the art world for the reports, manifestos and media interventions he has made as general secretary of the International Necronautical Society (INS), a semi-fictitious avant-garde network. His previous books include Men in Space, C, Remainder and Tintin and the Secret of Literature. In 2013 he was awarded an inaugural Windham-Campbell Literature Prize from Yale University.
or
Not Currently Available for Direct Purchase