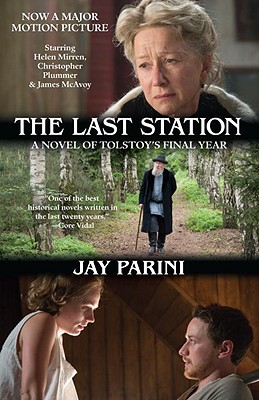 The Last Station (Movie Tie-in Edition)
A Novel of Tolstoy's Final Year
Paperback

* Individual store prices may vary.
Description
NOW A MAJOR MOTION PICTURE
Starring Helen Mirren, Christopher Plummer, & James McAvoy

In 1910, Count Leo Tolstoy, the most famous writer in the world, is caught in the struggle between his devoted wife and an equally devoted acolyte over the master's legacy. Sofya Andreyevna fears that she and the children she has borne Tolstoy will lose all to Vladimir Chertkov and the Tolstoyan movement, which preaches the ideals of poverty, chastity, and pacifism.

As Tolstoy seeks peace in his final days, Valentin Bulgakov is hired to be his secretary and enlisted as a spy by both camps. But Valentin's loyalty is to the great man, who in turn recognizes in the young idealist his own youthful struggle with worldly passions.

Deftly moving among a colorful cast of characters, drawing on the writings of the people on whom they are based, Jay Parini has created a stunning portrait of an enduring genius and a deeply affecting novel.
Praise For The Last Station (Movie Tie-in Edition): A Novel of Tolstoy's Final Year…
"A skillful tapestry. . . . The Last Station illumines the larger than fiction life of a literary giant."
—USA Today

"One of the best historical novels written in the last twenty years."
—Gore Vidal

"Utterly satisfying. . . . A loving and thoughtful rendering of the complex character of Leo Tolstoy. . . . Parini captures marvelously the paradoxical nature of this genius whose mind and body seemed ever to be at war."
—Washington Post Book World
 
"Fascinating. . . . Parini has made a valuable contribution to our understanding of Tolstoy."
—Los Angeles Times Book Review

"A subtle masterpiece. . . . Tolstoy himself would probably have recognized the work of a true artist."
—The Times Literary Supplement (London)
 
"One of those rare works of fiction that manages to demonstrate both scrupulous historical research and true originality of voice and perception. . . . What lifts this book high above most historical novels is Jay Parini's remarkable ability to enter the minds of his characters."
—The New York Times Book Review

"A modern classic and an unforgettable portrait of Russia herself on the cusp of revolution."
—Simon Sebag Montefiore, author of Stalin
 
"A powerful story. . . . Witty [and] immensely moving. . . . Parini draws the reader into the tumult of the Tolstoy household."
—Christian Science Monitor
 
"Vivid and moving. . . . It is to Jay Parini's credit that he has been able to flesh out the saga and make it ever new, to give it a shape and resonance we might have thought unimaginable."
—Newsday
 
"This wonderful book combines scholarship and sensitive re-creation of a man's struggle to be true to himself and to others."
—Dallas Morning News
 
"The Last Station offers proof that the historical novel has a lot left to say to and about literature. And any novel with as perfectly beautiful a final sentence as this one deserves to be read all the way through."
—Philadelphia Inquirer
 
"Poets who write novels are a strange and wonderful breed, in love with language as well as character. In The Last Station, Jay Parini has tackled an awesomely ambitious novel and succeeded brilliantly."
—Erica Jong
 
"Tolstoy imagined—and illuminated."
—Boston Globe

"[A] coup of period re-creation. . . . [Parini] is very good at showing how an artist or visionary can be at once idealistic, mundane and incompetently avaricious."
—Chicago Tribune 

"Jay Parini has written a stylish, beautifully paced and utterly beguiling novel."
—The Sunday Times (London)
 
"Entertaining. . . . A three-dimensional portrait of a complex literary figure. . . . Biographers have described the events of Tolstoy's life in great detail, but none so insightfully and eloquently as Jay Parini in The Last Station."
—The Atlanta Journal-Constitution
 
"A gem of a historical novel. . . . A novel with a lyric tone that manages to extract excitement from an unlikely subject."
—Newark Star-Ledger
 
"A searching view of the last year in the life of the author of War and Peace. . . . A kaleidoscopically rich and skillful novel."
—Publishers Weekly
 
"An impressively knowing and sensitive performance, a wistful late twentieth-century tribute to the giant conflicts of a more titanic age."
—The Observer (London)
Anchor, 9780307739643, 304pp.
Publication Date: January 12, 2010
or
Not Currently Available for Direct Purchase