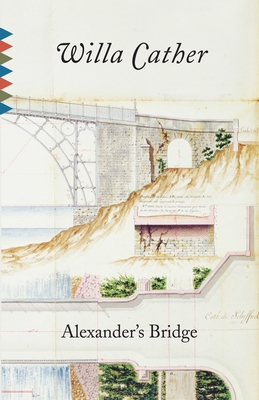 Alexander's Bridge (Vintage Classics)
Paperback

* Individual store prices may vary.
Other Editions of This Title:
Paperback (6/1/2015)
Paperback (2/22/2020)
Paperback (3/30/2014)
Paperback (8/11/2018)
Paperback (2/22/2020)
Paperback (7/8/2020)
Paperback (8/22/2018)
Paperback (5/27/2020)
Paperback (1/28/1912)
Paperback (10/16/2020)
Paperback (12/1/2004)
Paperback (4/4/2016)
Paperback (11/5/2020)
Paperback (1/25/2021)
Description
Alexander's Bridge, Willa Cather's first novel, is a taut psychological drama about the fragility of human connections. Published in 1912, just a year before O Pioneers! made Cather's name, it features high society on an international stage rather than the immigrant prairie characters she later became known for. The successful and glamorous life of Bartley Alexander, a world-renowned engineer and bridge builder, begins to unravel when he encounters a former lover in London. As he shuttles among his wife in Boston, his old flame in London, and a massive bridge he is building in Canada, Alexander finds himself increasingly tormented. But the threatened collapse of his marriage presages a more fatal catastrophe, one he will risk his life to try to prevent.
Vintage, 9780307739667, 144pp.
Publication Date: December 7, 2010
About the Author
Willa Cather was born near Winchester, Virginia, in 1873. When she was ten years old, her family moved to the prairies of Nebraska, later the setting for a number of her novels. At the age of twenty-one, she graduated from the University of Nebraska, and she spent the next few years doing newspaper work and teaching high school in Pittsburgh. In 1903, her first book, April Twilights, a collection of poems, was published, and two years later The Troll Garden, a collection of stories, appeared in print. After the publication of her first novel, Alexander's Bridge, in 1912, Cather devoted herself full time to writing, and over the years she completed eleven more novels (including O Pioneers!, My Ántonia, The Professor's House, and Death Comes for the Archbishop), four collections of short stories, and two volumes of essays. Cather won the Pulitzer Prize for One of Ours in 1923. She died in 1947.