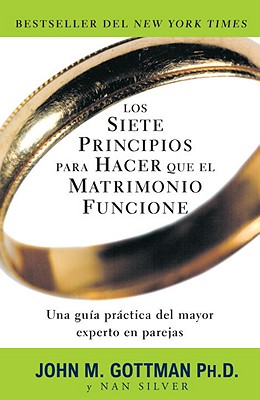 Los Siete Principios Para Hacer Que el Matrimonio Funcione = The Seven Principles for Making Marriage Work (Paperback)
Vintage Espanol, 9780307739704, 286pp.
Publication Date: November 2, 2010
Description
John M. Gottman ha revolucionado el estudio del matrimonio utilizando procesos rigurosamente cientificos para la observacion de los habitos de las parejas a traves de muchos anos en un detalle sin precedentes. Aqui esta la culminacion de una vida de trabajo: los siete principios que guian a las parejas en el camino hacia relaciones duraderas y armoniosas. Directo en su metodo, pero a la vez profundo en sus resultados, estos principios ensenan asombrosas nuevas estrategias para hacer que el matrimonio funcione. Gottman ayuda a las parejas a concentrarse el uno en el otro, a prestar atencion al dia a dia y a los pequenos detalles que, puestos juntos, forman el corazon y el alma de cualquier relacion. Acompanado de ejercicios y cuestionarios practicos Los siete principios para hacer que el matrimonio funcione es la guia definitiva para cualquiera que quiera que su relacion alcance su maximo potencial.
About the Author
John M. Gottman es profesor de psicologia en la Universidad de Washington y codirector del Seattle Marital and Family Institute. Ha publicado mas de cien articulos y decenas de libros, y en diversas ocasiones ha sido galardonado por su importante contribucion al estudio de la pareja y la familia. Nan Silver es redactora de la revista Parents. Ha sido directora de la revista Health, autora del libro Normas educativas para padres responsables y coautora del libro Why Marriages Succeed or Fail.
Advertisement