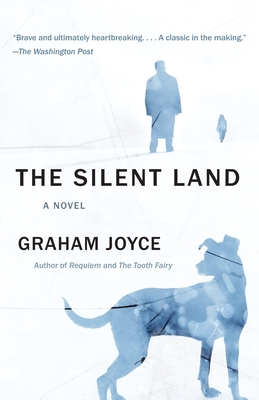 The Silent Land
A Suspense Thriller
Paperback

* Individual store prices may vary.
Other Editions of This Title:
Digital Audiobook (3/28/2011)
MP3 CD (3/29/2011)
Hardcover (3/29/2011)
Compact Disc (3/29/2011)
Description
When Jake and Zoe are buried under a flash avalanche while skiing in the French Pyrenees, they miraculously dig their way out from under the snow—only to discover the world they knew has been overtaken by an eerie and absolute silence. With their phones cut off, and the village evacuated of every living soul, the young married couple begin to witness strange, unsettling events neither one can ignore. And as the days wear on, they are forced to confront frightening possibilities as they attempt to survive and escape the silent land they now inhabit.
Praise For The Silent Land: A Suspense Thriller…
"Brave and ultimately heartbreaking. . . . A classic in the making." —The Washington Post

"I won't bother saying Graham Joyce deserves to find a wide audience in America; rather, I think the American audience deserves to discover him." —Jonathan Lethem
 
"Graham Joyce's near-perfect novella of near-death experience, isolation, and winter cold is a tour de force. . . . A study in classic supernatural fiction." —The Independent (London)
 
"Stark, layered, ominous and . . . appealing." —The New York Times
 
"Joyce's crisp prose, transparent as ice crystals, is the perfect medium for Jake and Zoe's tale. Emotion-laden yet unsentimental, unflinchingly attuned to the fluencies of love, The Silent Land brings us to the brink of death and gives a glimpse of the unfathomable beauty lying beyond." —The Seattle Times
 
"As engaging as a twisted fireside yarn and paced almost as quickly." —Los Angeles Times

"Mesmerizing. . . . This is a lean, philosophically sophisticated book, and Joyce's ability to slip into its short length heady meditations on love, death, and the state of contemporary society is a measure of his craftiness." —Richmond Times-Dispatch
 
"[An] eerie, wintry fable. . . . Delivers a chilling thrill. . . . Perfect for a Sunday afternoon as the dusk begins to fall." —The Scotsman
 
"A book as crisp as new snow. . . . Compelling. . . . You'll laugh, albeit nervously; you'll cry, unless you're completely heartless; you'll give your nearest and dearest hugs without really being able to explain why you're so glad to see them—really, what more do you want from a novel?" —SFX.com
 
"I became a rabidly devoted fan of Graham Joyce's the first time I read is work." —Peter Straub

"[Graham Joyce] is one of those writers who make traditional literary distinctions–horror versus fantasy, genre versus mainstream–seem not only trivial, but irrelevant as well. . . . The Silent Land is one of his most dreamlike, emotionally resonant creations to date. . . . A suspenseful, otherworldly adventure and a metaphysical love story as real and affecting as anything you're likely to encounter in contemporary fiction." —Subterranean Press

"How fully Joyce re-creates the eerie border country that Jake refers to as 'the seams between life and death.'. . . The Silent Land suggests that the ultimate question is whether we can wake up from our comfortably numb state before it's too late." —Milwaukee Journal-Sentinel

 "Joyce is skilled at delineating the fracture lines of relationships, and sets up the Bennetts' claustrophobic confinement in minute detail, showing how their love for each other withstands and overcomes the growing mystery of their circumstances. . . . Moving." —The Guardian (London)
 
"Joyce paints a tapestry of intrigue and Hitchcock-like suspense, sort of a cross between Stephen King's The Langoliers and The Twilight Zone. . . . Phenomenal." —Bookreporter
 
"Anyone who isn't reading Graham Joyce is doing themselves a huge disservice. No matter what kind of story he takes on, his work immediately becomes the standard to which all others have to be compared." —Charles de Lint

 

Anchor, 9780307739827, 272pp.
Publication Date: May 1, 2012
About the Author
GRAHAM JOYCE, a winner of the O. Henry Award, the British Fantasy Award, and the World Fantasy Award, lives in Leicester, England, with his family. His books include How to Make Friends with Demons, Smoking Poppy, Indigo (a New York Times Notable Book of 2000), The Tooth Fairy (a Publishers Weekly Best Book of 1998), and Requiem, among others.
or
Not Currently Available for Direct Purchase