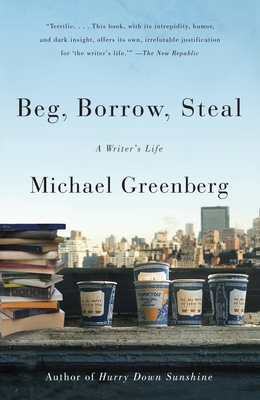 Beg, Borrow, Steal (Paperback)
A Writer's Life
Vintage, 9780307740670, 240pp.
Publication Date: November 2, 2010
Other Editions of This Title:
Hardcover (9/8/2009)
* Individual store prices may vary.
Description
Michael Greenberg's stunning collection entertainingly chronicles the hardships, delights, and moral dilemmas of being a writer and a New Yorker. To eke out a living, Greenberg doctors doomed movie scripts, peddles cosmetics on the street, and waits tables at a posh restaurant, all while raising his son on the Lower East Side. Along the way, he meets a host of fascinating city characters, including a Holocaust survivor, a repentant communist, and a man who becomes a woman.
 
Hilarious and bittersweet, Greenberg's stories invite us into a world where the familial, the literary, the tragic, and the mundane not only speak to one another, but deeply enjoy the exchange.
About the Author
A native New Yorker, Michael Greenberg is the author of the memoir Hurry Down Sunshine, published in sixteen countries and chosen as one of the best books of 2008 by Time, the San Francisco Chronicle, Amazon.com, and Library Journal. He is a columnist for the Times Literary Supplement. His writing has appeared in such varied places as O, The Oprah Magazine and The New York Review of Books. He lives in New York.
Praise For Beg, Borrow, Steal: A Writer's Life…
"[A] terrific new collection. . . . This book, with its intrepidity, humor, and dark insight, offers its own, irrefutable justification for 'the writer's life.'" —The New Republic

"A writing memoir that belongs in the company of classics such as Grace Paley's Just as I Thought, Annie Dillard's Living by Fiction, William Gass's Fiction and the Figures of Life, and Eudora Welty's One Writer's Beginnings." —ForeWord Magazine
 
"Darkly comic. . . . Greenberg's gifts as a storyteller—his spare style, shrewd use of detail, easy way with unpredictable references . . . lack of sentimentality, and sense of the surreal in the ordinary—are evident throughout the book." —The New York Review of Books

"Greenberg, a native New Yorker, loves the city as a child loves a parent, and in its honor he has put together a collection of tightly written incisive chapters, each another tessera or tile in a big mosaic. . . . Greenberg is an acute observer." —Edmund White, The New York Times Book Review
 
"Brilliant. . . . Personal experience is at the center of each piece, but none is solipsistic; the tone is understated and ironic, and every essay contains a hard-won glimmer of insight." —The Washington Post
 
"Greenberg is at the top of his form. . . . His writing [has] an attractive subtlety. . . . [It is] efficient, understated, languidly witty." —The New Criterion
 
"Bring[s] together 44 of his finest. . . . The quotidian is illuminated and refracted through a cool, audacious eye. . . . Direct, unbuffered, sharp-edged." —The Boston Globe
 
"Greenberg captures . . . the everyday texture of metropolitan life . . . with diaristic immediacy." —The New Yorker
 "Greenberg's descriptions of his encounters with mentors, his dealings with the movie world and his endless family dramas are rendered with biting humor and insight. The unflinching stories are so well written, readers will wince."—Florida Times-Union

"Succinct, yet beautifully detailed. . . . Sometimes tragic, often funny, always moving true-life tales." —PopMatters
"Quietly elegant, effortless, valuable, and perfectly crafted, like gems or teardrops . . . [Greenberg writes] the way Chagall would make a stained-glass window, using familiar materials and skills to create something delicate and undeniable and new." —Bookslut.com

"Beg, Borrow, Steal will become a bestseller today and a classic inspiration tomorrow. Just as people carried Kerouac and Bellow in their back pocket, Greenberg's conversational tone stays with you, and you want to read his essays again and again." —Blogcritics.org

"Poignant. . . . Most chapters read like anecdotes told among friends. . . . Greenberg skillfully explores issues that range from the profoundly tragic to the delightfully funny. . . . Succinct, entertaining personal narratives."—Kirkus Reviews

"Graceful ponderings by a deeply sympathetic soul, a consummate New Yorker and terrific writer." —Publishers Weekly
or
Not Currently Available for Direct Purchase