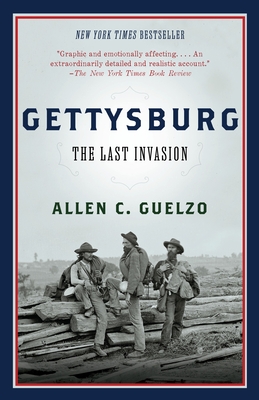 Gettysburg (Paperback)
The Last Invasion (Vintage Civil War Library)
Vintage, 9780307740694, 672pp.
Publication Date: February 11, 2014
* Individual store prices may vary.
Description
Winner of the Guggenheim-Lehrman Prize in Military History

An Economist Best Book of the Year

A Kirkus Reviews Best Nonfiction Book of the Year

The Battle of Gettysburg has been written about at length and thoroughly dissected in terms of strategic importance, but never before has a book taken readers so close to the experience of the individual soldier.

Two-time Lincoln Prize winner Allen C. Guelzo shows us the face, the sights and the sounds of nineteenth-century combat: the stone walls and gunpowder clouds of Pickett's Charge; the reason that the Army of Northern Virginia could be smelled before it could be seen; the march of thousands of men from the banks of the Rappahannock in Virginia to the Pennsylvania hills. What emerges is a previously untold story of army life in the Civil War: from the personal politics roiling the Union and Confederate officer ranks, to the peculiar character of artillery units. Through such scrutiny, one of history's epic battles is given extraordinarily vivid new life.
About the Author
Allen C. Guelzo is the Henry R. Luce Professor of the Civil War Era and Director of Civil War Era Studies at Gettysburg College. He is the author of Lincoln's Emancipation Proclamation: The End of Slavery in America and Abraham Lincoln: Redeemer President, both winners of the Lincoln Prize. Guelzo's essays, reviews, and articles have appeared in publications ranging from the American Historical Review and Wilson Quarterly to newspapers such as The Philadelphia Inquirer and The Wall Street Journal.
Praise For Gettysburg: The Last Invasion (Vintage Civil War Library)…
Praise for Allen C. Guelzo's Gettysburg

"Graphic and emotionally affecting . . . an extraordinarily detailed and realistic account."
—The New York Times Book Review
 
"This is a masterful battle study, masterfully told. . . . Engaging. . . . Guelzo's narrative is enlivened by frequent use of accounts by battle participants, observers and Gettysburg civilians, and his descriptions sometimes rise almost to lyricism."
—The Seattle Times
 
"[A] rich, original work. . . . Guelzo's book enlarges the conventional battle narrative. . . . It's his expansive, rolling storytelling that makes this book so engrossing and sets Guelzo's Gettysburg apart from the many others. . . . Through those pages runs a thoroughly readable description of every hour of those three hellish days, in enough detail to satisfy the keenest student of tactics and courage. Some good battle histories are crackling accounts of tactical moves and soldiers' memories, stepping along as jauntily as a Sousa march. This one proceeds more like a stately symphony, solemn but enlivened by surprise digressions and meditations, taking its time, building to a finish that is familiar to all, yet seldom conducted so eloquently."
—The Washington Post
 
"This is the finest single-volume account available. . . . There is a timeless quality to Gettysburg that makes it special."
—The Wilson Quarterly

"Among the finest campaign studies of our generation. [Gettysburg] earns this distinction with smart and vivid writing, innovative organization, and insightful analysis that manages to synthesize the Gettysburg story in a way that will appeal to the literate novice and the seasoned Civil War history reader alike."
—The Civil War Monitor

"Detailed . . . accessible. . . . Civil War buff and newcomer alike will find plenty to keep them interested. . . . [Guelzo's] conclusions balance conventional wisdom with unbiased clarification and analysis."
—The Christian Science Monitor

"Wonderful . . . Guelzo's book is an extremely timely reminder that the American experiment has not been, as the Founders asserted, a 'self-evident truth' but in fact a highly debatable proposition that needed to be proved, not just in July 1863 at Gettysburg but on many days and in many places since."
—The Wall Street Journal

"Wonderfully readable . . . [Gettysburg] marries scholarly rigor to a sense of narrative that rivals that of a novel."
—The Daily Beast

"A stylish, comprehensive, and entertaining narrative . . . [Guelzo's] account is not a typical tick-tock of troop movements; the pages are soaked in rich language and vivid character studies . . . Guelzo knows the power of the telling detail."
—MHQ: The Quarterly Journal of Military History

"In this consistently riveting book, Allen Guelzo makes us feel that we are hearing the epic story of the Civil War's most famous battle for the first time. . . . This is, simply, the best book about Gettysburg that has yet been written. It is hard, if not impossible, to imagine that there will ever be a better one."
—Fergus M. Bordewich, author of America's Great Debate

"What is there left to say about Gettysburg? In Allen Guelzo's deft, scholarly hands, plenty. Gettysburg: The Last Invasion is fresh, fascinating, and compellingly provocative. It is a marvelous book that deserves to be read and savored. And it deserves to be on the bookshelf of all Civil War buffs."
—Jay Winik, author of April 1865

"An extraordinary work of thorough scholarship combined with a lifetime of judgment about historic events. . . . Everyone interested in the decisive moment in Freedom's struggle should read Guelzo's simply extraordinary book."
—Newt Gingrich, former Speaker of the House and coauthor of Gettysburg: A Novel of the Civil War

"Despite all that has been written about the battle of Gettysburg, Allen Guelzo provides new information and insights in this stirring account. . . . Readers will find much to think about in this book."
—James M. McPherson, Pulitzer Prize-winning author of Battle Cry of Freedom

"Guelzo has composed a narrative that is detailed and compelling on a human level but easy to follow on an operational and tactical one . . . A triumph of source use and presentation, engaging enough for the general reader but rigorous enough for the scholar."
—Library Journal

"Guelzo's entry identifies key controversies, trenchantly advocates its interpretations, and rests on a sensible foundation, the confusion of a Civil War battle . . . [Gettysburg] reads like the battle might have been experienced . . . Guelzo demonstrates versatile historical skill in this superior treatment of Gettysburg."
—Booklist, starred review

"Stirring . . . robust, memorable reading that will appeal to Civil War Buffs, professional historians and general readers alike."
—Kirkus Reviews, starred review

"Graceful . . . [Guelzo] gets up close and personal with soldiers and officers, providing a previously unseen level of intimacy with those who strategized and fought the battle . . . This exacting account of 'the last invasion' may well go down as the last word on the subject."
—Publishers Weekly