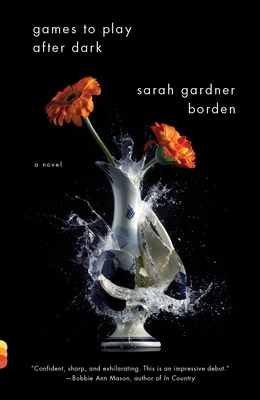 Games to Play After Dark (Paperback)
Vintage Contemporaries, 9780307740908, 325pp.
Publication Date: May 3, 2011
* Individual store prices may vary.
or
Not Currently Available for Direct Purchase
Description
When Kate and Colin meet at a party in Manhattan their connection is electric. They marry quickly, moving to the suburbs, and in the light of day they seem like any young couple, but the games they play after dark are far from routine.

About the Author
Sarah Gardner Borden holds an MFA from the Warren Wilson Program for Writers. Her fiction and non-fiction have appeared in a variety of journals, including "Open City," "Willow Springs," the "Chicago Reader," "Other Voices," "Literary Mama," and the "New Haven Review." She lives in Brooklyn.
Praise For Games to Play After Dark…
"Deserves to become a classic. . . . The careful crafting of this story, the diligent attention to detail and the intelligent sense of the complexities of the closest of family relationships make Games to Play After Dark an astonishingly mature achievement for a first-time novelist. It's a book that bears rereading and thinking about, and Sarah Gardner Borden is certainly one of the new writers to watch." —The Washington Times

"In her searing, un-put-downable debut novel, Sarah Gardner Borden brilliantly explores the darkest corners of family life." —Marie Claire

"Games to Play After Dark springs from the gate at a rapid clip . . . effectively conveys the unrelenting nature of the crush of days that spread out before the protagonist like so much housework in need of tending. . . . Like its predecessors—Revolutionary Road and The Awakening alike—Games to Play After Dark offers an unflinching glimpse into the secret desperation of the American mother. As moving as it is disturbing, Ms. Borden's debut is, above all, honest. With any luck, we'll get a lot more of the same from this talented novelist in the coming years." —New York Journal of Books

"Sarah Gardner Borden's exciting novel reads like a thriller, but it is the menacing nature of the very ordinary that is so scary here. She gets underneath the mundane details of  everyday life—All that stuff! The chores! The driving!—and reveals the real mess our expectations and desires can get us into. Kate, at the center, is deftly and affectionately drawn. The writing is confident, sharp, and exhilarating. This is an impressive debut." —Bobbie Ann Mason, author of In Country

"An unsparingly honest portrait of one marriage's devolution into train wreck. Borden covers it all—from the resentments that build over childcare to the sex that's no longer fun. Reading Games to Play After Dark is as intimate an experience as reading someone's diary." —Lucinda Rosenfeld, author of I'm So Happy for You and What She Saw. . .
 
"Games to Play After Dark at first disguises itself as a story of bright young love, until Kate and Colin's marriage changes, delicately and inexorably, from a charmed union into something dark and somehow unavoidable. Sarah Gardner Borden's debut is captivating and deftly rendered—a layered, disquieting examination of family life." —Michelle Wildgen, author of But Not For Long and You're Not You
 
"Brilliantly structured and impossible to put down, Games to Play After Dark is the story of a young wife and mother who struggles earnestly, messily, even violently, to understand her own discontent with a seemingly ideal existence. The novel catches you up on Kate's troubled past just as that past catches up with Kate, so by the end you feel the full force of that collision: powerful, hopeful, unforgettable." —Robin Black, author of If I Loved You, I Would Tell You This

Advertisement