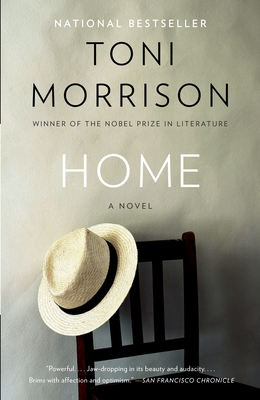 Home (Vintage International)
Paperback

* Individual store prices may vary.
Other Editions of This Title:
Prebound (1/1/2013)
Description
In this emotional powerhouse of a novel, Frank Money is a modern Odysseus returning to a 1950s America mined with lethal pitfalls for an unwary black man. 

When Frank joined the army to escape his too-small world, he left behind his cherished and fragile little sister, Cee. After the war, he journeys to his native Georgia with a renewed sense of purpose in search of his sister, but it becomes clear that their troubles began well before their wartime separation. Together, they return to their rural hometown of Lotus, where buried secrets are unearthed and where Frank learns at last what it means to be a man, what it takes to heal, and--above all--what it means to come home.

A New York Times Notable Book
A Washington Post Notable Work of Fiction
A Best Book of the Year: NPR, AV Club, St. Louis Dispatch
Praise For Home (Vintage International)…
"Haunting . . . [Morrison] maps the day-to-day lives of her characters with lyrical precision. . . . Home encapsulates all the themes that have fueled her fiction, from the early novels Sula and The Bluest Eye, through her dazzling masterwork, Beloved." —Michiko Kakutani, The New York Times

"Gorgeous and intense, brutal yet heartwarming. . . . Accessible, tightly composed and visceral as anything Morrison has yet written. . . . [A] devastating, deeply humane--and ever-relevant--book." —Heller McAlpin, NPR

"Luminescent. . . . There is no novelist alive who has captured the beauty and democracy of the American vernacular so well." —The Boston Globe

"Powerful. . . . Jaw-dropping in its beauty and audacity. . . . Brims with affection and optimism." —San Francisco Chronicle

"This scarily quiet tale packs all the thundering themes Morrison has explored before. She's never been more concise, though, and that restraint demonstrates the full range of her power. . . . A daringly hopeful story about the possibility of healing — or at least surviving in a shadow of peace." —Ron Charles, The Washington Post
 
"A fertile narrative imbued with and embellished by Morrison's visionary scope and poetic majesty." —Elle
 
"A bona fide literary event . . . an emotional powerhouse. . . . Told in the stark, economical tone of a short story, with all the philosophical heft of a novel." —Entertainment Weekly
 
"A short, swift, and luminescent book. . . . A remarkable thing: proof that Toni Morrison is at once America's most deliberate and flexible writer. She has almost entirely retooled her style to tell a story that demands speed, brevity, the treat of a looming curtain call. . . . There is no novelist alive who has captured the beauty and democracy of the American vernacular so well." —The Boston Globe
 
"Profound . . . Morrison's portrayal of Frank is vivid and intimate, her portraits of the women in his life equally masterful. Its brevity, stark prose, and small cast of characters notwithstanding, this story of a man struggling to reclaim his roots and his manhood is enormously powerful." —O, The Oprah Magazine
 
"Perhaps Morrison's most lyrical performance to date. . . . Home has a sparer, faster pace than earlier Morrison novels like Beloved or Jazz, as though a drumbeat is steadily intensifying in the background and the storyteller has to keep up." —The New York Review of Books
 
"In a mere 145 pages, Morrison has created a richly textured, deeply felt novel. "Home" has a sense of the real with a touch of magic. After 10 novels and a Nobel prize, Toni Morrison certainly isn't resting on her laurels." —Louisville Courier-Journal
 
"Her themes—identity, community, the resoluteness of both good and evil—are epic, and her language uniquely her own. . . . Taut and muscular, Home wastes not a word. . . . In sentences balanced like proverbs, the Nobel Prize winner conjures up the community of country women Frank asks to help save Cee." —The Plain Dealer
 
"In this slim, scathing novel, Morrison brings us another quintessentially American character struggling through another shameful moment in our nation's history. . . . Home is as much prose poem as long-form fiction—a triumph for a beloved literary icon who proves that her talents remain in full flower. Four stars." —People
 
"A short, urgent novel, polished to the essential themes that the Nobel Prize-winning author has explored for decades." —The Columbus Dispatch
 
"Beautifully wrought . . . [Home] packs considerable power, because the Nobel Prize-winning author is still writing unflinchingly about the most painful human experiences. There's nothing small about the story she's told with such grace in these pages." —The Oregonian
Vintage, 9780307740915, 160pp.
Publication Date: January 1, 2013
About the Author
Toni Morrison is the author of eleven novels, from The Bluest Eye (1970) to God Help the Child (2015). She received the National Book Critics Circle Award, the Pulitzer Prize, and in 1993 she was awarded the Nobel Prize in Literature. She died in 2019.


Why has Toni Morrison chosen Home for her title? In what ways is the novel about both leaving home and coming home? What does home mean for Frank, for Cee, for Lenore, for Lily?
The race of the characters is not specified in the novel. How does Morrison make clear which characters are black and which are white? Why might she have chosen not to identify characters explicitly by their race?
What is the effect of alternating between Frank's first-person (italicized) narration and the third-person omniscient narration through which most of the story is told? What is the implied relationship between Frank and the narrator?
4. Talking about the horrors of war in Korea, Frank tells the reader: "You can't imagine it because you weren't there" [p. 93]. Does the reader succeed in imagining it even though he or she was not there? How close to another's experience, even those radically unlike our own, can imagination take us?
How has Frank's war experience affected him? What symptoms of post-traumatic stress disorder does he exhibit? In what ways does he suffer from survivor guilt?
In what sense can Home be understood as Frank's confession?
In what very concrete ways does Cee's lack of education hurt her? How might she have been saved from infertility had she understood the implication of the books about eugenics in Dr. Beau's office?
Why do the women who heal Cee have such contempt for "the medical industry"? [p. 122]. In what ways are Frank and Cee both victims of a medical system that puts its own aims above the heath of its patients? Does Home offer an implicit critique of our own health-care system?
What methods do Miss Ethel Fordham and the other women use to nurse Cee back to health? Why do they feel Frank's male energy might hinder the healing process? What larger point is Morrison making about the difference between feminine and masculine, or earth-based and industrial, ways of treating illness?
Frank doesn't know "what took place during those weeks at Miss Ethel's house surrounded by those women with seen-it-all eyes," only that they "delivered unto him a Cee who would never again need his hand over her eyes or his arms to stop her murmuring bones" [p. 128]. In what ways is Cee transformed by the treatment, and the wise counsel, that Miss Ethel gives her?
Both Frank and Cee were eager to leave Lotus, Georgia, and never return. Why do they find it so comforting when they do go back? What is it about the place and people that feels to Frank "both fresh and ancient, safe and demanding" [p. 132] and makes Cee declare that this is where she belongs?
How have Miss Ethel and the other women in her community learned not just to live with but to rise above the limitations imposed on them? What moral code do they live by?
Why does Frank decide to give a proper burial to the man killed for sport—and whose undignified burial Frank and Cee witnessed as children—at the end of the novel? Why would this act be emotionally important for him? Why has Morrison structured the novel so that the end mirrors the beginning?
The flowering lotus is a plant of extraordinary beauty, but it is rooted in the muck at the bottom of ponds. In what ways is the fictional town of lotus, Georgia, like a lotus plant?
Why is it important that Frank does not resort to violence against Dr. Beau? In what ways has Frank been changed by the experiences he undergoes in the novel?
Much has been written about racism in America. What does Home add to our understanding of the suffering blacks endured during the late 1940s and early '50s? What is most surprising, and distressing, about the story Morrison tells?