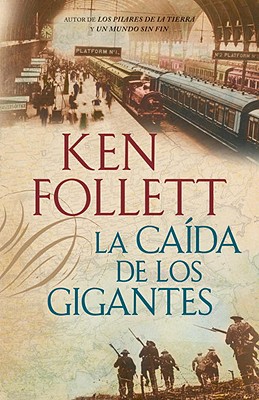 La Caida de los Gigantes = Fall of Giants (Paperback)
Vintage Books USA, 9780307741189, 1016pp.
Publication Date: September 28, 2010
Description
"ESTA ES LA HISTORIA DE MIS ABUELOS Y DE LOS VUESTROS, DE NUESTROS PADRES Y DE NUESTRAS PROPIAS VIDAS. DE ALGUNA FORMA ES LA HISTORIA DE TODOS NOSOTROS." --KEN FOLLETT
Tras el exito de Los pilares de la Tierra y Un mundo sin fin, Ken Follett presenta esta gran novela epica que narra la historia de cinco familias durante los anos turbulentos de la Primera Guerra Mundial, la Revolucion Rusa y la lucha de hombres y mujeres por sus derechos.
La historia empieza en 1911, el dia de la coronacion del rey Jorge V en la abadia de Westminster. El destino de los Williams, una familia minera de Gales, esta unido por el amor y la enemistad al de los Fitzherbert, aritocratas y propietarios de unas minas de carbon. Lady Maud Fitzherbert se enamorara de Walter von Ulrich, un joven espia en la embajada alemana de Londres. Sus vidas se entrelazaran con la de un asesor progresista del presidente de Estados Unidos, Woodrow Wilson, y la de dos hermanos rusos a los que la guerra y la revolucion les ha arrebatado su sueno de buscar fortuna en America.
Desde Washington hasta San Petersburgo, desde la inmundicia y los peligros de las minas de carbon hasta los candelabros lujosos de los palacios de la aristocracia, pasando por los pasillos de la Casa Blanca y el parlamento de Westminster, Ken Follett, en su novela mas ambiciosa, nos ofrece un esmerado retrato de una epoca y de las pasiones que espolearon la vida de sus personajes.
About the Author
Ken Follett nacio en Cardiff (Gales) y cuando tenia diez anos su familia se mudo a Londres. Se licencio en filosofia en la Universidad de Londres y posteriormente se dedico al periodismo. Durante sus anos de reportero empezo a escribir obras de ficcion. Sin embargo hasta 1978 no se convirtio en escritor de exito, con la publicacion de El ojo de la aguja. A partir de entonces, cada novela de Ken Follett se convierte en un exito internacional. Actualmente vive en una vieja rectoria de Hertfordshire con su esposa Barbara."
Advertisement