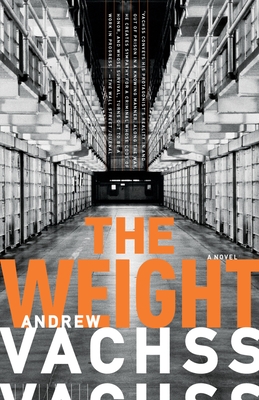 The Weight (Paperback)
Vintage Crime/Black Lizard, 9780307741318, 263pp.
Publication Date: November 1, 2011
* Individual store prices may vary.
or
Not Currently Available for Direct Purchase
Description
Andrew Vachss returns with a mesmerizing novel about a hard-core thief who's about to embark on a job that will alter his life forever. Sugar's a pure professional, "time tested" and packing 255 pounds of muscle. Accused of a rape he couldn't have done because he was robbing a jewelry store at the time, the DA offers him two options: give up his partners in the heist and walk, or go back to prison alone. For Sugar, there isn't a choice; he takes the weight. When he gets out, his money is there, but so is another job. One of the heist crew has fallen off the radar, and the mastermind behind the jewelry job asks Sugar to find him and make sure their secrets are safe. Sugar suspects that there's more to this gig than what he is being told. But nothing he suspects can prepare him for what he finds.
About the Author
Andrew Vachss is a lawyer who represents children and youths exclusively. His many novels include the Burke series and two collections of short stories. His books have been translated into twenty languages, and his work has appeared in Parade, Antaeus, Esquire, Playboy, and The New York Times, among other publications. He divides his time between his native New York City and the Pacific Northwest. www.vachss.com
Praise For The Weight…
"Vachss conveys his protagonist's reality in and out of prison in a knowing manner. Along the way, he creates sympathy for a criminal whose code of honor, and whose survival, turns out to be a work in progress." —The Wall Street Journal

"Sugar and Rena are a canny, lethal team that bears watching in the hopes they become future players in Vachss's ever-growing arsenal of tarnished, avenging angels." —Los Angeles Times

"Rippling with the whip-smart dialogue we have come to expect from Vachss, this is yet another classic from the master." —Irish Independent
 
"The prose is red-hot, mean, stripped down, and sometimes, just plain serious." —San Francisco Book Review

"Few plumb the . . . integrity of the 'honorable' criminal mind like Vachss. [These] brutal insights provide only the lexicon for what is really a battered and bruised romance—a salvation . . . for those who shoulder life's true weight."—Winnipeg Free Press
 
"Damn scary. Vachss' fans will not be disappointed." —Booklist
 
"[Vachss writes] some of the cleanest, meanest, stripped-down-and-sparkling prose ever penned." —The Austin Chronicle
 
"There's no way to put a [Vachss book] down once you've begun." —Detroit Free Press
 
"Vachss is red-hot and as serious as a punctured lung." —Playboy
Advertisement