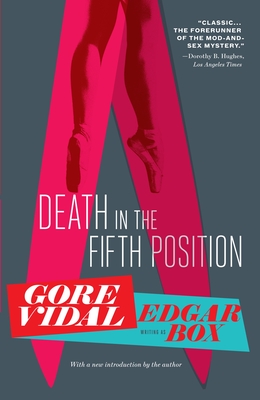 Death in the Fifth Position (Paperback)
Vintage Crime/Black Lizard, 9780307741424, 228pp.
Publication Date: March 22, 2011
Description
In Death in the Fifth Position, dashing P.R. man Peter Sargent is hired by a ballet company on the eve of a major upcoming performance. Handling the press seems to be no problem, but when a rising star in the company is killed during the performance--dropped from thirty feet above the stage, crashing to her death in a perfect fifth position--Sargent has a real case on his hands. As he ingratiates himself with the players behind the scenes (especially one lovely young ballerina), he finds that this seemingly graceful ballet company is performing their most dramatic acts behind the curtain. There are sharp rivalries, sordid affairs, and shady characters. Sargent, though, has no trouble staying on point and proving that the ballerina killer is no match for his keen eye and raffish charm.
About the Author
Gore Vidal is the author of twenty-three novels, five plays, two memoirs, numerous screenplays and short stories, and well over two hundred essays. His United States: Essays, 1952-1992 received the National Book Award.
Praise For Death in the Fifth Position…
"Classic. . . . The forerunner of the mod-and-sex mystery. . . Presented with perception and verisimilitude." —Dorothy B. Hughes, Los Angeles Times

"The case of the missing author is over.  Gore Vidal has emerged from behind the facade of Edgar Box." —The New Republic

"Terse and lively. . . . Balletomanes will relish the book." —The New York Times
Advertisement