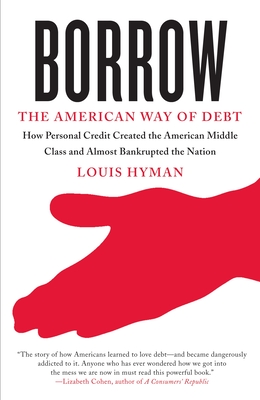 Borrow (Paperback)
The American Way of Debt
Vintage, 9780307741684, 304pp.
Publication Date: January 24, 2012
* Individual store prices may vary.
Description
In this lively history of consumer debt in America, economic historian Louis Hyman demonstrates that today's problems are not as new as we think.
 
Borrow examines how the rise of consumer borrowing—virtually unknown before the twentieth century—has altered our culture and economy. Starting in the years before the Great Depression, increased access to money raised living standards but also introduced unforeseen risks. As lending grew more and more profitable, it displaced funds available for business borrowing, setting our economy on an unsustainable course. Told through the vivid stories of individuals and institutions affected by these changes, Borrow charts the collision of commerce and culture in twentieth-century America, giving an historical perspective on what is new—and what is not—in today's economic turmoil.

A Paperback Original
About the Author
Louis Hyman attended Columbia University, where he received a BA in history and mathematics. A former Fulbright scholar and a consultant at McKinsey & Co., he received his PhD in American history in 2007 from Harvard University. He is currently an assistant professor in Cornell University's School of Industrial and Labor Relations, where he teaches history.
Praise For Borrow: The American Way of Debt…
"An entertaining romp through the history and culture of credit. . . . It's such a great book."
—The Wall Street Journal
 
"Hyman has written a breezy book that goes deeper. . . . an accessible and well-written primer on a vast history, with plenty of cautionary tales for those who would fix what's broken in our financial system, as well as what isn't."
—The Philadelphia Inquirer

"The story of how Americans learned to love debt—and became dangerously addicted to it. Anyone who has ever wondered how we got into the mess we are now in must read this powerful book."
—Lizabeth Cohen, author of A Consumers' Republic

"Stocked with colorful personalities and trenchant insights, Hyman's lucid, entertaining, and timely treatise illuminates the murky processes by which debt became the troubled center of economic life."
—Publishers Weekly

"An evenhanded account aimed at the general reader baffled by today's economic crisis. From Model-Ts to TVs to McMansions, Hyman uncovers the credit story behind all the glittering prizes and offers a prescription to prevent the American Dream from turning into the American Nightmare."
—Kirkus Reviews

"Clearly written, carefully researched. . . . Readers will come to understand that credit difficulties are not new. . . [Borrow] offers solutions to this seemingly intractable problem." 
—Library Journal 

"[Borrow] is the sort of mind-blower of a book it'll likely force you to rethink and reconsider how you see things for a bit. . . . Hyman's hugely compelling book will ultimately hip you to the fact that the scare-tactic stories about debt and everything else are infinitely, infinitely more complicated than we typically consider. . . . One reads Borrow with a sense of whiplash. . . . Maybe the most necessary nonfiction reading at present."
—The Kenyon Review
 
"This comprehensive—yet extremely readable—history of American attitudes toward credit and debt is fascinating, especially as it stresses how our attitudes toward borrowing have always been undercut by our economy's relentless need to grow. This is a must-read primer on the American way of buying for anyone who resists economic texts."
—Sacramento News & Review 
 
"A fresh perspective on the epic changes in American culture wrought by consumer finance. . . . Original reporting. . . . Hyman has researched his subject deeply, and his diligence shows."
—The New Republic 
 
"The author traces consumer debt beginning in the 1910s and through the 1920s, when personal loans became legal and mortgages were in demand. After WWII, consumption continued to be financed by debt, particularly television sets. . . . As the century progressed, we learn about the rise of discount stores over department stores, loans financed by issuing corporate debt, securitization, and credit cards. Hyman indicates that although policymakers declare the worst of our current financial crisis ended in mid-2009, important causes continue, and he concludes, 'Debt, along with every other aspect of capitalism, is something that we have created and have the capacity to master.' This is an excellent book."
—Booklist

"Informative and entertaining. . . . Hyman not only traces how consumer debt reached this point but also what might be done to reverse the mess."
—BookLoons.com  
 
"Informed and articulate. . . . An essential story of the American economy. . . . [Hyman] comprehensively examines the role of debt in shaping the American economy, as well as the rise and recent precipitous decline of the nation's middle class. . . . A critical academic investigation into an obscure arena of American historiography that has largely been neglected. But it is also an accessible story concerning a timely economic reality of today's American experience."
—Newark Star-Ledger 
 
"Insightful and brilliant. . . . A fair and balanced historical appraisal of the role of credit in the American economy. . . . This book is a must read for anyone who cares about the state of the economy, and the role that debt plays in both its growth and its economic depressions."
—Wayne Hurlburt, BlogBusinessWorld