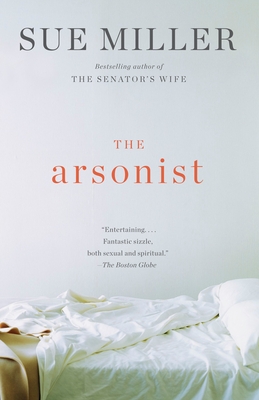 The Arsonist (Vintage Contemporaries) (Paperback)
Vintage, 9780307741790, 320pp.
Publication Date: April 7, 2015
Other Editions of This Title:
Hardcover (6/24/2014)
* Individual store prices may vary.
Description
After fifteen years working in East Africa, Frankie Rowley returns to the New Hampshire village where her family has always spent their summers. But the tranquility she's expecting proves short lived when, on the very night she arrives, a mysterious arsonist begins targeting the homes of other summer residents. As this seemingly idyllic community becomes increasingly on edge, Frankie also has to deal with her father's declining health—and begins a passionate affair with the editor of a local paper that will yield its own remarkable risks and revelations. Suspenseful, sophisticated, and finely wrought, The Arsonist is an artfully nuanced and deeply emotional novel about a family and a community tested, about how and where one ought to live, and about what it means to lead a fulfilling life.
About the Author
Sue Miller is the best-selling author of the novels The Lake Shore Limited, The Senator's Wife, Lost in the Forest, The World Below, While I Was Gone, The Distinguished Guest, For Love, Family Pictures, and The Good Mother; the story collection Inventing the Abbotts; and the memoir The Story of My Father. She lives in Cambridge.
Praise For The Arsonist (Vintage Contemporaries)…
"Entertaining. . . . Fantastic sizzle, both sexual and spiritual. . . . A cracking good romance." —The Boston Globe

"Affecting. . . . Ambitious. . . . [Told with] humor and real sweetness. . . . [Miller] demonstrate[s] that domestic fiction needn't be domesticated." —Washington Post

"A page-turner. . . . Miller excels at portraying the ways in which people connect, and just miss connecting." —Chicago Tribune

"Full of Miller's signature intelligence about people caught between moral responsibility and a hunger for self-realization." —The New York Times Book Review

"Provocative, suspenseful and emotional. . . . [Miller's] portrayal of the fragility of relationships and fear of the unknown—of the things that happen to and around us that we can't control—are spot-on." —Minneapolis Star Tribune

"[Miller] has an elegant way with prose. Her descriptions never feel writerly, but intricate and real, and her sentences flow like a summer river. . . . There's a kindness to her writing, a sort of authorial gentleness; though never saccharine or sentimental, we see the goodness in the people she creates. . . . She's the kind of author who creates, for us, a home on the page." —The Seattle Times

"Moving and convincing. . . . [Miller] is an eloquent chronicler of the complexities of ordinary relationships, whose informal language belies the depths of her insights. . . . [Her] prose, narrated in the third person . . .  is colloquial and homely. . . . [She] nails the contradictory emotions and desires that are responsible for people so often bypassing the seemingly easy road to happiness." —The Independent (London)

"Miller [eschews] easy cliff-hangers or narrative deceits. The momentum grows instead from her compassionate handling of these characters. . . . Not all questions are answered, nor all mysteries solved, but the end of the book is imbued with the same quiet energy that's been building throughout; it's not happy, exactly—that would be too easy—but, in true Sue Miller fashion, it's triumphant." —Elle

"Written in a style that is both graceful and accessible, this enthralling novel grabs your attention and never lets it go." —Real Simple

"Moving . . . profoundly satisfying. . . . In another writer's hands The Arsonist would be a thriller, but Miller is concerned with deeper mysteries of human motivation." —The Daily Telegraph (London)

"Miller writes with penetrating honesty. . . . With a deft, homespun acuity." —The Guardian (London)

'This isn't a conventional mystery book. . . . It's intense, building toward resolutions that answer some questions but not all. Miller's pacing is perfect, making The Arsonist a pleasurable slow burn of a read." —San Antonio Express-News

"Miller's prose . . . keeps you reading. Her sentences have a sumptuous quality to them." —Providence Journal-Bulletin