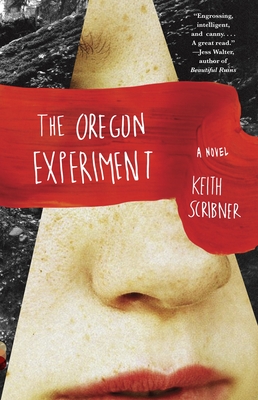 The Oregon Experiment (Vintage Contemporaries) (Paperback)
Vintage, 9780307741837, 352pp.
Publication Date: August 7, 2012
* Individual store prices may vary.
Description
Naomi and Scanlon Pratt are at the threshold of a new life. East Coast transplants to small-town Oregon, Scanlon has a position at the local university—teaching mass movements and domestic radicalism—and Naomi is pregnant with their first child. But everything changes when they meet Clay, a troubled young anarchist who despises Scanlon's self-serving attempts at friendship but adores Naomi. As the Pratts welcome their newborn son, their lives become so deeply entwined with Clay's that they must decide exactly where their loyalties lie, before the increasingly volatile activism that they've been dabbling in engulfs them all.

A love song to the Pacific Northwest, The Oregon Experiment explores the contemporary civil war between desire and betrayal, the political and the personal.
About the Author
Keith Scribner is the author of two previous novels, Miracle Girl and The GoodLife, a New York Times Notable Book and a Barnes & Noble Discover Great New Writers selection. He is a recipient of Stanford University's Wallace Stegner and John L'Heureux fellowships, and is currently a professor at Oregon State University in Corvallis, where he lives with his wife, the poet Jennifer Richter, and their children.
Praise For The Oregon Experiment (Vintage Contemporaries)…
"Engrossing, intelligent, and canny. . . . A great read." —Jess Walter, author of The Financial Lives of the Poets 
  
"Keith Scribner turns a wacky and radical fringe of the Northwest into an often comic and always sensuous novel with deft writing and palpable characters. . . . Lively and provocative all the way to its enthralling climax." —Jim Lynch, author of Border Songs 
  
"Scribner has a sharp eye for the complicated grace and endless capacity for self-delusion among our species. . . . He ably screws the tension ever tighter as his story lengthens." —San Francisco Chronicle
 
"Mesmerizing. . . . This is a thrilling, deeply intimate book by a writer at the peak of his craft." —Ann Packer, author of The Dive from Clausen's Pier

"A novel about—among other things—anarchists, adultery, new babies, hippies, and a woman with such a powerful sense of smell that it lets her discover secrets about other people. . . . Smart and juicy." —Curtis Sittenfeld, The Guardian (London)
 
"In the midst of anarchists and chaos, [Scribner] offers uncommon sympathy and grace in a marriage lost then found, and redemption from what we fear most." —The Millions
 
"Startlingly empathetic, overwhelmingly sensual, [The Oregon Experiment] traces the joys and sorrows of belonging to a country, a spouse, and a family, and the explosive risks we run when we contemplate secession from them." —Adam Ross, author of Mr. Peanut
 
"Like Freedom. . . . The Oregon Experiment is a hugely ambitious, decidedly modern, distinctly American novel, with complicated family dynamics, and remarkable depth of character and psychological nuance" —The Rumpus
 
"This exciting, even frightening novel gives us a profoundly useful look at ourselves." —William Kittredge, author of The Willow Field
 
"Scribner's plot is unpredictable and his characters deadly accurate. Reading The Oregon Experiment should be mandatory before applying to graduate school." —The Advocate (Baton Rouge, LA)
 
"The Oregon Experiment is irresistible. Trust me. . . . It made me see and feel and experience the world differently. . . . Divinely inspired and highly plausible. . . . Dazzling." —Caroline Leavitt, author of Pictures of You
 
"An impressive piece of fiction that weaves together a number of colorful characters by way of Scribner's masterful use of point of view." —The Source Weekly
 
"Excellent literary fiction with an occasionally humorous touch." —Library Journal (starred review)
 
"Detailed, nuanced. . . . Scribner manages to create a contemporary story of the fiercely independent Northwest that nurtured the likes of Ken Kesey and his Pranksters. . . . A rich and funny story of family tension and personal desire mixed with the idealism of radical political movements." —Shelf Awareness
 
"Clay's character is both the most poignant and the most self-consciously paradoxical; he is an anarchist who blows SUVs up in his free time, yet loves to take care of babies and single mothers. . . . Vivid and elegiac." —Culture Mob  
or
Not Currently Available for Direct Purchase