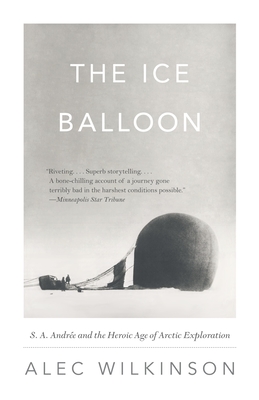 The Ice Balloon (Paperback)
S. A. Andree and the Heroic Age of Arctic Exploration
Vintage, 9780307741868, 256pp.
Publication Date: January 8, 2013
Other Editions of This Title:
Digital Audiobook (3/14/2012)
Hardcover (1/24/2012)
MP3 CD (4/1/2012)
Compact Disc (4/1/2012)
Compact Disc (4/1/2012)
Hardcover (2/1/2012)
* Individual store prices may vary.
Description
In 1897, at the height of the heroic age of Arctic exploration, the visionary Swedish explorer S. A. Andrée made a revolutionary attempt to discover the North Pole by flying over it in a hydrogen balloon. Thirty-three years later, his expedition diaries and papers would be discovered on the ice.
 
Alec Wilkinson uses the explorer's papers and contemporary sources to tell the full story of this ambitious voyage, while also showing how the late 19th century's spirit of exploration and scientific discovery drove over 1,000 explorers to the unforgiving Arctic landscape. Suspenseful and haunting, Wilkinson captures Andrée's remarkable adventure and illuminates the detail, beauty, and devastating conditions of traveling and dwelling on the ice.
About the Author
Alec Wilkinson began writing for The New Yorker in 1980. Before that he was a policeman in Wellfleet, Massachusetts, and before that he was a rock-and-roll musician. He has published nine other books—two memoirs, two collections of essays, three biographical portraits, and two pieces of reporting—most of which first appeared in The New Yorker. His honors include a Guggenheim Fellowship, a Lyndhurst Prize, and a Robert F. Kennedy Book Award. He lives with his wife and son in New York City.
Praise For The Ice Balloon: S. A. Andree and the Heroic Age of Arctic Exploration…
"Riveting. . . . Superb storytelling. . . . A bone-chilling account of a journey gone terribly bad in the harshest conditions possible." —The Minneapolis Star Tribune
 
"Gripping. . . . When you consider what these people went through, it is hard not to admire their resilience, optimism and determination, but also to question their sanity. That is what makes such stories as Andrée's so compelling." —The Seattle Times

"Wilkinson writes with insight and flair . . . . He understands that the value of polar stories . . . [lies] in our endless love of discovery and the drama of being human." —The New York Times Book Review
 
"That rare work of nonfiction whose sublimely understated writing rivals the inherent drama of its subject matter. . . . [Wilkinson's] book couldn't be more riveting." —The Toronto Star

"Fabulous. . . . One feels guilty having so much fun reading about such harrowing voyages."—The Boston Globe 

"Fast-moving and often heartbreaking." —The Columbus Dispatch

"Wilkinson's writing is so flawless and engaging that I'd read him on a packed subway at rush hour." —Sebastian Junger

"Alec Wilkinson is a spare, clear, and lucid writer who works in stylistic simplicity with material that is not simple at all." —Peter Matthiessen

"The Ice Balloon captures a time and place unknown to us now and, in elegant, low-key prose, offers an inspiring narrative of exploration and the indomitable human spirit." —Highbrow Magazine

"An eminently tellable story that is a perfect match for [Wilkinson's] spare and evocative style. . . . It's possible to forget that today's adventure tourists are following trails once traveled only by heroes, fools, and dreamers." —Natural History

"Captivating. . . . A thrilling account of a remarkable man."—Publishers Weekly

 "A fine addition to the annals of polar exploration." —Booklist (starred review)

"Entertaining and extremely well written, this captivating story about an obscure Arctic expedition is an essential purchase for all avid readers of exploration and polar literature." —Library Journal (starred review)