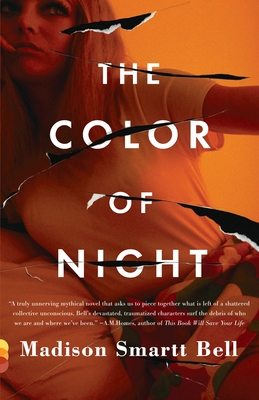 The Color of Night (Paperback)
Vintage Books, 9780307741882, 208pp.
Publication Date: April 5, 2011
* Individual store prices may vary.
or
Not Currently Available for Direct Purchase
Description
Mae, a blackjack dealer in a Las Vegas casino, spends her free time wandering the desert with a rifle, or sitting in her trailer obsessively watching replays of an old lover escaping the wreckage of 9/11. What she sees in those images is different from what the rest of us would see. She revels in the pure anarchy, thrills at the destruction. These images recall memories of a childhood marked by unthinkable abuse, of her drift into a cult that committed the most shocking crime of the '60s, of her life since then as a feral and wary outsider, caught in a swirl of events at once personal, political, mythic.
About the Author
Madison Smartt Bell is the author of fifteen previous works of fiction, including All Souls' Rising (a National Book Award finalist), Soldier s Joy and Anything Goes. He lives in Baltimore, Maryland, where he teaches in the Creative Writing Program at Goucher College."
Praise For The Color of Night…
"A truly unnerving mythical novel that asks us to piece together what is left of a shattered collective unconscious. Bell's devastated, traumatized characters surf the debris of who we are and where we've been."--A.M. Homes, author of This Book Will Save Your Life

"A work that makes lucid the shadows and darkening corners that were encroaching on an America increasingly lost to its own history and self-respect. . . . As unforgettable as the events that inspired it." --Robert Stone, author of Dog Soldiers

"In twenty books written over nearly thirty years, Madison Smartt Bell has gone from a writer of enormous promise to a master and more, a living literary resource. As his avid admirers will be happy to tell you, if you haven't read him, you don't know what you're missing. The Color of Night is characteristically brilliant and compelling, a terrifying vision of American dreaming. It may not be pretty, but it's certainly beautiful."--Michael Herr, author of Dispatches
 
"[A] sharp blade of a novel, every word is weaponized as Bell stands at the portal to chthonic evil."—Booklist
 
"A hybrid of mid-career Cormac McCarthy and the film collaborations of Quentin Tarantino and Robert Rodriguez. . . . Bell's skills as a novelist are amply in evidence."—Kirkus
Advertisement