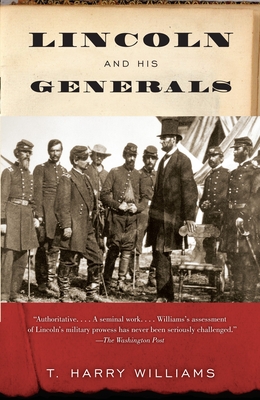 Lincoln and His Generals (Paperback)
Vintage Books USA, 9780307741967, 363pp.
Publication Date: January 11, 2011
Description
Since it was first published in 1952, Lincoln and His Generals has remained one of the definitive accounts of Lincoln's wartime leadership. In it T. Harry Williams dramatizes Lincoln's long and frustrating search for an effective leader of the Union Army and traces his transformation from a politician with little military knowledge into a master strategist of the Civil War. Explored in depth are Lincoln's often fraught relationships with generals such as McClellan, Pope, Burnside, Hooker, Fremont, and of course, Ulysses S. Grant. In this superbly written narrative, Williams demonstrates how Lincoln's persistent meddling into military affairs was crucial to the Northern war effort and utterly transformed the president's role as commander-in-chief.
About the Author
T. Harry Williams was born in Vinegar Hill, Illinois, in 1909. He taught at the universities of Wisconsin, Omaha, and West Virginia before becoming Professor of History of Louisiana State University, and was the author of many books on military and political history. The T. Harry Williams Center for Oral History was established at Louisiana State University in 1992.
Praise For Lincoln and His Generals…
"Authoritative. . . . A seminal work. . . . Williams's assessment of Lincoln's military prowess has never been seriously challenged."
—The Washington Post

"Fascinating. . . . A full-bodied, swift-paced narrative. . . . The reader will gain as clear and shrewd an overall comprehension of the Northern effort from this volume as from any other in print."
—Allan Nevins, Saturday Review

"Convincing. . . . As a story-teller [Williams] displays a craftsmanship that holds the reader in suspense even when he knows exactly how the incident ends."
—The New York Times

"An admirably planned and executed work which well fulfills the author's expressed hope that it will contribute both to the history and to the understanding of the American system."
—American Historical Review
Advertisement